Peter Rocca Joins ISHOF's One in a Thousand Campaign, "It's a Great Organization!"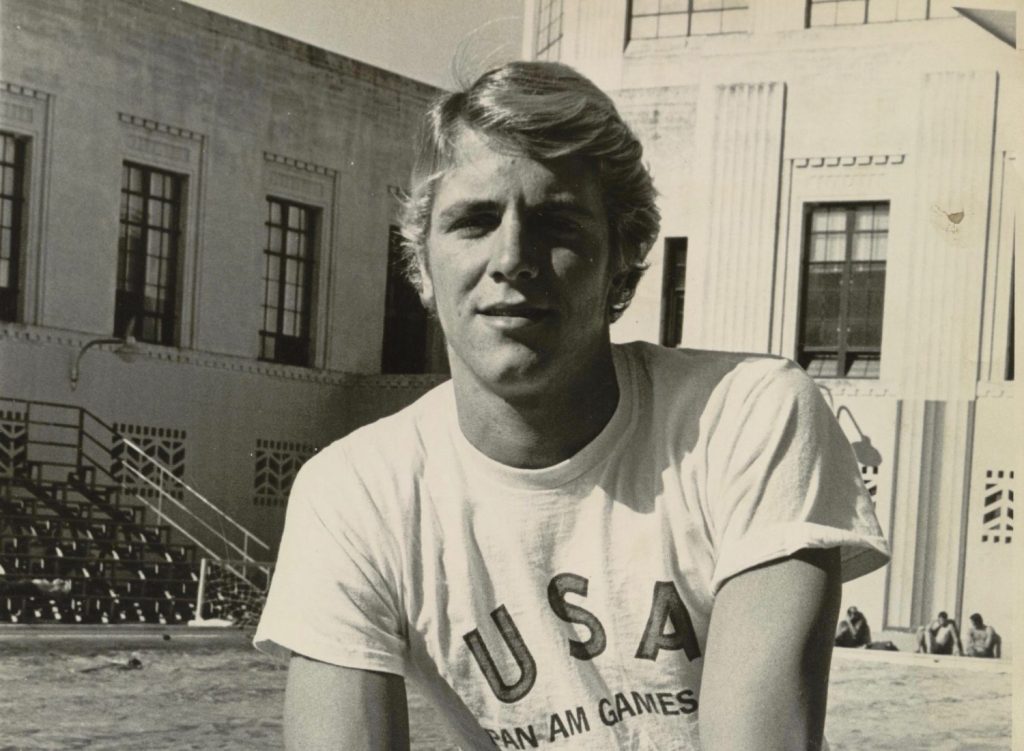 ---
04 May 2021 
Two-time Olympian and double backstroke silver medalist Peter Rocca has joined ISHOF's One in a Thousand campaign, designed to help the Hall of Fame prosper during the COVID pandemic.
"Here you have the history of swimming being kept in its purest form and looking at a global standpoint, why wouldn't you want to support the history of swimming?" Peter Rocca said. "And that's what the Hall of Fame does. A lot of my friends are Hall of Fame members and I think the Hall does a lot to keep the history of swimming alive and that's great plus there's so many visitors that come internationally and that is something my wife and I support. It's a great organization."
Rocca was a member of two Olympic teams, winning two silvers in the 100 and 200 back at the 1976 Games in Montreal, as well as a prelims gold in the 4×100 medley relay. He was also selected as a team captain for the 1980 team that did not compete in Moscow because of the infamous boycott that plagued so many careers of the times.
Peter Rocca won the 1980 Olympic Trials in the 100 back as his time would have been silver to gold medal winner Bengt Baron in Moscow and his 200 back time would have been silver to fellow American Steve Barnicoat. In 1984, Rocca was third in the 100 back at the Olympic Trials and was fourth in the 200, just missing a bid on a third Olympics.
Rocca admittedly has never been to the Swimming Hall of Fame but says it is "on his bucket list" to attend in person. Rocca is currently based in Minnesota where he raised his three children and has been in investment management for the last 35 years in Minneapolis.
Join the One in a Thousand Club by helping ISHOF on a monthly or one-time basis.
For larger corporate sponsorships and estate-planning donations, please contact us at customerservice@ishof.org.
The International Swimming Hall of Fame wants to know if you are one in a thousand?  We think you are! Show how special you are and become a member of the International Swimming Hall of Fame's "One In A Thousand" Club.  Help keep the International Swimming Hall of Fame moving forward toward a new vision and museum by joining now!
During these unprecedented times, the ISHOF Board is calling on every member in the aquatic community to make a small monthly commitment of support to show how special you are and how special the International Swimming Hall of Fame is to everyone.
"Our goal is simple. If we get 1,000 people to simply commit $10, $25 or $50 per month, we will generate enough revenue to go beyond this Covid-19 Pandemic Crisis." – Bill Kent – Chairman of the ISHOF Board

"Those that believe in our vision, mission, and goals can join us in taking ISHOF into the future and be a part of aquatic history."  – Brent Rutemiller – CEO and President of ISHOF
Since 1965, ISHOF has been the global focal point for recording and sharing the history of aquatics, promoting swimming as an essential life-skill, and developing educational programs and events related to water sports. ISHOF's vision for the future is to build a new museum and expand its reach by offering its museum artifacts digitally through a redesigned website.
The ISHOF Board of Directors is calling on all members of the aquatics community to make a small monthly commitment to show their dedication to aquatics and how special the International Swimming Hall of Fame is to everyone.