Passages: Roland Matthes, The Rolls Royce Of Backstroke, Mourned By World Swimming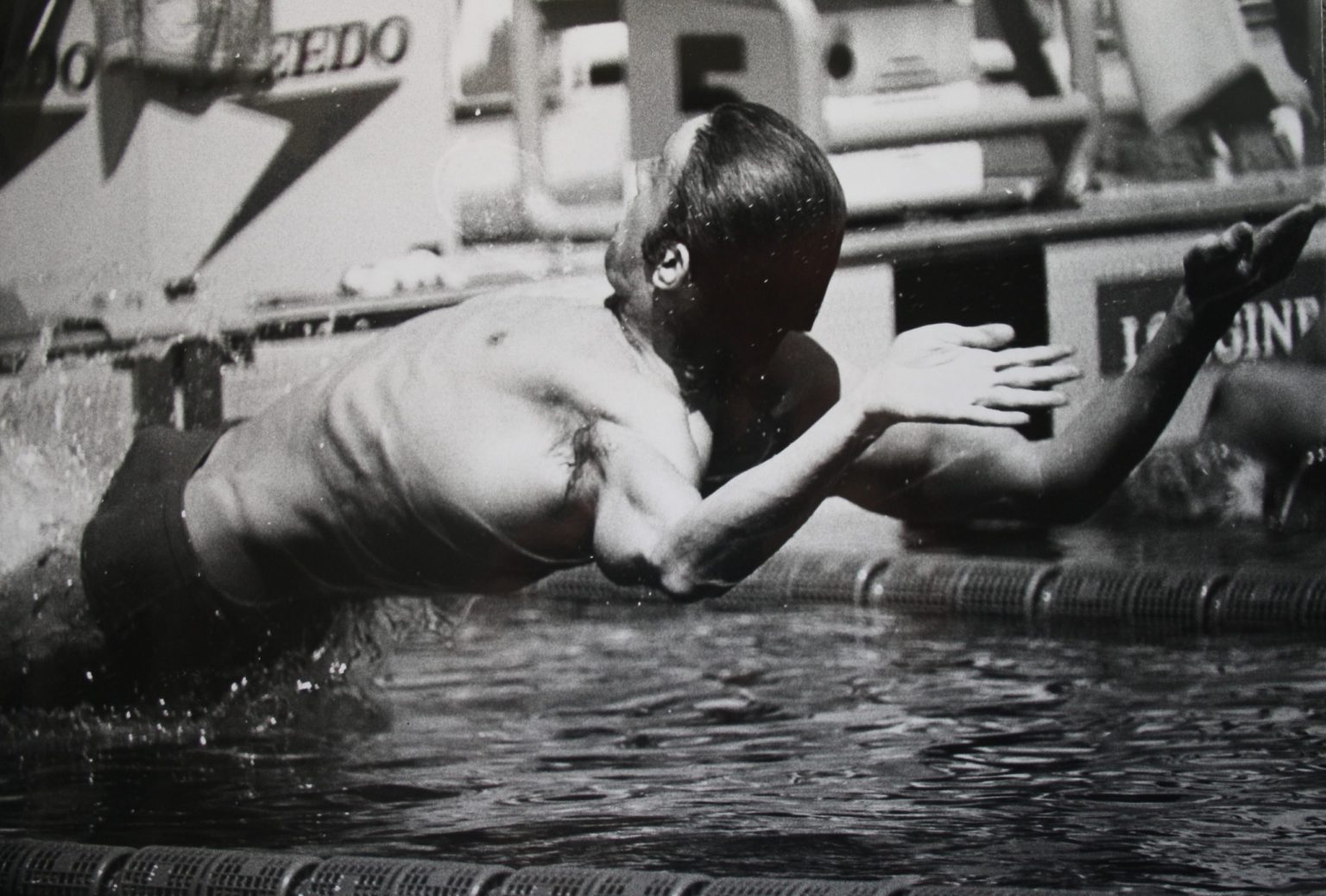 ---
by CRAIG LORD – SWIMMING WORLD EDITOR-IN-CHIEF
22 December 2019
Obituary – Roland Matthes (17 November 1950 – 20 December 2019)
Roland Matthes, the most decorated backstroke ace in history, the G.OA.T. of the stroke, died on Friday in Wertheim, Baden-Württemberg, after a short, severe illness. He was 69.
His wife Daniela confirmed the sad news to the German press agency DPA at the weekend and the German swimming federation (DSV) has issued a short statement.
Matthes, from Erfurt, became the most successful German swimmer in history and remains the most successful backstroke swimmer ever when he collected the fourth of his Olympic gold medals over 100 and 200m at Munich 1972 four years after the same outcome at Mexico 1968.
With his swansong Olympics in 1976, Matthes claimed a total of four gold, two silver and a bronze over three Games. In 21 years, the 21-time world record holder (16 of the standards on backstroke, 7 over 100m, 9 over 200m) was unbeaten on backstroke. Pat Besford, the British doyenne of swimming journalists in her day dubbed the protégé of coach Marlies Grohe-Geissler the "Rolls-Royce of Swimming" because of the smoothness and elegance of Matthes' ahead-of-his-time technique.
After his racing days for the GDR were over, Matthes worked as an orthopaedic surgeon. He kept in touch with swimming and gave advice and assistance to German swimmers such as Franziska van Almsick down the years.
In 2004 Matthes was awarded the Golden Sports Pyramid for his life's work and shortly thereafter became the first former GDR athlete to be inducted into the Hall of Fame of German Sports. In 1981, he was inducted into the International Swimming Hall of Fame.
In 2005, Prof Helge Pfeifer, one of the scientists who helped to deliver the State Plan 14:25 doping program of the GDR revealed in an interview with this author that Grohe was the only coach who "got away with always saying no but keeping her job … Roland Matthes needed no help".
In a tribute to Matthes, Uwe Brinkmann, Vice President of the German Swimming Association (DSV), said:
"The news of Roland Matthes' death fills us with great sadness. Our sympathy and sympathy go to his family. With Roland Matthes, we are not only one of the successful swimmers in sports history, but also a helpful person who always wanted to build bridges – within Germany between East and West as well as between the older and younger generations of athletes. We will remember him as a great role model. "
"Hello – I'm Roland Matthes, I Swam Backstroke"
At the 1991 World Championships in Perth, Australia, organisers threw a party for former Olympic and world champions. Each was asked to rise and say a few words about their career and achievements. The greatest backstroke swimmer in history was as modest as always: "Hello, I'm Roland Matthes, I swam backstroke." True, but not quite like anyone else ever has.
Described as the Rolls-Royce of backstroke swimming, Matthes, highly flexible and capable of turning his arms over his head stretched out with hands tied, covered a 50m lap using some 10 strokes less than many of his rivals, so fluent, so smooth his style. It often appeared to observers as though Matthes was watching the clock and did just enough to set records. There was good reason to think in those terms: incentives for the GDR's "ambassadors in tracksuits" included better homes and a fast-track up the waiting list for cars and other "luxury" items.
For young Matthes, according to Der Spiegel in 1969 when the swimmer was 18 and had two Olympic gold medals already in the bag from Mexico, success was a passport to music stores and records that were not available back home. The story went that authorities turned a blind eye to the "forbidden" music that Matthes collected as a way of rewarding him for the medals and records in the pool.
A local magazine in Marktheidenfeld, Bavaria, where Matthes has lived and worked as an orthopaedic surgeon since 1995, revealed in 2013 that the backstroke ace still has some of the records he was allowed to collect but that most of his pocket money on trips abroad went on new jeans and the "wish lists" of others, such as aunts and uncles keen to have whatever it was they couldn't get in the GDR.
In the Roland Matthes Treasury
Matthes still has most of his Cat Stevens' vinyl and "almost everything" by The Beatles. But readers of that 2013 article need not have imagined the then 62-year-old sitting in his favourite armchair in his slippers humming to Eleanor Rigby. Asked what his musical tastes were today, the fit regular-jogger of a surgeon cited the last two concerts he'd attended with his wife Daniela: Gossip and Pink.
You might expect someone like Matthes to stay abreast of times. He always did. In his swimming heyday, not only did he retain both the 100m and 200m Olympic titles (1968-72), the only swimmer ever to do so, he also won three world titles (100m and 200m at the inaugural 1973 championships and the 100m in 1975), retained the European titles in both events (1970, 1974) and established 16 world records over the 100m (7) and 200m (9) 1967-1975. He also helped medley teammates to claim the only two relay world records to fall to East German men.
His dominance was undeniable – watch the margin of victory over 100m at Mexico 1968
When he won the inaugural 200m world crown in a world record of 2:01.87 (in 1973, while only seven men out of 31 at the Barcelona round of the Mare Nostrum Tour were faster), he was 4.02sec ahead of next home, another who would go on to have a medical career, Zoltan Verraszto, the Hungarian who would win the crown two years later (Verraszto's offspring, Eva and David became International medal winners in their own right). It took until 1982 for a swimmer to crack Matthes' championship record.
Those first championships took place 40 years ago: watch for our anniversary special that will form part of our Barcelona 2013 World Championships coverage next month.
Four decades on, did he keep an eye on who was faster than he was these days, he was asked by the local reporter. "I couldn't care less [how it relates to himself]," he said. "But I'm happy to see athletes doing well."
Matthes married Kornelia Ender after the 1976 Olympics. The couple divorced in 1982, after the birth of their daughter Francesca, the offspring of parents who between them boasted a treasury of eight gold, six silver and two bronze Olympic medals, as well as 11 gold, three silver and 1 bronze medal at World Championships, and 49 world records.
Secret-police documents would later confirm the worst: State Plan 14:25, a systematic doping programme. However, in a 2006 confession, Dr Helge Pfeifer, one of the senior sports scientists who knew about the doping programme, told this author that Matthes' coach, Marlies Grohe-Geissler, was the only GDR coach for whom refusal to comply with the Stasi-run drugs regime did not mean instant dismissal. His success predated 14:25 – nor did Matthes need such 'means of assistance'.
Asked this week if his medals are on display at his surgery, he chortled and said: "I'm not a cult figure." Only in Erfurt is he recognised these days, while his patients in Bavaria have no knowledge of his swimming achievements, he believes. Erfurt is his home town and in 2011 they named a pool there in his honour – it took that long.
"When I was 8, Matthes came to race in London. I met him at Crystal Palace and asked if he would sign my autograph book. Matthes lifted me up, swung me round twice and then signed my little book. Each time a current world-class swimmer does something similar, swimming's ripple rolls out further." – Craig Lord
Between April 1967 and August 1974, Matthes was undefeated on backstroke. His achievements included unbroken gold at four European championships and three world championships in a row.
There were 19 solo world and 21 European records on backstroke, butterfly, freestyle and medley.
As an Olympian in 1968, 1972 and 1976 he won a total of eight medals (four gold, two silver and two bronze): In 1968 and 1972 he won gold in both the 100 m and 200 m backstroke, while in 1976 he was third in the 100 m backstroke, the winner John Naber, the American who took the pace on where Matthes had left it between 1967 and 1976:
100m
| | | | |
| --- | --- | --- | --- |
| 58.4 | Roland Matthes | September 21, 1967 | Leipzig, East Germany |
| 58.0 | Roland Matthes | October 26, 1968 | Mexico City, Mexico |
| 57.8 | Roland Matthes | August 23, 1969 | Würzburg, West Germany |
| 56.9 | Roland Matthes | September 8, 1970 | Barcelona, Spain |
| 56.7 | Roland Matthes | September 4, 1971 | Leipzig, East Germany |
| 56.3 | Roland Matthes | April 8, 1972 | Moscow, USSR |
| 56.30 | Roland Matthes | September 4, 1972 | Munich, West Germany |
| 56.19 | John Naber | July 18, 1976 | Montreal, Canada |
200m
2:07.9

Roland Matthes

–

Leipzig, East Germany

2:07.5

Roland Matthes

14 August 1968

GDR Olympic Trials

Leipzig, East Germany

2:07.4

Roland Matthes

12 July 1969

Santa Clara Invitational

Santa Clara, United States

2:06.6

Gary Hall

14 August 1969

AAU Nationals

Louisville, United States

2:06.6

Roland Matthes

29 August 1969

–

Berlin, West Germany

2:06.3
Mike Stamm

20 August 1970

AAU Nationals

Los Angeles, United States

2:06.1

Roland Matthes

11 September 1970

European Championships

Barcelona, Spain

2:05.6

Roland Matthes

3 September 1971

GDR vs USA Duel

Leipzig, East Germany

2:02.8

Roland Matthes

10 July 1972

GDR Olympic Trials

Leipzig, East Germany

2:02.82

Roland Matthes

2 September 1972

1972 Summer Olympics

Munich, West Germany

2:01.87

Roland Matthes

6 September 1973

World Championships

Belgrade, Socialist Federal Republic of Yugoslavia

2:00.64

John Naber

19 June 1976

USA Olympic Trials

Long Beach, United States
In Olympic waters, there was silver in the 4×100m team medley in 1968 and 1972, and a bronze medal in the 4×100m freestyle relay in 1972. At Montreal 1976, as the GDR's women dominated, Matthes was the only East German male swimmer to win a medal.
In 1973 in Belgrade he became the first World champion over 100m and 200m backstroke and claimed silver in the 4×100 m medley and bronze in the 4×100 m freestyle. Two years later in 1975, he defended his world title in the 100m backstroke.
At the European championships in 1970 in Barcelona and 1974 in Vienna he won all four titles for the 100 and 200m backstroke. Additionally, in Barcelona he won the individual silver for the 100m freestyle, gold with the 4×100 m medley team, and bronze with both the 4×100 and 4×200 m freestyle teams. In Vienna, he also won the individual silver for 100m butterfly, and claimed bronze with the 4×100m freestyle.
He was selected East German Sports personality of the Year seven times, in 1967–1971, 1973 and 1975.
From 1970 to 1977, Matthes studied sport sciences at DHfK in Leipzig and from 1978 to 1984 he studied medicine at the University of Jena, years before the birthplace of the Oral Turinabol at the heart of State Plan 14:25. Matthes always denied any involvement with doping.
Matthes In Swim Numbers
Olympic Games

1968 Mexico

100 m backstroke

1968 Mexico

200 m backstroke

1972 Munich

100 m backstroke

1972 Munich

200 m backstroke

1968 Mexico

4×100 m medley

1972 Munich

4×100 m medley

1972 Munich

4×100 m freestyle

1976 Montreal

100 m backstroke

World Championships

1973 Belgrade

100 m backstroke

1973 Belgrade

200 m backstroke

1975 Cali

100 m backstroke

1973 Belgrade

4×100 m medley

1973 Belgrade

4×100 m freestyle

European Championships

1970 Barcelona

100 m backstroke

1970 Barcelona

200 m backstroke

1970 Barcelona

4×100 m medley

1974 Vienna

100 m backstroke

1974 Vienna

200 m backstroke

1970 Barcelona

100 m freestyle

1974 Vienna

100 m butterfly

1970 Barcelona

4×100 m freestyle

1970 Barcelona

4×200 m freestyle

1974 Vienna

4×100 m freestyle