Passages: Remembering Rogers "Tiger" Holmes – Nov. 13, 1921 – Nov. 28, 2018
---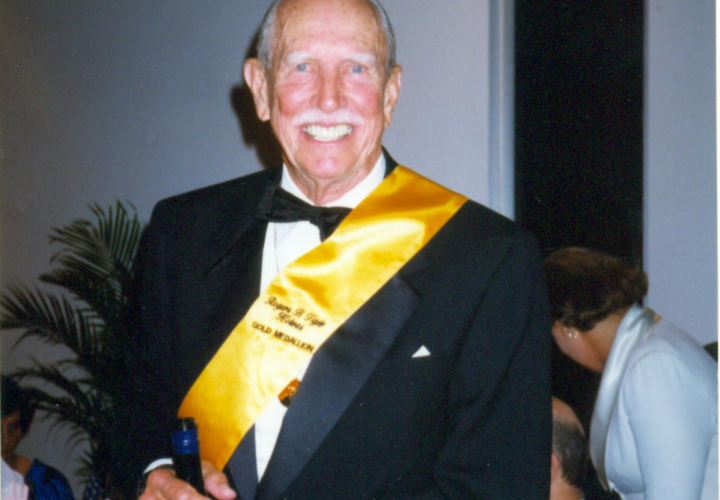 "Whatever you do, do it well. Go hard. Go at it 100%" – Rogers B. Tiger Holmes
The International Swimming Hall of Fame (ISHOF) is saddened to report the passing of Rogers Baldwin "Tiger" Holmes, at the age of 97. Tiger served as member of ISHOF's Board of Directors from 1991 to 1996, as Chairman of the Board from 1996 to 1998 and was the recipient of the organization's Gold Medallion Award in 1998. Here are some thoughts from a few who were impacted by his life.
"Tiger Holmes represented everything that is right about swimming. He had a pure love for the sport and the people in swimming. He had a sharp sense of humor and I could sit and listen to him for hours as he spun one incredible tale after another. There are some other amazing Tigers out there but for me, there will be only one. Tiger Holmes" – Rowdy Gaines: Olympic Champion/Olympic Commentator, ISHOF Hall of Fame

"I loved that man! When I first met Tiger, I was just 18 and he was this very accomplished and successful 62-year-old businessman. Yet you would have thought you were meeting royalty. So enthusiastic, so welcoming and so happy to have me swimming for Florida and his Holmes Lumber Gators. For a kid 3,000 miles from home his support and friendship meant so much to me. He made me feel like he was my biggest fan but he treated all the other swimmers the same way. Over the years he never changed. He was still so enthusiastic, with incredible energy that was conveyed through his clear, sparkling blue eyes. I was so proud to wear sweats with a tiger tail on them and am so grateful for having had him as a friend." – Mary Wayte Bradburne: Olympic Champion, ISHOF Hall of Fame

"Tiger was such a wonderful human being and he definitely bled orange and blue. I've never seen anyone so dedicated to swimming as Tiger was to swimming and the University of Florida. He was our biggest cheerleader and truly epitomizes what giving back means. I'm sure all Florida Gators and everyone who knew him are mourning his passing." – Dara Torres: Olympic Champion, ISHOF Hall of Fame

"He was just a tremendous backer of the sport of swimming. Not just my program but the sport of swimming. I doubt there are many people who loved swimming as much as Tiger Holmes." – Randy Reese: Head Coach, University of Florida and Holmes Lumber Gaters, ISHOF Hall of Fame

"Tiger Holmes was larger than life in so many levels, but with all that he was he was the most humble person and underneath his "good old boy" veneer he was whip smart. It was apparent to me right away, that Tiger cared about us not just as swimmers, but that he wanted us all to be happy and successful in life beyond swimming and in return we all wanted to make him proud of us. I was blessed to be a small part of Tiger's life." – Craig Beardsley: World Champion, World Record-holder, 1980 Olympian

"Tiger was a warm and delightful man who loved swimming and the "Every Child A Swimmer" goal of the International Swimming Hall of Fame. In addition to supporting ISHOF, Tiger's Holmes Lumber Company sponsored a program to teach disadvantaged children in his hometown of Jacksonville how to swim. Many of the children didn't even have bathing suits, but from 1990 to 1992 he managed to teach 12,000 kids to swim! That was just in the summer. A great man and a friend of swimming who will be missed by all who knew him." – Dr. Bill Kent: ISHOF Chairman of the Board

"It got me to 93! My doctor told me if I hadn't swum I'da been dead ten years ago. So I keep at it." – Tiger Holmes
Overview of Tiger Holmes
International Swimming Hall of Fame, Gold Medallion Award (1998)
International Swimming Hall of Fame, Chairman of the Board (1996-98)
International Swimming Hall of Fame, Board Member
Holmes Lumber sponsors Jacksonville "Every Child A Swimmer" learn to swim initiative (1991 – 1992)
Charles McCaffree Award, American College Coaches Association (1989)
Jacksonville Area Sports Lifetime Achievement Award (1996)
Jacksonville Sports Hall of Fame inductee
Southeastern Conference champion, 50 freestyle (1942)
World Masters champion, 50 butterfly (1990, 1992, 1994)
USMS national champion (14 titles)
University of Florida Hall of Fame
University of Florida Athletic Hall of Fame
Founder of the Holmes LumberJax Masters Team
Sponsor of the Holmes Lumber Gators, University of Florida club team (1984-88)
In 2015 Tiger made swimming history when he teamed up with three other masters swimmers, whose average age was 90.5 years to set a world 4 x 200 meter relay record that may never be broken.