Passages: Olympic Golden Boy John Konrads Remembered as "Mr Unbeatable" As Swimming Loses Freestyle Great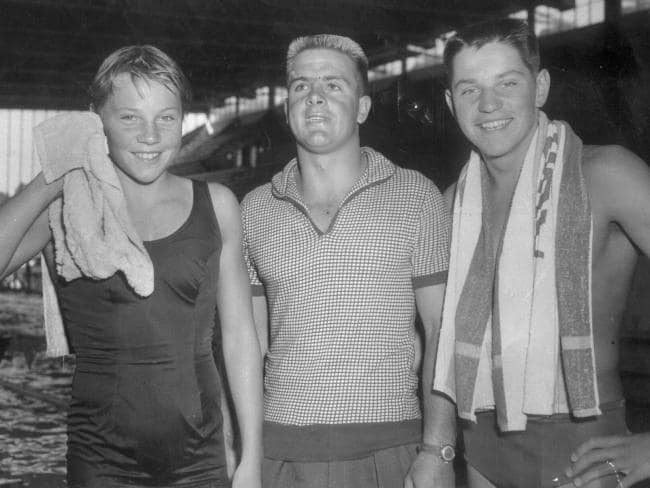 ---
26 April 2021, 01:11am
Olympic gold medal-winning swimmer John Konrads has been described as "Mr Unbeatable" as Australian swimming remembers one of its greatest ever champions, following his death on the Sunshine Coast yesterday.
Konrads, the 1960 Olympic champion in the 1500m freestyle, and a prolific world record holder, passed away in Noosa Hospital after a long illness. He was 78.
Along with sister Ilsa Konrads, herself a star-studded teenage world beater, Olympian and Commonwealth Games gold medallist, together they became known as the "Konrads kids" after legendary coach Don Talbot discovered them at Revesby Primary School in 1952.
Gary Winram, a team mate of Konrads from the 1956 Melbourne Olympics, where Konrads at just 13 was selected as an emergency (for experience) and from the 1958 Commonwealth Games in Cardiff, described the Latvian-born migrant boy as one of the greatest competitors he ever raced against.
Konrads left his mark on Cardiff, winning three gold medals and Winram experienced first hand just how powerful he was.
At just 16 years of age, Konrads would beat a 21-year-old Winram in the 440 yards and 1650 yards freestyle, where Konrads broke the Games record by over a minute in the heat and by another ten seconds in the final.
Winram, also an Australian champion surf swimmer and North Bondi lifesaver, finished second to Konrads over the 1650 and third over the 440 yards.
Konrads would go on to join Gary Chapman, Brian Wilkinson and John Devitt to add a third gold as the Australians beat Scotland and Canada in the 4×220 yards freestyle relay by 20 seconds in a new Games record time.
Two years later in Rome, Konrads would win Olympic gold in the prestigious 1500m freestyle – beating the legendary Murray Rose, the defending champion and his hero, to become one of five individual gold medallists from 1960, along with Devitt and Dawn Fraser (in their respective 100m freestyles), David Theile (100m backstroke) and Rose (400m freestyle).
"At his best John was unbeatable and so focused. In 1958 as a 16-year-old he was very mature and very focused on what he was doing, no nerves what so ever, he just dived in and that was that, no one in the world could catch him in those days, no one. He was a helluva competitor," said Winram, as he remembered his former team mate.
"John and I became very close at the 1958 Commonwealth Games in Cardiff and afterwards when we toured together on our way home through Japan and Hong Kong where we really got to know each other very well.
"He was an amazing swimmer and a great competitor who set 26 world records who was so well known back in the hey day of swimming – it was the golden era of swimming in Australia.
"It was exciting to be part of it and John and his sister Ilsa were very much among the faces of the sport – with their photos and stories on the front pages of newspapers and magazines.
"John idolised his coach Don Talbot and Don idolised him…it was a two-way street and I have to say it is a very sad day for swimming to see the passing of John Konrads."
Swimming Australia President, Kieren Perkins, like Konrads, a 1500m freestyle great also remembered Konrads as a dominant force in Australian swimming scene during the '50s and '60s.
"Firstly, on behalf of Swimming Australia I'd like to send my condolences to John's family, friends and loved ones – it's a terribly sad time," Perkins said.
"John's story is quite amazing, it's one of resilience and perseverance. To arrive in Australia as a young boy from Latvia who couldn't swim, to then attend an Olympic Games as a 14-year-old only a few years later is remarkable.
"During his peak in the 1950s and '60s John dominated the Australian swimming scene and achieved sensational feats in the distance freestyle events. The 1500m race obviously holds a very special place in my heart and I was lucky to have role models and mentors like John shine a light on this event for Australia – his feats helped cement it as an iconic event for our country at every Olympics."
Australian Olympic president John Coates paid tribute, saying: "John Konrads also devoted himself to the Olympic movement with significant contributions for Brisbane's bid for the 1992 Games, Melbourne's bid for 1996 and ultimately Sydney's successful bid for 2000.
"Once an Olympian, always an Olympian. That was John Konrads. My sincere condolences to John's wife Mikki, sister Ilsa and the entire Konrads family,"
And Olympic historian, the late Harry Gordon reflected on the decision to select Konrads as an emergency on the 1956 Olympic Team, just four months before his 14th birthday, when he wrote: "The selection of John Konrads was in fact a fine example of enlightened extravagance. From the start it was known that he would not be required to swim. Several legs would have to break for that to happen. His task was to absorb, to hang around with heroes, to be an investment for the future – and he obliged in a wide-eyed kind of way."
Konrads himself would also reflect on this many years later, saying: "The excitement was fantastic. Taking delivery of the Olympic tracksuit was close to the biggest event of my life. And just to be on the same team as people like Dawn Fraser and Jon Henricks! I remember trying to talk Latvian to a huge, 7ft 4in guy on the Soviet basketball team. And it was good blooding. Olympics can be overpowering, and I had this great chance to be inside them, at a very impressionable age. I watched Murray Rose win gold medals, and I began to target myself for Rome."
Konrads was born in Riga, Latvia on May 21, 1942, when that city was under German occupation. In 1944, with the end of World War II still a year away his parents accepted a German invitation to move out and after staying in a series of homeless camps in west Germany, the family eventually accepted another offer to move to Australia and finally settling in Uranquinty, a railway village south of Wagga where John's father, a dental technician who worked as a laborer, encouraged his children to swim mainly because nearby dams, rivers, creeks and rivers represented a hazard.
But it was the move to Sydney where the Konrads kids, John and sister Ilsa would attend Revesby Public School and in 1952 John, aged 10,  met a young student teacher called Don Talbot – himself only 19.
Talbot would eventually ask John to join him in a swimming squad where he was the assistant coach to the great Frank Guthrie, and in 1953 Ilsa, then nine-years-old, joined up as well, the siblings powering to become instant teenage success stories under Talbot's tutelage.
Ilsa also won Commonwealth Games gold in the 440 yards freestyle in Cardiff in 1958 beating 1956 Olympic champions Dawn Fraser and Lorraine Crapp, in a stunning trifecta as Australia and the "Konrads kids" scooped the pool.
Their International Swimming Hall Of Fame citation of 1971 read: "Thirteen year old Ilsa set the Konrads' first world records in the 800m and 880yd. freestyle on January 9, 1958 under coach Don Talbot.  Fifteen year old John set the same 800m and half mile records for men two days later, then followed with 200m, furlong (220 yards), 400m and quarter mile records during the next week.  After this week, the swim world, still in shock from Australian dominance in the 1956 Olympics, wondered how anyone would ever catch up.  During the next two years, between January 1958 and February 1960, the Konrads Kids established 37 world records."
Eighteen swimmers had been named among Australia's 50 most distinguished Olympians by Harry Gordon and Konrads was right amongst them.
The 18 swimmers are: Frank Beaurepaire (1908, 1920, 1924), Andrew "Boy" Charlton (1924, 1928), Lorraine Crapp (1956, 1960), John Devitt (1956, 1960), Sarah "Fanny" Durack (1912), Dawn Fraser (1956, 1960, 1964), Shane Gould (1972), Grant Hackett (2000, 2004), Jodie Henry (2004), John Konrads (1956, 1960, 1964), Freddie Lane (1900), Susie O'Neill (1992, 1996, 2000), Kieren Perkins (1992, 1996, 2000), Murray Rose (1956, 1960), David Theile (1956, 1960), Petria Thomas (1996, 2000, 2004), Ian Thorpe (2000, 2004) and Mike Wenden (1968).
And in a sad week for swimming in Australia, 1952 Olympian, Rex Aubrey also passed away last week aged 86.
In 1954, Aubrey competed at the British Empire and Commonwealth Games and earned a bronze medal in the 110-yard freestyle and a gold medal as a member of Australia's 880-yard freestyle relay. Following his competitive career, Aubrey served in several Athletic Director positions, including at the Detroit Athletic Club.