Passages: Legendary Swimmer Graham Johnston at Age 88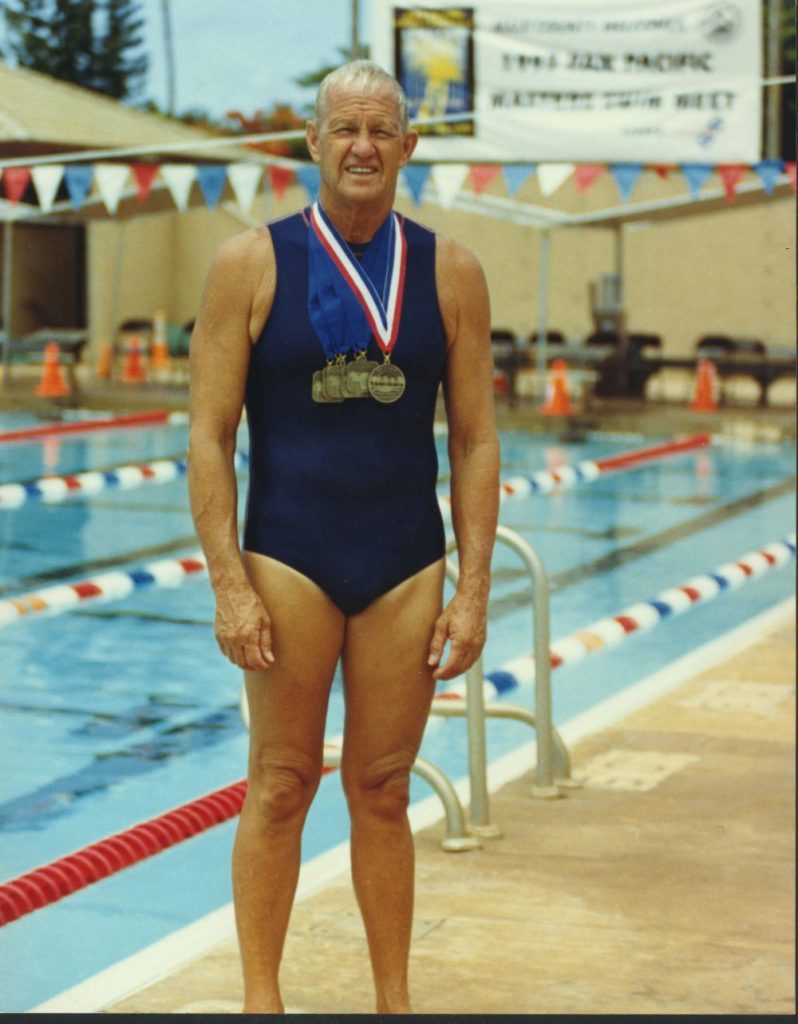 ---
Written by Robert Keilleen
Graham Johnston Passes Away
Legendary Swimmer was 88.
May 15, 1931 – July 27, 2019
The world lost legendary swimmer Graham Johnston at age 88.
Graham was born on May 15, 1931 and raised in Bloemfontein, South Africa. He learned to swim at the age of 4 and loved it, and all sports, lettering in five during high school. In 1946 at age 15, he became the South African Junior Diving champion; repeating this feat in 1947 and 1948. He also was South African National Junior Swimming Champion in 1946, 1947, and 1948.
In 1948, Graham's older brother, Don, swam in the 1500m freestyle at the London Olympic Games, after he barely touched Graham out to qualify for the South African team.
In 1952 Graham was selected to represent South Africa in the Olympic Games held in Helsinki. He competed in the 400- and 1500-meter freestyle and swam a leg of the 800-freestyle relay. After his Olympic performance, Graham was one of the first foreign-born athletes to receive a scholarship at an American university. He was awarded a full swimming scholarship at the University of Oklahoma where he was named an NCAA All-American for three years. In his senior year he became a student coach and one of the Freshmen he inspired and shared his considerable training and racing skills was Jeff Farrell, who went on to win 2 gold medals at the 1960 Olympic Games.
Graham qualified once again for the South African Olympic team in 1956, but elected not to compete because the dates conflicted with his final semester at Oklahoma.
Graham would have been the first to tell you that 1952 was a banner year for him, not because he swam in the Olympics, but because he met his future wife, Janis, at Oklahoma that year. Graham and Janis married in 1955 and Graham retired from swimming the next year. The couple moved to Houston, Texas in 1962 where they raised their five children.
After being away from competitive swimming for sixteen years, from 1956 to 1972, Graham returned to the sport at the age of 41 and in 1973 swam in his first master's national championship in Santa Monica, California. This success was followed over the next forty-seven years by national championships, national records, world championships and world records too numerous to recount.
In 1998 Graham was inducted into The International Swimming Hall of Fame ("ISHOF") at age 67. During this period while swimming in the 65-69 age group, Graham held every national record at every freestyle distance from 100 yards in the pool to the 10k open water swim. He was the first and at the time only person to hold all seven United States masters national long-distance swimming records in any age group. In 2001, he was voted masters swimmer of the year. Graham was not only a regular participant at national and world championships with Janice at his side, but he also loved open water swimming and won the oldest open water swim in the country, the Waikiki Rough Water Swim eight years in a row from 1993 to 2000. He was the first swimmer over the age 60 to complete the swim in under an hour. He was the oldest and fastest of all age groups to complete the Robben Island to Capetown, South Africa swim in 51-degree water without a wetsuit. Graham also enjoyed the Lanai to Maui Channel relay and at age 74 became the oldest man to swim the Straits of Gibraltar. Simply put Graham loved to swim, anytime, anywhere.
Graham was inducted into the Texas Swimming and Diving hall of Fame in 2009, the National Senior Games Hall of Fame in 2011, and, the Huntsman World Senior Games Hall of Fame in 2012. Graham was the epitome of masters swimming and truly one of the sport's greatest ambassadors. The Dad's Club of Houston, where he trained, and Graham are synonymous. Three-time Olympic gold medalist Jim Montgomery summed-up Graham's swimming career well:
"Spanning over seven decades Graham was truly one of the greatest competitive swimmers of all time".
Graham is survived by his beloved wife, Janis, their five children Kevin, Linda, Jenny, Bruce, and Shelly, and their grandchildren. Graham will be irreplaceable to his family and those he sought out (and who sought him out) and connected with at swimming events around the world. The swimming community all over the world are better off having known and connected with Graham. They will carry his legacy forward to others.
Summing up Graham's swimming accomplishments, glowing as such a summary is, does not however sum up the man. There can be no finer tribute to pay him than to sum up the man as Hamlet did his father: "He was a man, take him for all in all, I shall not look upon his like again."