Passages: Harry Gallagher, Legendary Coach of Dawn Fraser, Dies at 96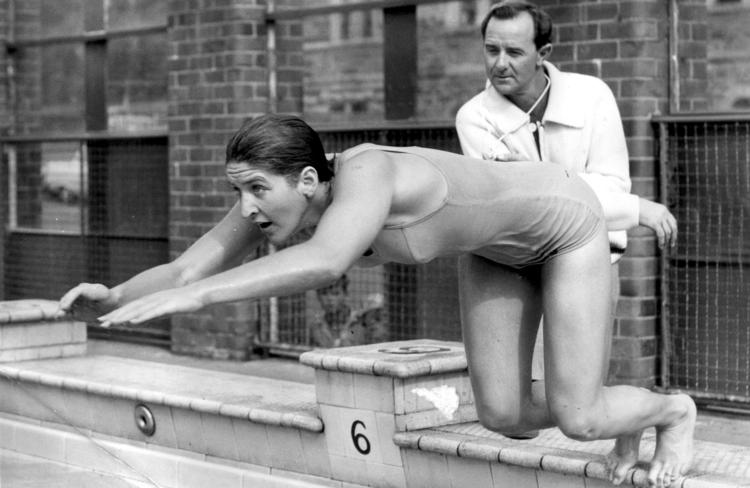 ---
20 January 2021, 10:51pm
Legendary Australian Olympic swim coach Harry Gallagher OAM – the mastermind behind Aussie swimming greats Dawn Fraser and Jon Henricks – passed away peacefully early today on the Gold Coast.
"The Crafty Fox" as he was fondly known around the pool decks throughout his colourful 96 years was surrounded by his family and his greatest protégé in four-time Olympic champion Fraser who drove from the Sunshine Coast last night to say her final fond farewells to "Mr Gallagher."
Their's was as special a swimmer-coach relationship as there's ever been in Australian sport – Dawn forever remaining in contact with Harry who was always "Mr Gallagher" to "His Dawny", right till the last lap.
The triple Olympic golden girl of the pool in 1956, 1960 and 1964 was like family.
"I was with him until the end," reflected Fraser today as she and Gallagher's family gathered to cherish the amazing life of a swimming legend.
"He was a man who always played such a special part in my life.
"I made the journey down the highway last night, knowing very well it would be the last time I would see 'Mr Gallagher'.
"It was a wonderful partnership we had and I would not have achieved the things I did without him.
"He taught me everything I know and we had a beautiful affection for each other. I would not have succeeded without him.
"He taught me self-discipline. If you missed a session, you doubled up the next day. That's how it was. We have stayed in touch all these years. I feel I belong to his family and him to mine.
"If he didn't know something, he would ask the top professionals in that field. If he wanted to know about the heart, he brought in Professor Edward Both, who invented the portable electrocardiograph machine. He trialled it on me and Jon Henricks. He always went to the top people.
"He was fair dinkum, a true Aussie."
Gallagher with Fraser and Henricks captured the imagination of Australia's sporting fraternity at the Melbourne Olympics in 1956, when the coach with the midas touch guided his star pupils to rare Olympic gold – the first time Australia had won both the coveted men's and women's 100m freestyle gold medal double in the blue ribband event.
He also played significant roles in the careers of 1968 Olympic champions Mike Wenden and Lyn McClements as well as fellow Olympic gold medallists Lorraine Crapp and Brad Cooper and so many others.
Gallagher was inducted into the International Swimming Hall of Fame at Fort Lauderdale in 1984 before receiving the Medal of the Order of Australia in 1986 for his services to swimming and a Life Membership of Swimming Australia last year.
But it was Gallagher's discovery of Fraser and the re-discovery of Henricks that set him on a coaching path to greatness.
As a young aspiring coach in Sydney, Gallagher had been forced by circumstances to move his squad to the Balmain Baths.
There he quickly recognised the talent in this unruly, precocious and rebellious adolescent – who would go on to become one of the world's greatest Olympians – "Our Dawn" the first person to win three consecutive individual events – adding her Melbourne triumph in the 100m freestyle in Rome in 1960 and again in Tokyo in 1964.
Australian Swimming's History recalls that "After waiving the standard coaching fees, and exhibiting considerable patience and guile, Gallagher persuaded Dawn to join his squad who trained with discipline, dedication and regularity, features that had not previously characterized her swimming. By 1955, it paid off. Fraser won her first Australian Championship.
"Gallagher, always outfoxing his swimmers and other coaches, had won over Fraser.
"She worked hard, was rewarded with success and enjoyed a new lifestyle with social opportunities, different friends and a chance to travel. Gallagher took up leases in pools in Adelaide and then Melbourne, and Fraser followed her coach who she referred to as 'her Professor Higgins' (Howell and Howell, 1988: 156).
"Good coaching, intensive training and dedication paid off. An excellent Australian Championships was indicative of things to come at the Melbourne Olympic Games (1956). At the Games, Fraser, in a superb 100 metres freestyle event, out touched Crapp in a gripping race. Faith Leech completed an Australian trifecta. For the first time since Fanny Durack some 44 years earlier, an Australian won the prestigious 100 metres freestyle."
Gallagher trained Fraser against male swimmers and set her up for a series of world records, Olympic and Commonwealth gold medals, and National and International acclaim.
Henricks swam in a tidal pool in Tuncurry before the family moved to Cabarita, and he trained at Drummoyne Baths.
Harry Gallagher spotted his talent as a freestyle swimmer early on and convinced his parents to give him the chance of coaching him. Henricks worked very hard, training twice a day, before and after school focusing on longer distances. Mediocre success did not match the effort and commitment. He missed selection for the 1952 Helsinki Olympic Games. As Gallagher summarized: 'he was sick of swimming dumb miles in cold water and didn't want to be a distance champion anyway' (Gallagher, 1998: 176).
After consultation with Gallagher and the scientifically orientated Professor Frank Cotton, Henricks decided to resurrect his career and started to race over shorter distances.
Professor Cotton ascertained that physiologically Henricks was better suited to longer distances, but the psychology of the long mileage did not work for him. Sprint racing, combined with a program of tapering before major events, brought instant success.
In 1953 he set Australian records over 110 yards and 220 yards, accepted an invitation to compete at the Japanese National Championships where he won convincingly in front of large crowds, and he took out the 110 yard gold medal at the British Empire and Commonwealth Games at Vancouver (1954).
The crafty fox, Gallagher, added to psychological preparation for the Melbourne Games by taking both Henricks and Fraser to the top of the stands of the Melbourne Olympic Pool when all the swimmers were gone, as the deck lights lit the pool and as the cleaner slid his pole across the floor creating a ripple on the surface.
He describes a discussion that has gone down in Australian sporting history: 'Tomorrow you'll make history, and what you do may never be repeated, for no two swimmers from the same club with the same coach have ever won the Olympic sprint double in world record time. You'll be talked about in a hundred years' time … You're going to win by leading all the way- sprinting flat out from gun to gold' (Gallagher, 1998: 244).
Gallagher was right, but for Henricks it was a tight race. Henricks got his characteristic slow start, gathered momentum and came through the field, but Australian team captain John Devitt (who would win gold in Rome in 1960) led with 25 metres to swim. When they hit the wall Henricks won by a touch – four tenths of a second – to take the gold medal. It was a world record..and Harry's kids had created history.
Gallagher's passing comes just over two months after the death of the great Don Talbot, who passed away on the Gold Coast aged 87.
Swimming World will keep its readers posted on the details of a funeral service to celebrate the life and times of the late great, Harry Gallagher OAM who was awarded ASCTA Coaching ring number four in 1956 behind Forbes Carlile (No 1), Bill Holland (No 2) and Syd Grange (No 3).