Passages: Dawn Bean, Synchronized Swimming Pioneer Dies at 94, On Same Day as Fellow Pioneer Joy Cushman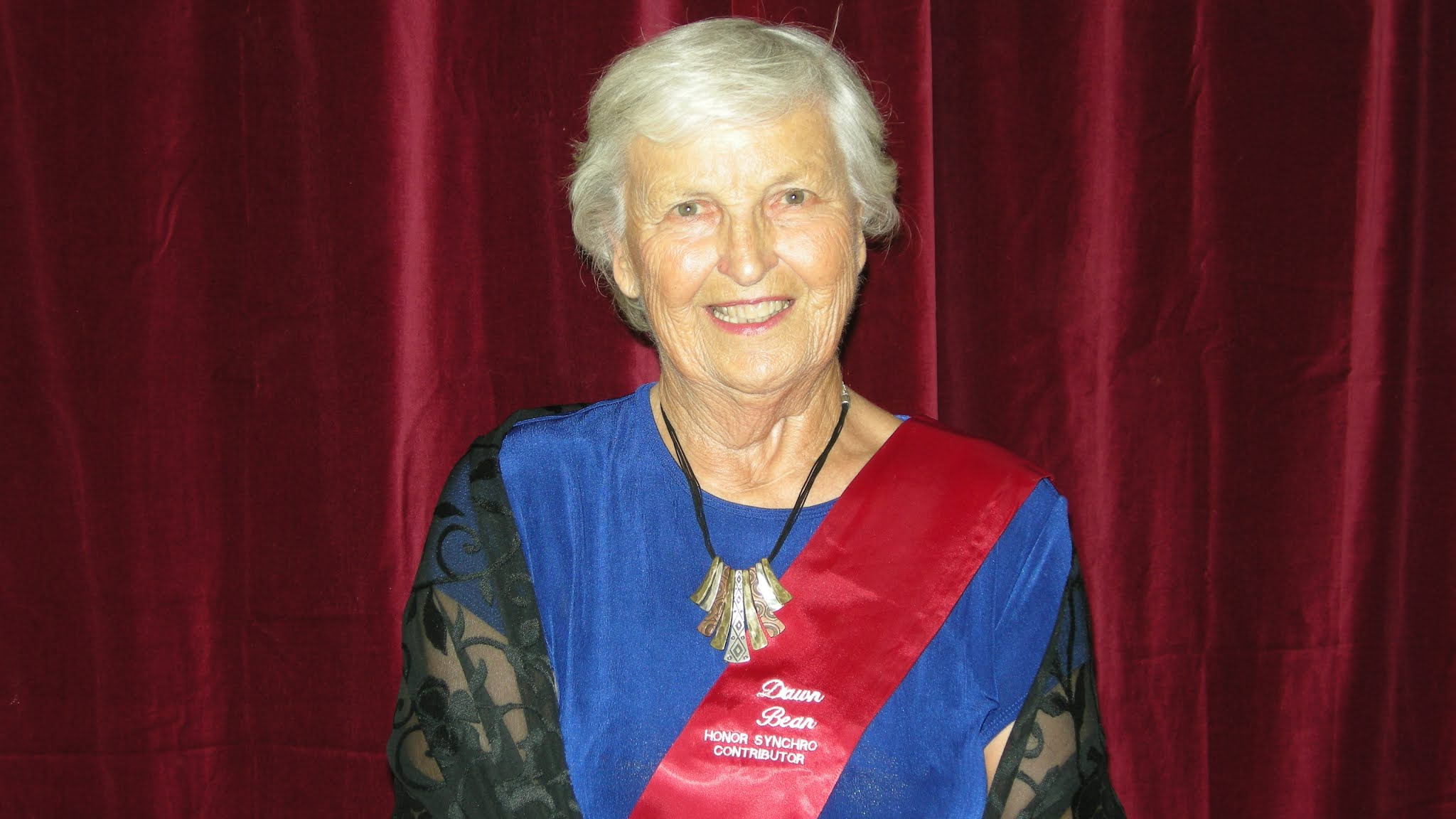 ---
by DAN D'ADDONA — SWIMMING WORLD MANAGING EDITOR
23 September 2021, 12:17pm
On the same day that synchronized swimming pioneer Joy Cushman died at 98, another pioneer in the sport also died. Dawn Bean, who along with Cushman were instrumental in the development of synchronized swimming as an international sport, died at 94.
Bean, who was inducted into the International Swimming Hall of Fame in 1996, had battled several forms of cancer over the years. She and her daughter Lea were both honorees as Lea was inducted into the Masters ISHOF as a Masters Synchronized Swimmer in 2016.
Dawn and Lea attended most Honoree Induction since their own ceremonies. Whenever she was battling cancer, she would say, "I just hope I feel well enough to travel to Fort Lauderdale to the Induction Ceremony!"
More from the Dawn Bean ISHOF file:
DAWN PAWSON BEAN (USA)
1996 Honor Synchronized Swimming Contributor
FOR THE RECORD: Synchronized swimming editor, publisher, administrator, judge, coach/teacher, official, athlete for over 50 years; Publisher of "Synchro Info"; FINA "A" Official; 1955 PAN AMERICAN GAMES: gold (team).
You can synchronize your watches and you can synchronize your plans, but you can't find anyone who can synchronize swimming better than Dawn Pawson Bean has synchronized swimming.
She began her career in 1941 as a water ballet swimmer on San Francisco's Fairmont Hotel Team.  Then, for the next eight years, she competed in speed swimming before devoting herself exclusively to synchronized swimming.  From 1947 to 1955 she was both swimmer and coach along with her husband Ross who coached the girls to their first U.S. National Team Championship in 1952 while at the Athens Athletic Club of Oakland, California.  They went on to win four more national championships.
In 1955, her team won the gold medal at the Pan American Games, the first international competition in Synchronized Swimming.  Dawn's two sisters, Joan and Lynn, were a part of the team, making it a real family affair.  Between 1958 and 1983, she established and coached the Riverside Aquettes and Tustin/Irvine Meraquas where her swimmers were national Team finalists for 22 consecutive years producing five National Team members.
But her involvement went far beyond coaching.  In 1963, to promote communication in the sport, she began publishing "Synchro-Info" which, by 1992 had grown to become a 68 page publication with international distribution in over 50 countries.  It is considered to be the single largest contribution which helped lead the development of Synchronized Swimming as a world-wide sport.
Beginning in 1959, Dawn chaired many U.S. Synchronized Swimming committees including Olympic International, which established the U.S. National Team concept in 1979.  She served eight years on the U.S. Olympic Committees Executive Board.  She was the editor of the official rule books, directories, scoring and training manuals.  She is author of the "Athletes Handbook," "Coaching Synchronized Swimming Effectively" and three other United States Synchronized Swimming publications which became models of expertise.
As an official, she has been an international judge since 1971 at three FINA World Cups, four Pan American Games, five Pan Pacific Championships and eighteen other international competitions in over eight countries.  She has been a judge at the World Championships in 1978, 1982, 1986 and 1992 and at the 1988 Olympic Games.  At the 1984 Olympic Games, she was the Competition Director, as she has been for eight other international competitions.  She has instructed international coaching and judging seminars in over eight countries and lectured in many more, including all continents of the world.  She was one of FINA's first three "A" rated judges.
With her husband and three daughters supporting her, Dawn Bean has been involved and served the sport of synchronized swimming for more than 50 years as an athlete, coach, teacher, administrator, official judge, publisher and editor.