Passages: Andy Burke, Devoted US Water Polo Administrator, 91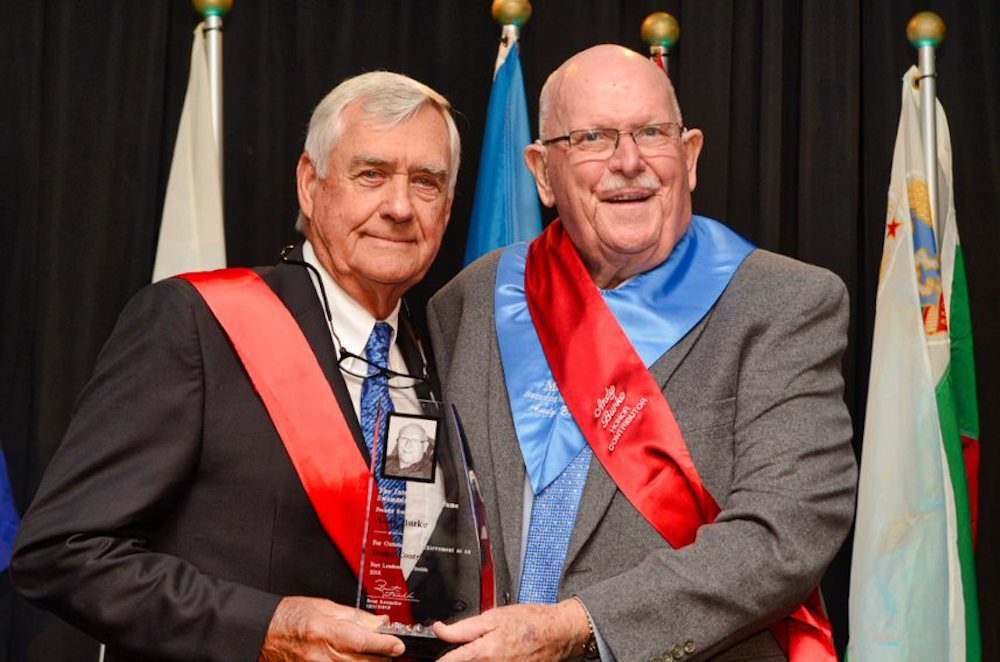 ---
25 August 2020
Andy Burke, a long-time administrator for water polo who served on numerous U.S. and international committees, passed away last Friday at the age of 91.
For his efforts on behalf of American water polo, in 2018 Burke was inducted into the International Swimming Hall of Fame (ISHOF) for his substantial contributions to the sport.
[Andy Burke 2018  induction to ISHOF]
A long-time member of The Olympic Club in San Francisco, Burke recently became one of a handful of members to have earned a 75th anniversary membership pin. An unbridled supporter of the club's master's water polo program, for more than half a century he was likely to be found anywhere polo was being played, especially when it came to his beloved OC.
In 1945—while still a high school student in San Francisco—Burke beganplaying water polo for The Olympic Club. He narrowly missed selection for the U.S. men's polo teams that competed at the Pan American Games of 1955 in Mexico City, and 1959 in Chicago, as well as the 1956 Olympics in Melbourne and the 1960 Games in Rome.
Following his final failed attempt at Olympic glory, Burke traded in his speedo for a referee's whistle. He also took on administrative duties with the U.S. men's national program. In 1960, he was elected Chairman of the National AAU water polo committee; from 1961 through 1964 he also served as chairman of water polo for the U.S. Olympic Committee.
Burke realized his dream to participate in the Games when he oversaw the Olympic team selection process and also served as manager for the USA water polo squad at the 1964 Tokyo Games. From 1966 through 1976, he served as Chairman of the AAU Water Polo Rules Committee; internationally, he served on the Technical Water Polo Committee UANA, the Swimming Union of the Americas, from 1963 through 1975, and on the UANA Executive Board from 1975 to 1995.
As described by Michael Haley, a longtime Olympic Club competitor, Burke was almost never absent when the OC men participated in polo competition—a three decade period that coincided with the Club's most enduring period of polo success.
"I can only recall a handful of games over the last 30 years that Andy wasn't on our bench," Haley write in an email. closing with: "Andy Burke We Love Your Show."
Along with Russ Hafferkamp Burke produced Water Polo at The Olympic Club, 1896-2012: A Century of Excellence, a comprehensive publication on The Olympic Club's century-long polo success. He was also intimately involved in the Peter J, Cutino Award, which for the past two decades has been annually presented to the top male and female collegiate athlete in the U.S.
His passing touched many in the polo community; following are a selection of tributes for Burke, considered one of the country's greatest supporters of the sport in America.
Andy Burke turned 91 last Saturday and as little as a year ago, he was right in the mix at FINA World Masters Championships with many of us enjoying yet another epic OC polo trip.
His dedication to our sport was unparalleled and his commitment to our Club was inspiring. He was recently awarded his 75th anniversary membership card and special lapel pin from the OC which put him in the rarified air of only 26 other people, [that accomplishment] speaks for itself…
Bennett Indart, Olympic Club member, Co-founder and Chairman, Peter J. Cutino Award
***
I am so saddened to hear about Andy's passing. Over the course of the past few years we have lost legends of the sport we all love. Each one of those legends were selfless to the game of water polo. It was never about them and all about the players and the betterment of our sport.
I will forever be thankful for Andy's support—no matter what team you played for. I had the privilege of becoming close with him during my time with the national team and during the premier league with NYAC. It was always great to saddle up to the bar with Andy and hear about our sport's history. USA Water Polo is in a better place because of Andy's contributions and there will be a void on the OC bench without the man in a bucket hat.
Adam Wright, head men's and women's coach, UCLA; three-time Olympian
***
Terribly sad news indeed,  for the Club and the entire water polo universe. An incredible man, dedicated to doing the right thing by his teams, teammates, friends and family.
John Tanner, head women's coach, Stanford
***
Andy was a true sportsman and someone always willing to advise and help in any way possible. I will miss him as he was devoted to the Club in water polo, basketball, the Cutino Award, committee functions and life and people in general. Thank you, Andy for being a mentor and friend.
Gary Crook, Athletic Director at The Olympic Club
***
"The Legend passed away at 1am today surrounded by all of his boys. He was peaceful and ready to be with Carolyn. A new chapter has begun and we shall all take on the challenge to continue the O Club legacy in the name of the legend Andy Burke."
I think Rich Ambidge said it best and certainly how Andy would want it. He would want us to continue to pick up the ball and run with it. We will forever be grateful for all that Andy has done for our sport.
While it would be almost impossible individually, my hope is that collectively, we can fill the incredibly big shoes he leaves behind. So as Rich stated above it is "Our" challenge to continue the O Club legacy in the name of Andy Burke.  
Michael Haley, masters' player for The Olympic Club, induction in the ISHOF for water polo in 2013
***
How do I put it? He was like the president, sergeant at arms and secretary of water polo for so long. He organized tournaments, knew the rules, kept people in line and has helped US Water Polo with running nationals.
In the late sixties in one of my first club games he kicked me out for a profanity—I was a little kid. That's just the way Andy was. Things were by the rules.
He was a wonderful guy, a real gentleman and just super for water polo. He was organized, kept us legitimate… pretty amazing.
– Was Burke one of a kind, never to be experienced again?
Yes and no. We're gonna miss Andy [because] there aren't a lot of people who commit their lives to the the sport. Barbara Kalbus comes to mind—someone like that. They were always there and always helping organize and keep us going.
I'm sure there will be people in the future who will be as involved. [Polo's] more widespread now—it's nationwide—than it was in the past.
The five years that I coached the Olympic Club group, Andy was always hanging out with us and kept those guys in line because [they were] kind of a crazy group.
Absolutely one of a kind.
Bruce Watson, head coach, San Jose State men's team; former head coach The Olympic Club men's master's team