Paragon Awards Ceremony For 2022 Will Be Celebrated Friday, October 14th In Fort Lauderdale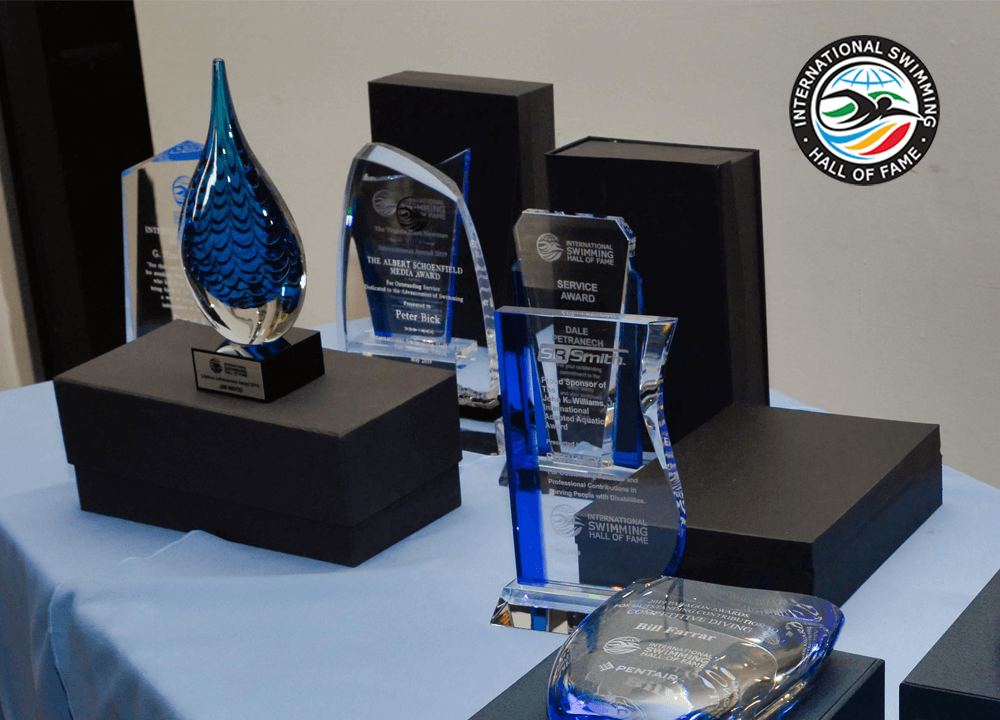 ---
by MEG KELLER-MARVIN 20 May 2022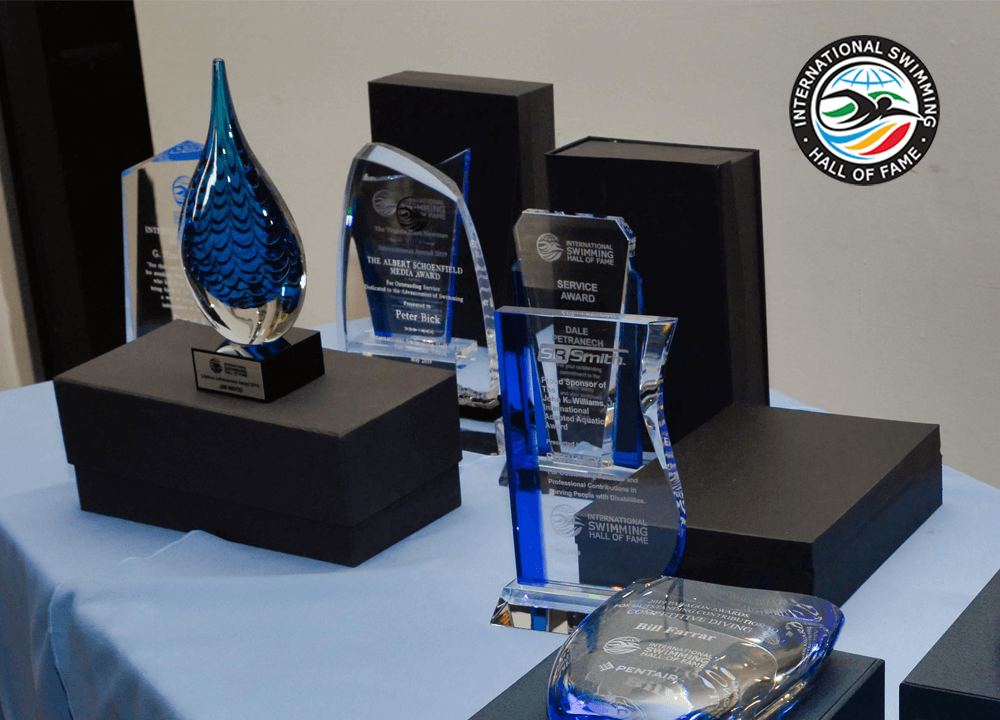 The International Swimming Hall of Fame (ISHOF) is proud to announce the recipients of the 25th Annual Paragon Awards, sponsored by Pentair Aquatic Systems. The Paragon Awards are presented annually to individuals or organizations for outstanding contributions to aquatics. This year's recipients are Ellaine Cox for Competitive Swimming; Al Beaird for Water Polo; Julie Ahlering for Diving; Margaret MacLennan for Artistic/Synchronized Swimming; J. Arturo Abraldes, Ph.D. for Aquatic Safety and Kent Williams, PPOA, for Recreational Swimming. This year's awards will be held Friday evening October 14, 2022 during the ISHOF and Masters (MISHOF) Honoree Induction weekend, in Fort Lauderdale, Florida, USA.
Make your plans now to attend October 14-15, 2022! Purchase your tickets TODAY!!!
"For more than 20 years now, Pentair has been honored to be associated with the International Swimming Hall of Fame in recognizing leaders in the aquatic industry who play a prominent role in the promotion of aquatics with the Paragon Awards", said Jim Drozdowski, Institutional Aquatics Sales Manager for Pentair Aquatic Systems.
"The annual Paragon Awards is a spectacular event that celebrates the unsung heroes who make competitive and recreational aquatics possible. These are the people who save lives, promote water safety and further aquatic education around the world. We are so proud to recognize these important people at the International Swimming Hall of Fame through the sponsorship of Pentair every year," said ISHOF President/CEO Brent Rutemiller.
About This Year's Paragon Award Recipients: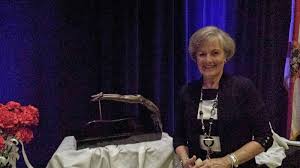 Ellaine Cox – Competitive Swimming
Ellaine Cox began her career in swimming because she was a bored swim parent, sitting in the stands, waiting for her daughter to swim. She began as a timer, which evolved into a stroke and turn judge at the local level, state and finally USA Swimming level and was eventually attending monthly meetings in Indianapolis.
For Indiana Swimming I progressed from representative for the monthly meetings for Michiana Marlins (South Bend) to Age Group Chairman, Administrative Vice Chairman, Indiana Swimming and finally as a member of the Board of Directors. Eventually, Ellaine was sked to attend the annual United States Aquatic Sports convention, representing Indiana Swimming. She also served on the USA Swimming Site Selection/Facilities Committee for a number of years;
Recognizing another like-minded women in 1986, Carol Zaleski asked Ellaine if she would consider chairing the Awards Committee for USA Swimming. Ellaine agreed and served as Chair until 2020 several committee responsibilities were taken in-house by USA Swimming for staff members to manage.
In 1998, Ellaine's real talent's real put to the test when she was asked to become the Convention coordinator for the United States Aquatic Sports. Ellaine says she "was able to persuade the most amazing group of special friends, Bob and Helen Brown, Margaret Donofrio, Deb Turner, Penny Taylor, Paul and Mary Beth Windrath and Gay Wright to join me in this undertaking. As a team, we were able to generate one million dollars in profit for USAS in the years we were 'in charge'. Best bunch of brains and talents one could ask for! In 1999 we were responsible for our first convention in Burlingame, CA. As a result of the relationship, we established with Hyatt Hotels we were able to keep rates under control for the delegation that represented USA Diving, Master's Swimming, USA Swimming, Synchronized Swimming and Water Polo."
---
Julie Ahlering – Diving
St. Louis native, Julie (Capps) Ahlering was a four-time All-American Diver and Scholar Athlete for the University of Miami, coached by ISHOF Honoree, Tom Gompf and ISHOF Paragon Award winner, Steve McFarland. She was a finalist in over 25 national diving events including the Olympic Diving Trials.
After college she returned to St. Louis and raised four sons, but diving was not at all forgotten. She was asked to become a FINA Certified Diving Judge and help provide needed expertise in the sport. In 2010 she became FINA certified and immediately became known as one of the best diving officials in the United States. She judged ten NCAA, ACC, PAC-12 Championships as well as three Olympic Diving Trials. Ahlering soon became among the most respected international Diving judges in the World, judging FINA World Cups, World Championships, Commonwealth Games and she represented the United States as their Olympic Judge in the 2020 Tokyo Olympic Games.
Julie's love for diving and her dedication to Judging found a partner in arms with former Paragon winner, Cokey Huffman (2016). Together they, and other like-minded colleagues, established the United States Diving Judge Education and Certification Program. Today it is one of the top programs of its kind in the world. Ahlering's contribution to the sport of Diving and her commitment to fair play will continue to live on through this program and her example of giving back to the sport she loves!
---
Margaret MacLennan – Artistic (Synchronized) Swimming
Margaret MacLennan was the first female to be named as a member to the FINA Bureau (now FINA TSSC) in 1988 after she decided that synchronized swimming needed a presence. It was her passion and her valuable skills that not only earned her a seat on the Bureau but allowed her to influence the advancement of FINA rules for synchronized swimming. Her political astuteness and diplomacy elevated the credibility and interest of synchronized swimming in a field of male-dominated aquatic sports. She worked tirelessly and consistently with the Bureau during her tenure and was well respected by her peers.
She began as a long-time judge and volunteer in BC Synchro before she became involved in the sport at the international level as a member of the formerly named FINA TSSC (Technical Synchronized Swimming Committee), from 1984 to 1988. Margaret lobbied long and strong with her cohorts to bring Synchronized Swimming to the world stage as part of the Olympic Games, as well as working with FINA to elevate the sport. She served as the Technical Delegate for Synchro at the 1996 Olympic Summer Games in Atlanta, Georgia and officiated at the 1984, 1988, and 1992 Games as well.
She began her involvement in synchronized swimming as a competitor with the Vancouver Amateur Swim Club and the Vancouver Synchronized Swim Clubs in the 1960s and finished second in duet at the Canadian National Synchronized Championships. She went on to make her mark on the sport with her involvement first as a coach, next as an official and then serving on the boards of Synchro Canada and the Aquatic Federation of Canada.
Marg has a son Doug, a daughter Ann and a grandson Logan.
---
Al Beaird – Water Polo
For 24 years, Al Beaird served as Executive Director for the Mountain Pacific Sports Federation (MPSF). He was the first Executive Director chosen in 1992, when the MPSF was created and established to serve the competitive needs of member institutions from the Big West, Pacific-10 (now the Pac-12) and Western Athletic Conferences, as well as other selected universities in the western United States; and to provide championships competition for Division I intercollegiate Olympic sports in a conference setting. The founding principles on which the MPSF was originally formed were to provide enhanced competition and championship opportunities for sports without conference affiliation; to contain the costs of competition; and to ensure the survival of endangered sports.
The MPSF sports portfolio included, among other sports, men's and women's water polo, men's and women's swimming and diving, and women's water polo. Currently the MPSF provides a conference home 85-100 teams from 35+ universities in nine states competing in NCAA Division I intercollegiate athletics. Since the inception of the Federation, MPSF teams have won 81 NCAA team titles…
In addition to his position as Executive Director at the MPSF, Al was a member of NCAA Men's Water Polo Committee 2000-2004 (committee chair 2001-2004) and chair of inaugural NCAA Men's and Women's Joint Water Polo Rules Committee 2004. Member National Association of Collegiate Directors of Athletics (NACDA) and National Association of Sports Officials (NASO). Al retired from MPSF in 2021.
---
Kent Williams, PPOA – Recreational Swimming
Kent Williams literally wrote the book on swimming pool operations. He personally developed he program and wrote the textbook for the National Recreational Pool Association's Aquatic facility Operator's program, starting in 1991 and he went on to continue to help shape the educational pool operational process. In addition, he founded and operated the PPOA, the Professional Pool Operators of America, to promote professionalism and recognition of swimming pool operators.
Williams goal was to bring professionalism to his industry. In fact, to be part of his 1,500-member organization, you had to be a graduate of a recognized pool-operator curriculum, an instructor or a pool-assigned environmental health specialist. "They're truly professional because they are fully certified," he would say. His PPOA membership stretched to Canada, Europe, Australia, Central America, Africa, Asia and the Caribbean. His group aimed to recognize, acknowledge, train and refine the operators of institutional and public aquatics facilities throughout the Americas (and now the developed world).
Now retired, due to health issues, Williams is proud of what he did for his industry and hopes what he began continues to grow.
---
J. Arturo Abraldes, Ph. D. – Aquatic Safety
Dr. Arturo Abraldes is a fine example of a person that successfully mixes theory and practice in water safety, both national and internationally. He has served in the field of lifesaving as an academic, author, researcher, lifeguard, instructor, sport coach, journal editor and conference facilitator for the last 25 years. His qualifications are both academic and vocational. He received a Masters degree on Physical Education, Sport and Health Education and a Phd in Physical Education with a thesis on lifesaving. He holds 14 certifications in swimming, lifesaving, first aid, lifeguarding, instructor, coach, referee, and national assessor from seven organizations (Spanish Lifesaving Federation, Galicia Lifesaving Federation, Rescue 3 International, Spanish Association Emergency, Spanish Swimming Federation, Spanish Lifesaving Referee Committee and Spanish Association Club Lifesaving), having practiced all these subjects.
Like his studies, his work has always been related to lifesaving professionally. After working for many years as a lifeguard and then sport lifesaving coach, he was instrumental in the formation of sports lifesaving of the Lifesaving Federation of Galicia, as the Secretary, Manager and Vice President at different times. He also acts as a board member of the Lifesaving Federation of Galicia and Spanish Association of Lifesaving Clubs.
And with over 180 publications, Arturo is one of the most prolific water safety authors in the world. He has co-authored over 20 lifesaving related books, numerous educational DVDs, and has been a speaker at national and international conferences. For his contributions to the field of water safety he has been honored several times as well both locally and nationally.
---
The Paragon Awards are part of ISHOF's 57th Annual International Swimming Hall of Fame and Masters Honoree Induction Weekend, October 14-15, 2022. For ticket information visit www.ishof.org or call 570 594-4367. For more information about the Paragon Awards, https://www.ishof.org/awards/paragon-awards/
About the International Swimming Hall of Fame & Masters (MISHOF) Induction Weekend:
This year's International Swimming Hall of Fame Honorees include:
International Swimming Hall of Fame 2022 Honorees
Craig Beardsley (USA) – Honor Swimmer
Natalie Coughlin (USA) – Honor Swimmer
Marilyn Bell (CAN) – Honor Open Water Swimmer
Michael Klim (AUS) – Honor Swimmer
Jon Sieben (AUS) – Honor Swimmer
Daichi Suzuki (JPN)– Honor Swimmer
Matthew Mitcham (AUS) – Honor Diver
Ursula Carlile (AUS) – Honor Coach
Peter Huerzeler (SUI) – Honor Contributor
Carol Zaleski (USA) – Honor Contributor
Mirko Vicevic (YUG/MON) Honor Water Polo Player
Masters International Swimming Hall of Fame Honorees
Doris Steadman* (USA) Masters Swimmer
Dr. Jane Katz (USA) Masters Contributor
Edith Bohm (GER) Masters Swimmer
Olga Kokorina* (RUS) Masters Swimmer
Shigehisha Sekikawa (JPN) Masters Swimmer
Birte Hohlstein(GER) Masters Artistic Swimmer
Guenther Wolf (GER) Masters Water Polo Player

ISHOF Specialty Awards – TBA

The Induction Weekend Schedule
Friday, October 14, 2022
ISHOF Specialty and Paragon Awards Ceremony
5:30 pm Cocktail Reception
6:30 pm Awards Ceremony
City of Fort Lauderdale Community Center, Fort Lauderdale, FL
Saturday, October 15, 2022
Official 57th Annual International Swimming Hall of Fame Induction Ceremony and Dinner
5:30 pm VIP Reception

6:30 –10:00 pm Induction Ceremony & Dinner
Fort Lauderdale Marriott Harbor Beach Resort and Spa, 3030 Holiday Drive, Ft. Lauderdale, FL 33316
HOTEL INFORMATION
Host Hotel: Fort Lauderdale Marriott Harbor Beach Resort & Spa
Upscale retreat with private beach access, two pools, four restaurants, full-service spa and oceanside bar. Location of the Saturday evening induction ceremony. ¼ mile south of the International Swimming Hall of Fame.
3030 Holiday Drive, Ft. Lauderdale, FL 33316 (954) 525-4000
Special ISHOF Guest Rate of $229 per night, BOOK YOUR ROOM HERE
($39 Resort fee – Guests can opt out if not interested in resort amenities)
Additional Hotel Option: Courtyard by Marriott Fort Lauderdale Beach
440 Seabreeze Blvd., Ft. Lauderdale, FL 33316 (954) 524-8733 Special ISHOF Guest Rate of $189 per night
Honoree Ceremony October 15, 2022 – Last Day to Book: Friday, September 30, 2022
Questions: contact Meg Keller-Marvin at meg@ishof.org or 570-594-4367
About International Swimming Hall of Fame (ISHOF)
The International Swimming Hall of Fame, Inc. (ISHOF), established in 1965, is a not-for-profit educational organization located in Fort Lauderdale, Florida, USA. It was first recognized by FINA, the International Olympic Committee's recognized governing body for the aquatic sports, in 1968. ISHOF's mission is to collaborate with aquatic organizations worldwide to preserve, educate and celebrate the history of aquatic sports while promoting Every Child A Swimmer.
For more information, call Meg-Keller-Marvin at 570 594-4367 or e-mail: meg@ishof.org or visit www.ishof.org
Make your plans now to attend October 15, 2022! Purchase your tickets TODAY!!! (Get info on membership here.) Can't attend the event? Donate to ISHOF to support our honorees. Subscribe