Open Water Swimmer, Mercedes Gleitze was born on this day in 1900…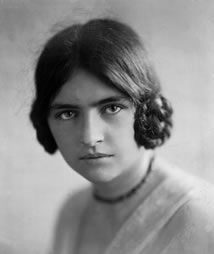 ---
Mercedes Gleitze (GBR) 2014 Honor Pioneer Open Water Swimmer
FOR THE RECORD: BRITISH LONG DISTANCE SWIMMER: 1921-1932; FIRST EUROPEAN FEMALE TO SWIM THE ENGLISH CHANNEL: 1927; FIRST SWIMMER TO COMPLETE STRAITS OF GIBRALTAR: 1928; COMPLETED 51 ENDURANCE SWIMS, HALF OF THEM LASTING OVER 26 HOURS.
When Winston Churchill defined success as going from failure to failure without the loss of enthusiasm, he might have been thinking of Mercedes Gleitze.
She worked as a stenographer but dreamed of being a professional swimmer and the first woman to swim across the English Channel. But swimming the Channel would not be easy for Mercedes Gleitze. She made her first attempt in 1922, failed seven times and lost her dream to Gertrude Ederle in 1926. But she had a never-say-die spirit and became the first English woman to conquer the Channel, on her eighth attempt, in 1927.
Mercedes Gleitze may have been lost to history if the Channel Swimming Association had not questioned the legitimacy of her swim. She was so upset by the insinuation of cheating, that she announced she would swim it again 14 days later, to prove the naysayers wrong. Of course this caused a big media stir, and brought her to the attention of Hans Wilsdorf, founder of the Rolex watch company. For what she called her "vindication swim" Wilsdorf asked her to wear his newly invented "Oyster," the world's first waterproof watch. She agreed and wore it on a ribbon around her neck. Afterwards, the Oyster was found to have kept perfect time throughout its immersion. The swim itself, however, was not successful . The water was much colder than it had been a fortnight earlier and Mercedes had to be pulled out of the sea. Still, the Association admired her pluck, acknowledged her courage in undertaking this swim and agreed to recognize her first swim. It also proved to be a brilliant piece of marketing for the Rolex.
It wasn't just her association with Rolex that made Mercedes Gleitze an international sports celebrity. In the years that followed, she set dozens of marathon and endurance records around the globe. The media followed her every move and marketers established connections between her stamina and glamour – with products as varied as honey, tea, whiskey and corsets. Her reputation was further enhanced when she established a Fund for Destitute Men and Women.
In an era when women were taught to believe that their role in life was purely domestic, the star persona of Mercedes Gleitze inspired women and girls around the globe to realize they were not weak and fragile human beings.