One hundred and fourteen years ago, Honor Diver, Pete desjardins was born…….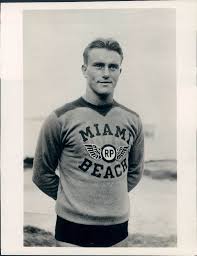 ---
PETE DESJARDINS (USA) 1966 Honor Diver
FOR THE RECORD: OLYMPIC GAMES: 1924 silver (springboard), 6th (plain high diving); 1928 gold (springboard, platform); NATIONAL AAU CHAMPIONSHIPS: 3m springboard, 10m springboard, plain high diving; After turning professional, he was star performer for Billy Rose's World's Fair Aquacades; produced his own Water Shows.
Billed as "The Little Bronze Statue from the Land of Real Estate, Grapefruit and Alligators", Pete Desjardins, 16, representing the Roman Pools, Miami Beach, Florida, arrived in Chicago for the 1924 Indoor AAU Swimming & Diving Championships. He placed second to Al White in the 3 meter dive. Pete took second to White again at the Olympic Tryouts, and again in the Paris Olympics.
At the 1925 Outdoor Senior National AAU Championships, Desjardins won 3 First Places in the diving events — the 3 meter Springboard, the 10 meter Platform and for the first time ever held in America, the National Plain High Diving Contest consisting of four swan dives, two from the 5 meter and two from the 10 meter levels. This type of contest was a European idea which the AAU held in 1925 and 1927. Desjardins won both of these titles, and this new event enabled him to tie Johnny Weissmuller for the high point trophies with 3 wins each.
In between, the Philadelphia Sesquicentennial was host for the 1926 Outdoor Nationals where Pete successfully defended both his 3 meter and 10 meter titles. He won nine Senior National titles while still a Miami High School student. Stanford's Ernst Brandsten put the finishing touches to Pete Desjardins' diving, which resulted in the highest scoring ever by a diver in the Olympic Games. In the 1928 Olympics springboard event, Pete received all 10s as a perfect score in two of his dives, the half-gainer and the gainer 1 1/2. He received four 10s and a 9 in his back dive. His average for the 10 dives was 9.2.
In the 10 meter event, Desjardins was closely contested by Farid Simaika of Egypt, who had learned all of his diving while a student at UCLA. The method of scoring at that time was such that at first it was announced that Simaika had won the 10 meter event. While the Egyptian's national anthem was being played, it was abruptly interrupted with due apologies to the Egyptian officials who announced that an error had been made and that Desjardins had won first place from four out of five judges.
Pete Desjardins shares two titles, most U.S. Diving Nationals–13 (with Helen Meany) and a grand slam of all available diving crowns in one year (with Earl Clark).
After the 1928 Olympics, Desjardins was declared pro for appearing in Miami water shows along with Johnny Weissmuller, Martha Norelius and Helen Meany. This ended his chance to continue his diving dominance possibly through the 1932 and 1936 Olympic Games, since he was still taking on all comers in the Billy Rose Aquacades of the late 1930's and was still featured in diving shows in to the 1960s.