On this day in 1948, ISHOF Honor Swimmer, Sharon Stouder was born….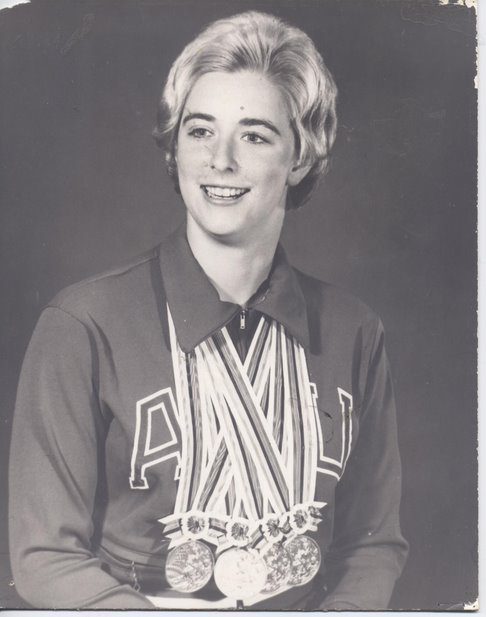 ---
SHARON STOUDER (USA) 1972 Honor Swimmer
FOR THE RECORD: OLYMPIC GAMES: 1964 gold (100m butterfly; 4x100m freestyle relay; 4x100m medley relay), silver (100m freestyle); PAN AMERICAN GAMES: 1963 gold; U.S. NATIONAL CHAMPIONSHIPS: 7; Girl Age-Group Swimmer of the Year: 1961; World Woman Swimmer of the Year: 1964 (by "Sports Illustrated", ABC T.V., and "Swimming World").
15 year-old Sharon Stouder's performance in the 1964 Tokyo Olympics was one of the most brilliant all-round Olympic swimming exhibitions by a woman up to that time. With her 3 golds and a silver medal at a single games, Sharon Stouder equaled Chris von Saltza's accomplishment in the 1960 Olympics by winning one individual gold medal, one individual silver medal, and two relay gold medals. Since then only Debbie Meyer (1968) and Shane Gould (1972) have equaled, but not exceeded, Stouder's 3 gold medals in a single Olympics. (*at the time of her induction in 1972)
Miss Stouder's Olympic record in the 100 meter butterfly stood 8 years until 1972, but her best swim may have been her silver medal in the 100 meter freestyle, as she finished a touch behind the great Dawn Fraser. In this race, Stouder was only the second girl in history to go under a minute and she pushed Fraser to a new Olympic record. Sharon Stouder joins Dawn Fraser as the premier women sprinters recognized in the International Swimming Hall of Fame.
Stouder's other Olympic gold medals were on the winning U.S. Medley and Freestyle Relays.
Sharon started swimming at 3, going into competition at 8 when she won two firsts and set two age-group records in her first meet. At 12 she won 20 firsts in national age-group events and won all 6 of the National Junior Olympic ratings available in her age group. That year, (1961), the "American Swimmer Magazine" picked her as Girl Age-Group Swimmer of the Year.
The next year (1962) Sharon, at age 13, entered her first Senior Outdoor Nationals in Chicago and placed second. At 14 she won 2 Pan American Games gold medals. Her biggest year, however, was the 1964 Olympic year when Miss Stouder was picked World Woman Swimmer of the Year by "Sports Illustrated", by "ABC TV" and by "Swimming World".
Sharon won 7 individual Nationals as she became the Super Star of Coach Don Gambril's star studded, National Champion, City of Commerce team.
In a comeback attempt Sharon Stouder finished 4th and missed the 1968 Olympic team. Stouder and Toni Hewitt had exactly the same time, 1:05.02, but the judges gave 3rd place to Hewitt. It was a controversial call.
Scholastically she was an honor student from Glendora High School, a graduate of Stanford and then went into coaching while doing graduate work at the University of California at Santa Barbara.