On this day in 1945, Carl Robie was born…..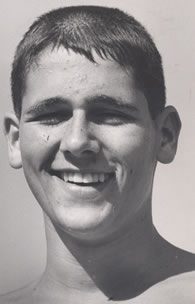 ---
CARL ROBIE (USA) 1976 Honor Swimmer
FOR THE RECORD: OLYMPIC GAMES: 1964 silver (200m butterfly); 1968 gold (200m butterfly); WORLD RECORDS: 4; U.S. NATIONAL AAU Outdoor Long Course CHAMPIONSHIPS: (6) 1961, 1962, 1963, 1964, 1965, 1968 (200m butterfly); 1965 (500m freestyle); U.S. NATIONAL AAU Indoor Short Course CHAMPIONSHIPS: (2) 1965, 1966 (200m butterfly); NCAA CHAMPIONSHIPS: 1965 (400m individual medley); 1967 (200m butterfly).
Carl Robie, the Philadelphia flyer, also won nationals in freestyle and individual medley in a long career of national and international swimming; he won his first nationals in 1961 and his last in 1968. His world records were set from 1961 to 1963. When he finished second to Kevin Berry in the 1964 Tokyo Olympics, the silver medal he wore around his neck, to him, was a symbol of failure rather than success.
When Carl graduated from college as Michigan captain in 1967, he was expected to retire. But Robie kept on. During his freshman year in law school, he worked out by himself at a YMCA without a coach and came back to make the 1968 Olympic Team as "the old man of swimming" at 23. His gold medal was the most popular come back victory of the 1968 Olympics. "Over the hill" in 1964, he won it all in 1968, co-captaining the US team.
No one except a cherished few thought that he would win. "It was the happiest moment of my life," said Carl. "You know, I've won everything — the Pan American Games, meets all over the world, but this one I didn't win until my last race. I am a lucky guy!"
Carl has a civil trial practice in Sarasota, Florida and is admitted to 9 bars in 6 states. His interest in swimming continued as his children (Mandy and C.J.) pursued their own swimming goals at the national and international level. He is married to Chris (his paralegal) since 1968 and enjoys many hobbies together with his family.