On this day in 1934, Honor Diver Paula Jean Myers Pope was born…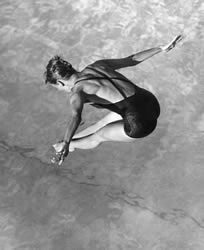 ---
Paula Jean Myers Pope (USA) 1979 Honor Diver
FOR THE RECORD: OLYMPIC GAMES: 1952 silver (platform); 1956 bronze (platform); 1960 silver (springboard, platform); NATIONAL AAU DIVING CHAMPIONSHIPS: 11 (1m, 3m, platform); PAN AMERICAN GAMES: 1955 team member; 1959 gold (springboard, platform).
Paula Jean Myers Pope medaled in three Olympics — 1952, 1956 and 1960. For most of her career this talented diver was a bridesmaid to two of the greatest and most versatile women divers of all time. First it was Pat McCormick twice a double Olympic winner (the only such male or female), 1952 and 1956, and then to Ingrid Kramer, 1960 double winner.
Paula Jean first upset Pat McCormick in 1953 off the springboard (Indoor) and off the tower the following summer (Outdoor). All three of these great women divers of the era were a rarity in that they were equally strong off both the springboard and the tower. In spite of Pat's competition much of the time, Paula Jean won 11 nationals, two Pan Am titles and a total of four Olympic medals — three silver and one bronze. In 1957 Paula Jean scored a grand slam of U.S. National Women's Diving by winning all five competitions – Indoor and Outdoor. In 1958 she repeated Outdoors with a summer slam off the 1- and 3-meter boards and the tower and followed this by winning both the springboard and tower in the Pan Am Games at Chicago in 1959. She also won the U.S. Olympic Trials in 1960 and won the silver medals in Rome, finishing second to Ingrid Kramer.
Paula Jean was the first woman to do double twisting 1 1/2 somersault and inward 2 1/2 somersault in competition off the 10-meter. She had three coaches, Rusty Smith (1948-51), Lyle Draves (1952-57), and Sammy Lee (1958-60 and again in 1964). She placed in the Nationals under all three.
Married in 1958 to Karl Pope, Paula Jean had five children and with her husband, ran the Ojai Valley Racquet (swimming & tennis) Club. She was a graduate of U.S.C. in Dental Hygiene.
Paula Jean died in 1995.