On this day in 1932, the great Ohio State Diver, Don Harper was born…….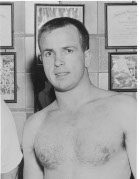 ---

Don Harper (USA) Honor Diver
FOR THE RECORD: 1956 OLYMPIC GAMES: silver (3m springboard); 1959 PAN AMERICAN GAMES: silver (10m platform); FIVE U.S. NATIONAL CHAMPIONSHIPS: 1955, 1959 (outdoor 3m springboard), 1956, 1958 (indoor 3m springboard), 1957 (indoor 1m springboard); THREE NCAA CHAMPIONSHIPS: 1956, 1958 (3m springboard), 1958 (1m springboard), SEVEN NATIONAL A.A.U. CHAMPIONSHIPS 1955, 1959 (outdoor 3m springboard), 1956, 1958 (indoor 3m springboard), 1959, 1960 (indoor 1m springboard), 1961 (10m platform).
As the record books show, only Mexico's Joaquin Capilla and Juan Botella could match the divers of the USA during the 1950's. Many of those U.S. divers competed for Hall of Fame Coach Mike Peppe at Ohio State University Teams. At one time in the 1950's, the Ohio State University had 17 National Champion divers. Team competition was fierce and always brought out the best in each athlete. No exception to this rule was Don Harper, National AAU and NCAA Champion 11 times in springboard diving and trampoline. Springboard diving and trampoline complimented one another and trampoline was an NCAA sport during the 1950's. In 1956 and 1958, Harper became the only athlete in NCAA history to win national championships in two different sports in the same season.
Don enrolled at Ohio State in 1953 and during his tenure received Bachelor, Master and Doctorate degrees in the field of physical education, health and physiology. He was an excellent student and a motor genius when it came to applying mechanical techniques to his diving and acrobatic trampoline routines. He was one of the first divers to apply a mechanical approach to his dives. As the national trampoline champion, he would strap a video camera to his chest while performing spins and somersaults. He would then apply what he saw on the film to his dives on the board, creating a mental picture and imitating the move.
In 1955, at the Pan American Games in Mexico City, he won the gold medal on the trampoline, unofficially becoming the first World Champion since this was the first international competition in trampoline. Earlier in the year he had already won 4 major diving contests in Japan, on both the springboard and platform, at meets in Tokyo and Osaka. The following year, 1956, Don had victories at the Big10, NCAA and AAU Championships in 3m springboard competition. He qualified first at the 1956 U.S. Olympic Trials. Traveling with a strong American contingent to the Olympics at Melbourne, he was narrowly out-scored by teammate Bob Clotworthy, receiving the silver medal in 3m springboard competition.
Don continued diving for another five years, winning at least one major national championship each of those years. He won another USA vs. Japan Duel Meet in 1959 and silvered on the 10m platform in the Chicago Pan American Games that same year.
As a retired diver, he was a positive influence on the development of other divers and traveled throughout the world, at the invitation of international diving federations, to conduct clinics and tours. Dr. Harper remained at Ohio State University as a professor of physiology, sharing his qualities as an elite athlete.