On this day in 1912, Marshall Wayne was born: Happy Birthday !!!!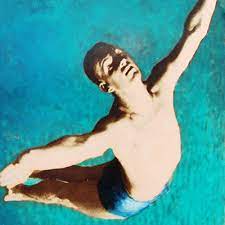 ---
photo credit: University of Miami Sports Hall of Fame
MARSHALL WAYNE (USA) 1981 Honor Diver
FOR THE RECORD: OLYMPIC GAMES: 1936 gold (platform), silver (springboard); NATIONAL AAU Titles: 2; Starred in Billy Rose's Aquacades in 1937, 1939, 1940.
Marshall Wayne was taller than most divers. Many said he was the first tall man to look good in his somersaults, spins and twists. He looked good enough to the judges to get the silver medal in the 1936 Olympic springboard diving and he stood still taller on the victory stand as he won the gold off the 10 meter platform. He went on to star as a pro in all 3 of Billy Rose's Aquacades (1937 Cleveland, 1939 New York and 1940 San Francisco) with Hall of Famers Johnny Weissmuller, Eleanor Holm, Buster Crabbe, and Esther Williams. His high diving was followed after World War II with 27 years as a Pan Am pilot. His induction as an honor diver in the International Swimming Hall of Fame brings him to roost where he began diving — in South Florida with Hall of Famers Peter Desjardins and Katherine Rawls, trading off national championships with Elbert Root. His coach was the late great Don Grubbs.