On this day in 1903, Honor Swimmer, Warren Kealoha was born…..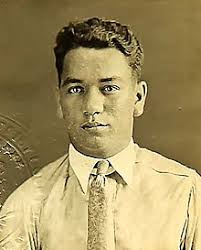 ---
WARREN KEALOHA (USA) 1968 Honor Swimmer
FOR THE RECORD: OLYMPIC GAMES: 1920 gold (100m backstroke); 1924 gold (100m backstroke); NATIONAL AAU CHAMPIONSHIPS:  2 gold (50 freestyle); Backstroke world record holder and national champion for 6 years.
Hawaiian Olympic swimming is a study in brotherhood — the Kahanamoku brothers, the Kealoha brothers and the Kalili brothers.  The Kahanamoku brothers, Duke and Sam, were second and third to Johnny Weissmuller in the 1924 Olympic 100 meter freestyle after Duke had won in 1912 and 1920.  The Kalili brothers, Mailola and Manuella, were on the silver medal 800 meter freestyle relay team in 1932.  The Kealoha brothers, Pua and Warren, won gold medals in the 800 freestyle relay (Pua) with The Duke; and the 100 meter backstroke (Warren) in the 1920 Olympics.
Warren Kealoha, the baby of the 1920 team, was 16 when he won his first Olympic backstroke crown.  He came back to win again in  1924 as the Olympics first double winner in any stroke other than freestyle.
Warren Kealoha, like his brother, was a USA champion freestyler, twice winning the National AAU 50 freestyle gold medal, but he was supreme for 6 years as backstroke world record holder and national champion.
"It wasn't easy for Hawaiians to get to the Olympics back in those days,"  Warren says, "or I might have had a chance at my third Olympics in 1928."  Warren Kealoha had more trouble getting to his races than winning them.  "We had to break a world record before they could afford to send us to the Mainland," he says, "then when we arrived by boat and out of shape, we had to beat all comers on the West coast, again in Chicago, and again in New York before we finally made the Olympic team."  Warren joins the late Duke Kahanamoku, Bill Smith, Buster Crabbe and coach Soichi Sakamoto as Hawaiian swimmers in the Hall of Fame.  Now a successful rancher, Kealoha represents an amazing heritage of Island swimming which dominated the world for 50 years.  The list, beginning with coach "Dad" Center and ending with diver Keala O'Sullivan, including Sargent Kahanamoku, Keo and Bunny Nakama, Douglas and Jerry Miki, Bill Woolsey, Allan Stack, Dick Cleveland, George Onekea, Sunny Tanabe, Halo Hiroshi, Ford Konno, Oshi Oyakawa, Charlie Oda, Evelyn Kawamoto, Thelma Kalama, Ivalena Hoe, Clarence Lane, Dudley Pratt, Jose Balmores, Kenny and Sammy Nakasone, Walt Richardson, the Honda boys and many others.
There may have been years when the Hawaiian Islands would have won the Olympics without help from the Mainland.  It should be an inspiration to island peoples everywhere that swimming championships can become part of the way of life in island recreation.