On this day in 1901, Liliian "Billie" MacKellar, Honor Synchronized Swimming Coach and Contributor was born…..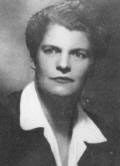 ---
LILLIAN "BILLIE" MACKELLAR (NZL, CAN, USA) 1993 Honor Pioneer Coach/Contributor
FOR THE RECORD: COACH: University of Western Ontario, 1943-1950; Kia-Ora Swim Club, St. Catherines, Ontario, 1945-1951; Hollywood Athletic Club, 1952-1962; Glendale Swim Club 1963-1975; U.S. Synchro Committee Chairman, Southern Pacific Association Chairman 1956-1972, 1980-1984; ATHLETE: New Zealand National Champion (diving, breaststroke).
Lillian "Billie" MacKellar in her youth was a swimmer and diver of international renown. She was a national breaststroke and diving champion in her native New Zealand and a participant in many long distance swims in Australia, England, and France. She went to Canada to compete and ended up staying to coach both women's and men's swimming and synchronized swimming at the University of Western Ontario. Her foremost pupil, Hall of Famer June Taylor, won Canadian and the U.S. National solo titles.
After traveling to the 1951 Pan American Games in Argentina as manager of the Canadian exhibition team, she moved to Hollywood, California, and later Glendale, where she developed an entirely new group of swimmers know as "Billie's Kids." Her national and international swimmers included Betty Vickers, Barbara Burke, Joanne Shaack, and Gina Childers.
Billie was an untiring missionary in the sport of synchronized swimming, traveling to every corner of the United States, Canada, and across the world giving clinics and coaching to help bring synchronized swimming into the forefront of the sports world.
Whenever a need arose in the sport, Billie MacKellar was there to help. In 1971, the 25th anniversary of synchronized swimming's acceptance by the AAU as an official sport, Billie felt there should be an award to recognize outstanding contributions by individuals for synchronized swimming. Billie not only proposed the award, but she even supplied the funding for it. Today, the Lillian MacKellar Distinguished Service Award is presented annually to an individual who has given unselfishly to the support of synchronized swimming with particular attention to the welfare of the athletes. Over her strong protest, the selection committee chose Billie as the first recipient of the award.
As U.S. Synchronized Swimming's national chairman and member of the national committee, Billie MacKellar established recognition awards for the Outstanding Collegiate Athlete of the Year Award, the Synchronized Swimming Life Membership Program, and college scholarships for synchronized swimmers.
Billie died September 1, 1991, in Burbank, California. After becoming ill at the 1987 Pan American Games, Billie was thought to have been on her way to recovery when cancer was found just four days before her death.