On this day in 1894, ISHOF Honor Swimmer Belle Moore was born…..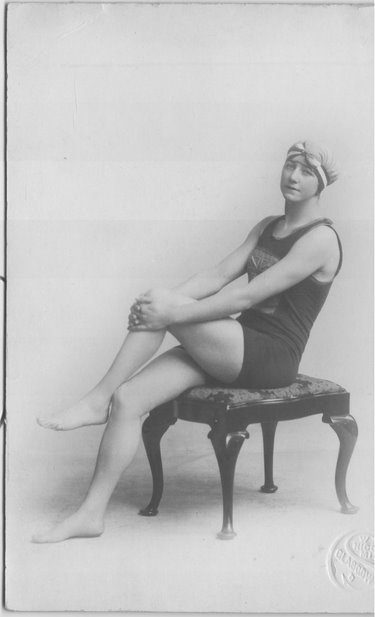 ---
 BELLE MOORE (GBR) 1989 Honor Pioneer Swimmer
FOR THE RECORD: OLYMPIC GAMES: 1912 gold (400m freestyle relay).
In 1912, Belle Moore became the first and only Scottish woman to win an Olympic gold medal for swimming.  The 1912 Stockholm Olympics were the first ever for women's swimming competition. Belle, along with Hall of Famer Jennie Fletcher and two teammates from England, won the 400 meter freestyle relay for Great Britain.  King Gustav V of Sweden adorned her with her Olympic gold medal and laurel wreath.
Number eight of nine children, Belle started swimming because it was mandatory in all Glasgow schools.  Her instructor encouraged her to continue and because she was so dedicated she often walked 2 to 3 miles to a pool.
As the lead-off swimmer, dressed in a wooly tank suit and wearing a red rubber cap with bow to cover her long hair, Belle and her team from Great Britain beat nine other teams for the Olympic gold.  She continued her winning ways into the next year by setting the 200 yard freestyle record which remained unbroken for many years.
In 1919, she married George Cameron, a naval architect and moved to Dundalk, Maryland, USA where she lived until her death in 1975.  She continued to swim in her adult years and taught thousands of youngsters to swim.