On this day in 1893, ISHOF Honor Pioneer Swimmer and Cal Bear, Ludy Langer was born…..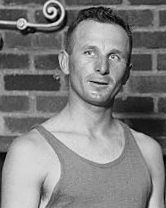 ---
LUDY LANGER (USA) 1988 Honor Pioneer Swimmer
FOR THE RECORD: OLYMPIC GAMES: 1920 silver (400m freestyle); WORLD RECORDS: 2 (440yd, 500m freestyle); U.S. NATIONAL CHAMPIONSHIPS: 8 from 1915-1921.
Ludwig "Ludy" Ernest Frank Langer was an American swimmer who competed in freestyle events. He was one of six Hawaii-based swimmers who competed at the 1920 Summer Olympics in Antwerp, Belguim, and collectively won seven medals
Langer won a silver medal in the 400 meter freestyle at Antwerp. He set two world records in the 440 yard and 500 meter freestyle and won eight U.S. National Championships from 1915 through 1921. He held the world record in the quarter mile for five years until he lost it to Hall of Famer, Norman Ross, the same Ross who touched him out for the 400 meter gold at Antwerp.
Langer was just hitting his stride with a victory in Hawaii over the legendary Duke Kahanamoku, when World War I interrupted his career. He returned to win his last two Nationals in 1921.
This from Cal Blog's FANPOST in December 2012:
The University of California has an extraordinary tradition of excellence in the sport of swimming. Cal students and alumni have won a total of 63 Olympic medals in swimming: 29 Gold, 21 Silver, and 13 Bronze. Two of Cal's all-time greatest athletes are swimmers: Matt Biondi, who has 12 Olympic medals, and Natalie Coughlin, who has 11 (and counting). And, of course, the Cal men's swimming team and the Cal women's swimming team have each just won back-to-back national championships. This tradition of Cal swimming glory can be traced back to one individual, Cal's first great swimmer, Ludy Langer.
To read the entire article and learn more about Lundy Langer from Cal's FANPOST, visit:
https://www.californiagoldenblogs.com/2012/6/6/3038141/ludy-langer-cals-first-olympic-swimmer