On this day, British swimmer, Lucy Morton was born……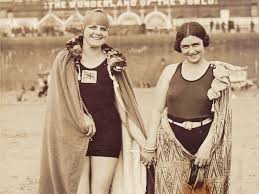 ---
LUCY MORTON (GBR) 1988 Honor Pioneer Swimmer
FOR THE RECORD: OLYMPIC GAMES: 1924 gold (200m breaststroke); WORLD RECORDS: (200yd breaststroke; 150yd backstroke); AMATEUR SWIMMING ASSOCIATION CHAMPIONSHIPS: 1920 (150yd backstroke; 200yd breaststroke).
Lucy Morton became the first British woman to win an Olympic gold medal for swimming at the 1924 Paris Olympics. At the age of 26, she swam a come-from-behind race to beat Britain's world record holder Irene Gilbert. Under the watchful eye of her coach George Swarbrick, Miss Morton held two world records in the 200 yard breaststroke prior to her Olympic victory and would have had a good chance of a gold in 1920, but there were no breaststroke events for women in the Antwerp Games. Lucy also held the first world record for the 150 yard backstroke in 1916 in the days of the English double over-arm and frog leg-kick. In 1920, she was the first Amateur Swimming Association champion in the 150 yard backstroke and 200 yard breaststroke. Lucy Morton retired soon after the Olympic Games, but continued for 42 years as a swimming teacher, coach, official, traveling-team chaperone, and a friend within the sport.
The medals of Lucy Morton go home to Blackpool……..
In 2019, the Olympic medals and other memorabilia of British Swimmer, Lucy Morton, went to auction, and the City of Blackpool, where Lucy was from, was able to win the bid at the auction and get Lucy's items and bring them home. Above is a video from the auction house of the items Blackpool won, the pinnacle being her Olympic medal.
Article from Blackpool Council: 18 September 2019
I am absolutely delighted to announce that Blackpool Council and Blackpool Civic Trust have successfully purchased Lucy Morton's Medals at a recent auction. We considered these to be very important to Blackpool and its Heritage..
"Blackpool Civic Trust made a contribution to the Council's successful bid to ensure that a significant part of Lucy Morton's memorabilia will return to Blackpool. The memorabilia included, crucially, the gold medal for 200m Breast Stroke that Lucy Morton won at the 1924 Olympics.
Joan Humble , said 'I am so glad that Blackpool Civic Trust was able to support Blackpool Council in securing this important memorabilia to celebrate a remarkable woman. Visitors to the Town Hall can see the Blue Plaque that the Civic Trust put up in 2012, detailing her outstanding achievements. We can now look forward to seeing her Olympic Gold and other medals on display."

The archive of the memorabilia will be housed at at the History Centre in Blackpool Central Library that preserves and gives access to Blackpool's heritage collections. The story of Lucy Morton will also feature in Blackpool's first museum when it opens to the public.'

The first ever Olympic gold swimming medal won by a British woman for an individual event in 1924 is expected to sell for thousands at auction.
It has been uncovered along with 39 other gold and silver medals won by Lucy Morton (later Heaton) in the early 1900s together with an archive of her life which shows how her success was born out of one of the biggest put-downs any child could receive.
In Lucy's handwritten memoirs, she explained: "At the age of 10 I was at Christchurch School in Blackpool and Mrs Phillips, the headmistress, sent a note to my father stating that I was the biggest dunce in the school and suggested swimming might brighten my ideas up a bit."
Swimming certainly paved the way to glory for Lucy. Some 15 gold medals and 25 silver medals, with an overall estimate of £30,000-£40,000, will go under the hammer at Hansons Auctioneers' Sports Memorabilia Auction on August 22. They include her Olympic gold medal, estimate £10,000-£12,000, and a bracelet made out of five gold medals awarded for breaking world records between 1913 and 1920, estimate £15,000-£20,000.