On this date in 1898, the great coach, Bob Muir was born……….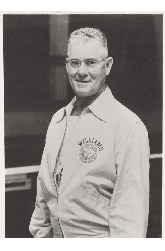 ---
BOB MUIR (USA) 1989 Honor Pioneer Coach
FOR THE RECORD: OLYMPIC GAMES: 1948, 1952 Assistant Coach; 1956 Head Coach USA's Men's Team; COACH: 1920's Boston University, MIT swimming teams at Boston YMCA; 1930-1935 Harvard University freshmen swimming, varsity diving; 1936-1966 Williams College (17 New England Championships); President Intercollegiate Swimming Coaches Association, 2 terms; National Collegiate and Scholastic Swimming Award: 1968; Author of over 50 published articles on swimming.
Little did Bob Muir know at the age of 10 in 1912 when he first dove into the pool at the Brookline (Massachusetts) Swimming Club, that he was destined to spend the rest of his life on the pool deck. As a swimmer under Hall of Fame coach, Matt Mann, he won 19 New England AAU Championships in the breaststroke and backstroke. In 1917, as captain of the Boston Swimming Association, he won the junior national breaststroke championship and held the national YMCA breaststroke record for seven years.
But in 1921, he began his coaching career at the Boston YMCA where he coached Boston University and MIT swimming teams. In 1930, he began a six year stint at Harvard University as freshman swimming coach and varsity diving coach. His most illustrious swimmer was the future President John F. Kennedy who went undefeated in Freshman competition before retiring due to a chlorine-aggravated sinus condition.
In 1936, Coach Muir moved to Williams College where he coached for the next 30 years. His teams never had a losing season, winning 185 meets with only 44 losses and 4 ties. With Bob at the helm, Williams swimmers won 17 New England championships.
During the Olympic Games of 1948 and 1952, Bob was an assistant coach for the U.S. Team. In 1956, he served as head coach for the USA Men's Team in Melbourne, Australia.
Apart from his coaching, Bob served two terms as president of the Intercollegiate Swimming Coaches Association, authored more than 50 published articles on swimming, taught more than 35,000 youngsters to swim and was very active with the College coaches Swim Forum. In 1968, he received the National Collegiate and Scholastic Swimming Award. And among his many accomplishments was the introduction of the so-called "Muir system" of seeding which assigned the lanes of the swimmers in the finals on the basis of their times in the preliminary heats. This system is still being used today.