On the last day of May, when we celebrate Asian American Heritage Month, we honor two of our best: Dr. Sammy Lee and Victoria Manalo Draves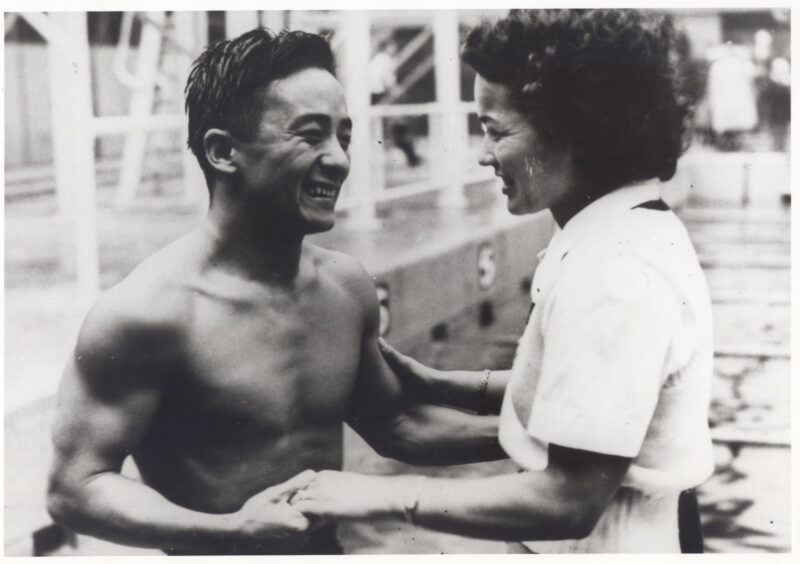 ---
Diving and ISHOF had two very special friends in Dr. Sammy Lee and Victoria (Vicki) Manalo Draves. Sammy and Vicki were close friends who were both Californians, and who both went to the 1948 Olympics together, winning double gold medals in diving. Vicki won both hers in 1948, on the 3-meter springboard and the 10-meter tower and Sammy won his back to back in 1948 and in 1952. After the Olympic Games, both Lee and Manalo were married and had families but always stayed friends. They also stayed involved in the sport of diving. Once the new Hall of Fame opened in Fort Lauderdale in the late 1960's they were both frequent visitors, wether if was for a diving meet, an induction ceremony, either their own or a fellow divers. We lost both Sammy and Vicki, but they will always be remembered as lifelong supporters of the sport of diving and wonderful friends of the Hall of Fame. Please read their bios below…..
Dr. Sammy Lee (USA)
Honor Diver (1968)
The information on this page was written the year of their induction.
FOR THE RECORD: OLYMPIC GAMES: 1948 gold (platform), bronze (springboard); 1952 gold (platform); 1964, 1968 (U.S. Olympic diving coach); NATIONAL AAU CHAMPIONSHIPS: springboard, platform; SULLIVAN AWARD: 1953.
Sammy Lee was born in Fresno, California, of Korean parents. At both Luther Burbank Jr. High and Benjamin Franklin High School in Los Angeles, he was the first non-Caucasian Student Body President, graduating No. 1 scholastically, and was chosen the school's top athlete in 1939. While at Occidental College in 1942, he won his first Men's Senior National AAU springboard and 10 meter tower diving championships. He retired in 1943 upon entering the School of Medicine at the University of Southern California.
In 1946, during his internship, Lee came out of retirement to win another outdoor tower championship. Two summers later in London, he won the Olympic platform diving title and was third in the springboard. Sammy was the first American born Oriental to win an Olympic gold medal for the USA.
As the 1952 Helsinki Olympic Games came closer (he had expected to make the 1940 Games at Helsinki before they were cancelled by war), the now retired 28-year-old Dr. Lee again got the bug and came out of retirement at age 32. He made the team and again won the tower, the first man ever to accomplish this double.
In 1953, Sammy Lee won the heralded Sullivan Award as America's outstanding amateur athlete.  In 1960, Dr. Sammy Lee again took medical leave and came out of diving retirement, this time as U. S. Olympic diving coach in Rome.  His diving protégé, Bob Webster, won the platform and repeated again in 1964 at Tokyo.  Since Sammy Lee was the first man to double in successive platform wins, it seemed only natural to this born winner that his pupil should be the second to accomplish this double.
Sammy Lee is still coming out of retirement as he did in 1963 and 1968 to coach the Japanese and Korean divers. He's married to a Chinese-American wife with two children, 12 and 7. In 1966, he was named outstanding American of Korean parentage by the American-Korean Society of Southern California.
Dr. Lee specializes in diseases of the ear, including, quite naturally, that occupational hazard known as "swimmer's ear."  Don't expect any phony sympathy, however, because, whatever the pain, Sammy Lee has probably had it before.
Victoria "Vicki" Manalo Draves (USA)
Honor Diver (1969)
The information on this page was written the year of their induction.
FOR THE RECORD: OLYMPIC GAMES: 1948 gold (springboard; platform); NATIONAL DIVING CHAMPIONSHIPS: 1946, 1947, 1948 gold (platform); 1948 gold (springboard); First woman in Olympic to win both springboard and platform diving crowns in same games.
Victoria Manalo Draves was the first woman in Olympic history to win both springboard and platform diving crowns in the same games. She was the only swimmer or diver to gold medal in two individual events at the 1948 London Olympiad. Her rise to No. 1 in the world was meteoric but far from easy. Vickie was a twin born in San Francisco to an English mother and Filipino father. When Vickie was 16, she and her sisters would take the trolley car to Fleishhacker Pool to swim and admire the divers. Admiration was mutual as one of the boy divers introduced her to Phil Patterson, coach of then national champion Helen Crlenkovich. Vickie learned rapidly under Phil, but her biggest hurdle was not on the diving board. Her diving club on Nob Hill required that she drop her father's Filipino name and take her mother's maiden name, Taylor. Finances were another problem and a year later, she joined Charlie Sava's famed Crystal Plunge team where she worked with Jimmy McHugh. McHugh left coaching and on Sava's advice, Vickie crossed the bay to dive with Lyle Draves and his star pupil Zoe Ann Olsen at the Athens Club in Oakland.
With a third diver, Gloria Wooden, Draves took his girls to the 1945 Indoor Nationals in Chicago and they placed 1, 2, 3 in the 3 meter springboard.
Wartime duties, another Nob Hill meet argument over Vickie's Filipino parentage, and Draves returning to Southern California left Vickie once more without a coach.  There followed some commuting to Los Angeles, a second and a third at the Outdoor Nationals, and then, on the death of her father, Vicki retired and returned to San Francisco and to her old job as a secretary in the Army Port Surgeon's office.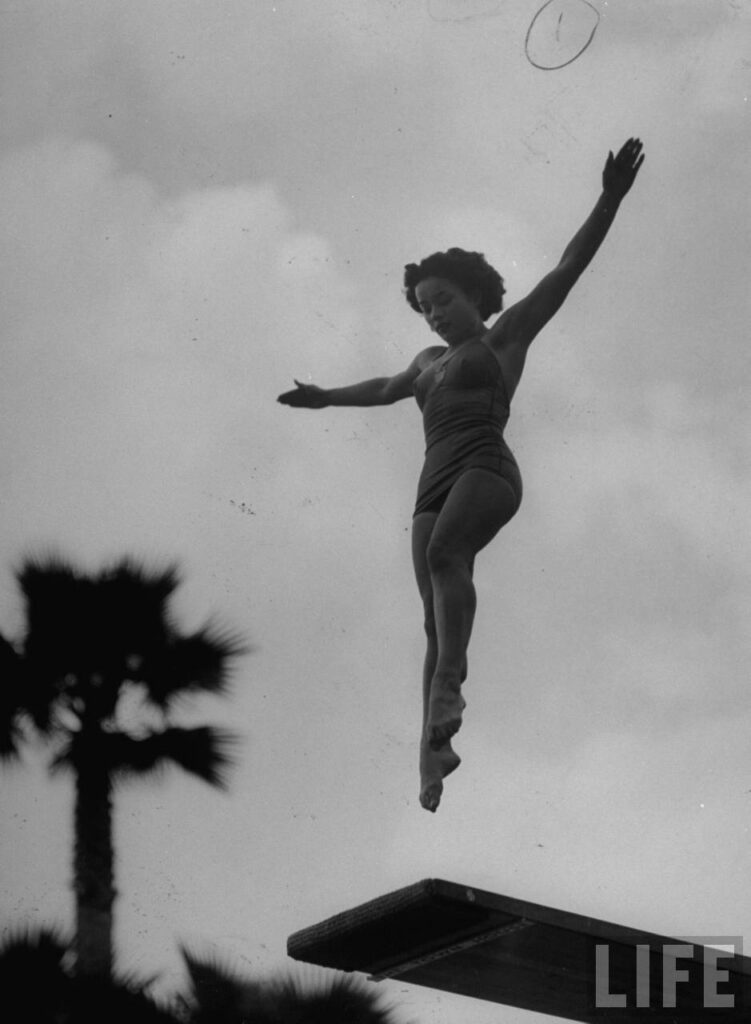 When the war ended, Vickie finally moved to Southern California for good.  She married her coach and her winning ways began immediately with the national Tower Diving Championship (10 meter platform), in 1946, 1947 and 1948.  In 1948, she won her first springboard national title.  She made the team but was not first at the Olympic Trials in either springboard or platform.  She was the first woman of oriental ancestry to win an Olympic gold medal in diving.  The first man was Korean-American Sammy Lee, who, like Vickie, stands 5'1″ when he stretches.  The incredible performances of these two Asian-Americans helped heal the scars of an Olympic-canceling World War, and personified the Olympic revival of individual competition regardless of race, creed or national origin.