Olympic Legend Dawn Fraser Named 42nd Swimming Australia Life Member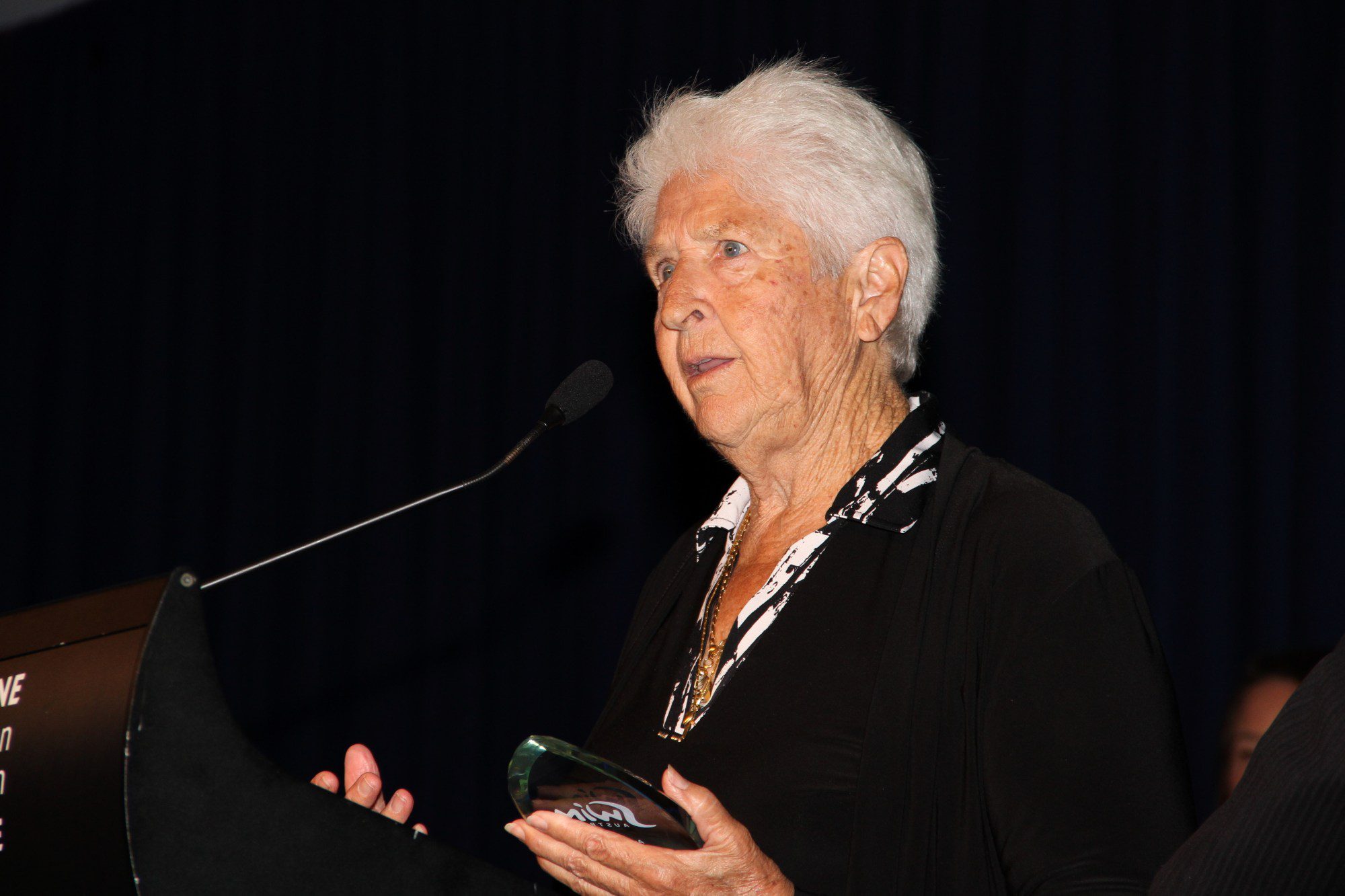 ---
24 October 2019, 11:44pm
Dawn Fraser Life Member Of Swimming Australia
Olympic swimming legend and national treasure Dawn Fraser AC, MBE has become the 42nd Life Member of Swimming Australia at its 110th Annual General Meeting this week.
And a spritely 82-year-old Dawn was able to share the news immediately with her daughter Dawn-Lorraine and grandson Jackson on speaker phone.
"After 60 odd years I think it is an absolute thrill and when (Swimming president) John Bertrand rang me yesterday fortunately my daughter and grandson were in the car and they were so excited, and I was excited too," said Dawn, still actively involved as an ambassador and mentor with the sport she loves.
"I think it is a wonderful thing that has been done for me and I am so proud I am an Australian swimmer.
"I (still) love seeing all the young kids coming through and I am mentoring a few of them, including a few Para athletes.
"I really get enjoyment from seeing them improve their times and they enjoy swimming as much as I used to."
Regarded as one the finest female sprint swimmers in the world, Fraser won four gold and four silver Olympic medals across the course of her brilliant career which spanned more than a decade throughout the 50s and 60s.
Having held 39 world records – 27 of them individual – the lovable larrikin was the first swimmer to win the same event at three consecutive Olympic Games, claiming gold in the 100m freestyle in 1956, 1960 and 1964.
In 1964 she was fittingly named the Australian of the Year and in 1965 was inducted into the International Swimming Hall of Fame (ISHOF).
In subsequent years, Fraser was made a Member of the Order of the British Empire and was appointed an Officer of the Order of Australia (AO) in 1998.
As part of the 2018 Queen's Birthday Honours she was elevated to a Companion of the Order of Australia (AC) – the highest honour one can receive.
She has also amassed worldwide accolades, with the International Olympic Committee naming her the World's Greatest Living Female Water Sports Champion in 1999.
Tokyo revisited in 2020
And the Life Membership comes on the eve of the 2020 Tokyo Games – 56 years after her greatest triumph at the 1964 Tokyo Olympics where she created history with her third individual Olympic gold – and the Games that saw her incur the wraith of the then Australian Swimming Union which resulted in a 10 year ban for "alleged misconduct," which included the now infamous "stolen flag" incident.
Fraser carried the Australian flag in the Closing Ceremony and was then presented with the stolen flag by the Japanese Emperor only to face the music of the ASU on her return to Australia.
A ban that was eventually lifted after three years and before the 1968 Mexico Games – after she fought the ASU in court – but now some 50 years on and Dawn Fraser has rightly been recognised for her feats in the pool and the glory she has brought to Australia – a true blue Aussie that all Australians can relate to.
Life after swimming would see her very public life blossom between pubs, politics and pools and in 1978 she stepped behind the bar of her beloved Riverview Hotel in Balmain, the pub she ran for five years and then later followed a term as the Local Member for Balmain in the NSW State Parliament – never afraid to voice her opinions.
Dawn remains the lovable larrikin
Fraser remains the loveable larrikin of Australian public life and loves nothing more than to walk onto pool deck, talking to the swimmers and posing for photos – still as popular and as notable as Ian Thorpe and Cate Campbell – and sharing a beer or a wine to toast their feats.
Bertrand said his board was thrilled to recognise one of Australia's most decorated athletes with Life Membership.
"As a Board, endorsing Dawn as a Life Member of Swimming Australia was one of the easiest decisions we've made, and I can't think of a more deserving recipient," Bertrand said.
"I don't throw around the word 'legend' very often, but Dawn is a legend of our sport and the epitome of the word.
"Her achievements in the pool will forever be proudly etched in Australia's history. What she accomplished is nothing short of astounding and since her retirement, she has continued to give so much to our sport – you won't find a more passionate person about swimming than our 'Dawnie'."
Current Nunawading Head Coach and Olympian, Scott Talbot, the son of the late Jan Cameron OAM and legendary former head coach and 2004 Life Member Don Talbot, was also on hand at the AGM to accept his mother's Life Membership.
Cameron (pictured fourth from the bottom of the 1964 team) was a team mate of Fraser's (bottom of photo in sunglasses) and was posthumously awarded Life Membership in 2018 along with former legendary Australian Olympic coach and Learn-to-Swim advocate Laurie Lawrence.
Life Membership is a prestigious level of recognition for swimmers, coaches, administrators, officials and volunteers. To view all Life Members of Swimming Australia, click here.