Olympic Expectations: USA Men's Water Polo Passes Pan American Test, Moves On to Tokyo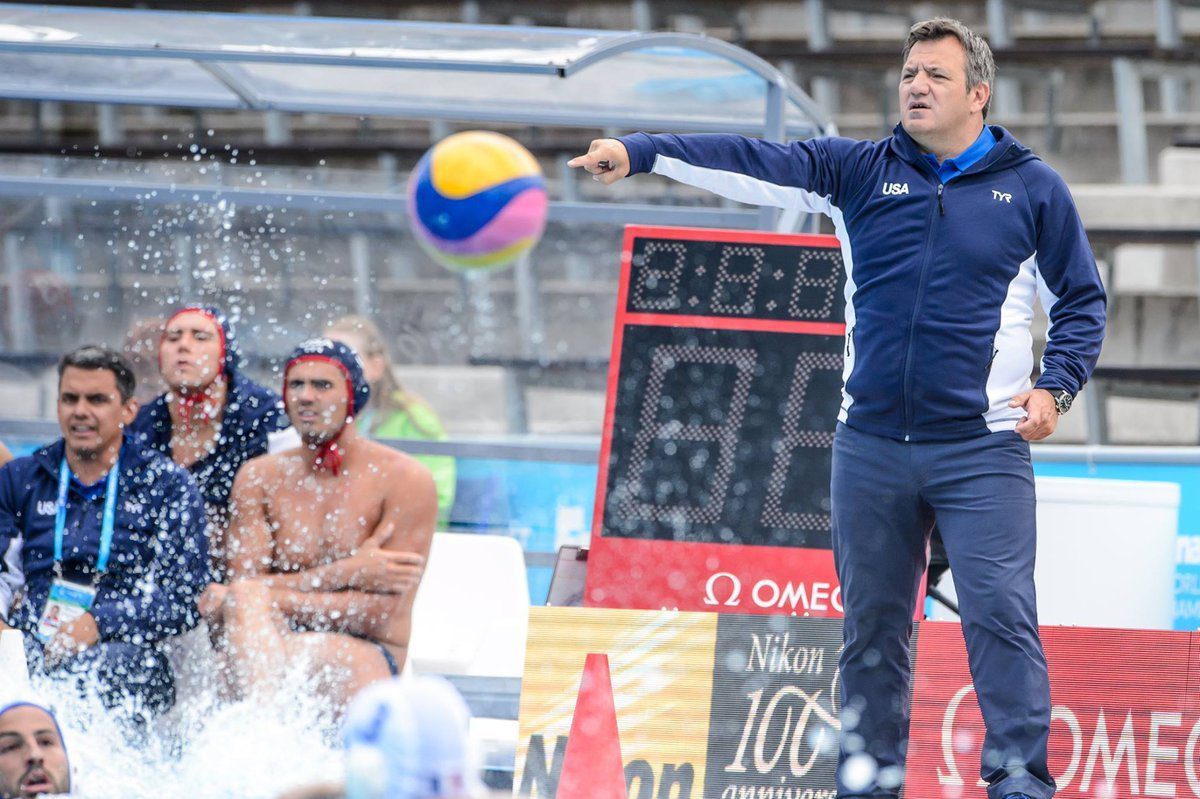 ---
23 August 2019, 08:11am
BROOKLYN, NY. It's been more than a week since I returned from Lima, Peru for the 2019 Pan American Games. Following men's and women's water polo at Pan Ams was the most important tournament I've covered—so far—for one simple reason: events at Villa Maria del Triunfo Aquatics Complex represented a referendum on Dejan Udovicic's tenure as head coach for the American men.
Despite a number of unknown variables, including the quality of the competition, his men succeed spectacularly. Of six matches, Team USA's only competitive contest was in group play versus Canada, whom the Americans beat decisively in the gold medal game. In that first match, Udovicic's side bolted out to a 10-5 lead after intermission, then held off a furious Canadian rally for a 13-11 win.
It was only after an 18-6 victory in the final—perhaps the best the Americans have played in a long time—that the most important question these past four years was answered: would Team USA qualify for the 2020 Olympics? But, given how easily they won gold at Pan Ams for the seventh-straight time—there was almost a "What? Me worry?!" aspect to the Peru adventure. It turns out that the Canadians—far less experienced than their American counterparts—and the Brazilians, who lacked the depth to advance to a second-straight Olympic Game, were never serious challengers to American polo hegemony in the region.
Not that this was clear to me, especially after a disastrous trip last September to Berlin that effectively ended the national team careers of goalie McQuin Baron and defender Alex Roelse. And, there was no way to guarantee the newly constituted roster—featuring Alex Wolf in goal and a couple of ex-UCLA players like Chancellor Ramirezand Matt Farmer at center—would successfully complete the one assignment Udovicic needed to keep his job: Pan Am gold and with it a ticket to Tokyo.
After the win, the American head coach took in the medal ceremony by himself, and was surprisingly reticent. This reserve in the midst of his team's significant accomplishment makes sense; what made Udovicic so appealing to USA Water Polo CEO Chris Ramsey back in 2014 was his considerable international experience as head coach of the Serbian national team. This also is what has made it difficult for him to fully integrate with a roster exclusively populated by Californians who have literally grown up together.
So, while U.S. assistant coaches Alex Rodriguez and Gavin Arroyo—both fully integrated in the California polo scene—stood on the pool deck and laughed it up, the American head coach was remarkably subdued—especially for someone who had just delivered on his primary contractual obligation.
Just how reliable were these results?
As it turns out, both the men's and women's competition at Pan Ams was extremely weak. Adam Krikorian's squad has no comparable rivals anywhere on the globe—a fact again proven at the recent FINA World Championships, when the American women won their third-straight title. Expecting the Canadians to provide a challenge turned out to be wishful thinking, and none of the other six teams present—Brazil, Cuba, Mexico, Peru, Puerto Rico or Venezuela—were within 15 goals of the Americans.
Instead, Krikorian, whose squad had qualified for the 2020 Games in June, took pains to avoid the bad optics of blowout losses against inexperienced teams like Peru and Venezuela. Instead, he took a shot against the IOC's ill-considered roster limits for the 2020 Games by rotating Olympian Ashleigh Johnson out of the USA cage and inserting field players. The stated goal: have a viable plan "B" in case of injury to his star goalie. Current rules specify that teams at Tokyo can only substitute from its two alternates after the match is over—and the substituted player is done for the tournament.
Udovicic had no such margin for error, even though his team outscored the opposition 117 to 26. The looming danger was the Brazilian men, and there failure was the story of the tournament. After Ricardo Azevedo named himself as head coach a little over a month ago, his team squandered a late lead and dropped an 8-7 semifinal match to Canada. This set up an all-North America final, and the USA men blew up their northern rivals behind five goal outbursts from Alex Bowen, Ben Hallock and Johnny Hooper.
The Canadian men and women each had their Olympic hopes, but only one of them were realized. Krystina Alogbo, who has been pursuing her dream for more than two decades, found satisfaction when her team advanced to the Pan American gold medal match against Team USA. That they did not need to win was likely the greatest possible gift; the Americans had already qualified, so whoever joined them in the final was also booked for Tokyo.
Canadian women's coach David Paradelo's task is to prove that his squad belongs among the world's top ten teams. Based upon a 24-4 blow-out loss in the final, he and his players have a lot of work to do between now and July 2020—especially if the goal is to medal in 2020.
For Canada's men and their head coach, Giuseppe Porzio, the road to Tokyo now runs through Europe. They will prepare for the Olympic qualification tournament next March. This is a tough path; all the major European powers who have yet to get an Olympic berth—so far, Italy, Serbia and Spain have qualified—will be there. It will be a dogfight for the final four Olympic spots.
North America is miles ahead of the South
What was quite clear at the was that there's the U.S., Canada and everyone else in the hemisphere. Brazil captured bronze in both the men's and women's brackets, but their women were blown out by Canada 19-5 in the semifinals. The Brazilian men were far more competitive, though their semifinal failure may haunt the program, especially because Slobodan Soro won't be around for the next Olympic cycle.
Outside of the top three in both the men's and women's brackets, the remaining teams on each side had combined records of 18 and 42 while being outscored by 237 goals. This is not surprising; the teams from Argentina, Cuba, Mexico, Peru, Puerto Rico and Venezuela are considerably younger and far less experienced than their neighbors to the north. They included a women's team from Peru that was competing in Pan Ams for the first time—and was young enough to compete in the Junior Pan Ams—and their men's squad was reconstituted after decades of inactivity.
For the Americans and their coaches, Pan Ams was both a satisfying adventure and—in the case of the men—a tremendous relief. For the rest of the hemisphere, there's a lot of ground to cover to catch up to a dominant USA.