Natalie Coughlin – 3-Time Olympian, 12-Time Olympic Medalist – To Be Inducted Into International Swimming Hall of Fame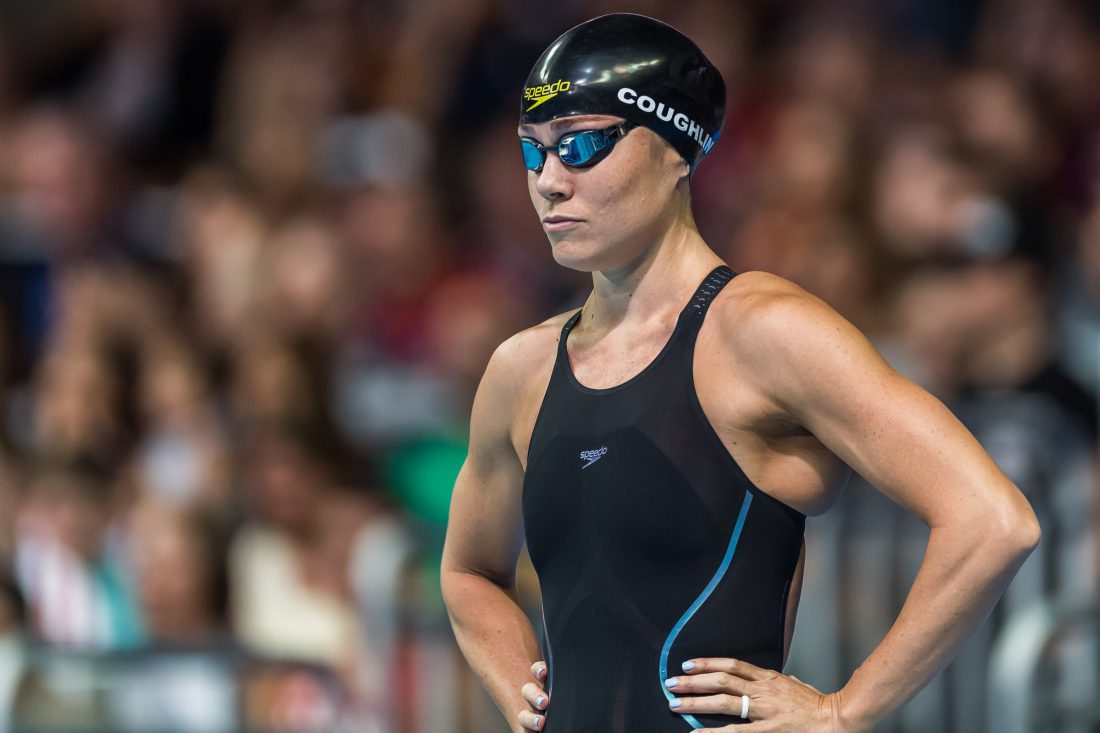 Photo Courtesy: Peter H. Bick
---
Natalie Coughlin to be inducted into the International Swimming Hall of Fame
Natalie  Coughlin was a U.S. competitive swimmer, three-time Olympian and twelve-time Olympic medalist (3 Gold, 4 S, 5 B).  She attended UC Berkeley, swimming for the Golden Bears. Natalie became the first woman to swim the 100-meter backstroke, long course, in less than one minute in 2002.  She achieved that milestone at the International Swimming Hall of Fame Aquatic Complex during the U.S. Nationals in Fort Lauderdale.  At the 2008 Beijing Olympics, Natalie became the first U.S. female athlete in modern Olympic history to win six medals in one Olympiad and the first woman ever to win a 100-meter backstroke gold in two consecutive Games.  She competed in her third Olympic Games in London in 2012, where she earned a bronze medal in the 4×100-meter freestyle relay.
Natalie's success earned her Swimming World Magazine's World Swimmer of the Year and American Swimmer of the Year, three times each.  She won more than 60 medals in international competitions, including the Olympic Games, the World Championships, Pan American and Pan Pacific Championships.  Natalie won eleven individual NCAA national championship titles and a twelfth NCAA relay title, during her four years as a Cal Bear. She was voted NCAA Swimmer of the Year, three consecutive years, and Sport Illustrated Magazine named her its college Female Athlete of the Year. Her beauty graced the cover of ESPN's The Body Issue in 2015. Coughlin graduated from Berkeley with a degree in psychology in the spring of 2005. Coughlin was inducted into the Cal Athletic Hall of Fame in 2014. 
Prior to entering college, Natalie was Swimming World Magazine's High School Swimmer of the Year in 1998
Come and meet Coughlin in person and hear her incredible life story at the ISHOF Induction dinner on Saturday, October 15, 2022.
Can't attend the event? Please consider donating to ISHOF and support Natalie and our other inspirational Honorees.
---
More About Natalie Coughlin:
Natalie has continued to stay in the spotlight whether it was water related or in a different capacity.  She competed in Dancing with the Stars in 2019.
One of her favorite hobbies today is cooking.  She has appeared on several different cooking shows and has authored her own cookbook: Cook to Thrive: Recipes to Fuel Body and Soul.  In 2017, Natalie became involved in winemaking, when she became a partner in Gaderian Wines,  Napa Valley. Natalie is married to Ethan Hall and the mother of two, a daughter in 2012 and a son, Ozzie,  in 2020.
Make your plans now to attend October 15, 2022!  Purchase your tickets TODAY!!! (Get info on membership here.) Can't attend the event? Donate to ISHOF to support our honorees.
---
This year's International Swimming Hall of Fame Honorees include:
International Swimming Hall of Fame 2022 Honorees
Craig Beardsley (USA) – Swimming
Natalie Coughlin (USA) – Swimming
Marilyn Bell (CAN) – Open Water Swimming
Michael Klim (AUS) – Swimming
Jon Sieben (AUS) – Swimming
Daichi Suzuki (JPN)– Swimming
Matthew Mitcham (AUS) – Diving
Ursula Carlile (AUS) – Coach
Peter Huerzeler (SUI) – ISHOF Contributor
Mirko Vicevic (YUG/MON) Water Polo
Masters International Swimming Hall of Fame Honorees
USA Swimmer (TBA) USA Contributor (TBA)
Edith Bohm (GER) Masters Swimmer
Olga Kokorina (RUS) Masters Swimmer
Shigehisha Sekikawa (JPN) Masters Swimmer
Birte Hohlstein (GER)  Masters Artistic Swimming
Guenther Wolf (GER) Masters Water Polo
Paragon Awards
To be announced soon 
The Induction Weekend Schedule
Saturday, October 15, 2022
Official 57th Annual International Swimming Hall of Fame Induction Ceremony and Dinner
5:30 pm VIP Reception
6:30 –10:00 pm Induction Ceremony & Dinner
HOTEL INFORMATION
Host Hotel: Fort Lauderdale Marriott Harbor Beach Resort & Spa
Upscale retreat with private beach access, two pools, four restaurants, full service spa and oceanside bar. Location of the Saturday evening induction ceremony. ¼ mile south of the International Swimming Hall of Fame.
3030 Holiday Drive, Ft. Lauderdale, FL 33316 (954) 525-4000
Special ISHOF Guest Rate of $229 per night, BOOK YOUR ROOM HERE
($39 Resort fee – Guests can opt out if not interested in resort amenities)
  Additional Hotel Option: Courtyard by Marriott Fort Lauderdale Beach
440 Seabreeze Blvd., Ft. Lauderdale, FL 33316 (954) 524-8733 Special ISHOF Guest Rate of $189 per night
Honoree Ceremony October 15, 2022 Last Day to Book: Friday, September 30, 2022