'Mystery, Alaska!' Lydia Jacoby Becomes First Swimmer From State to Make U.S. Olympic Team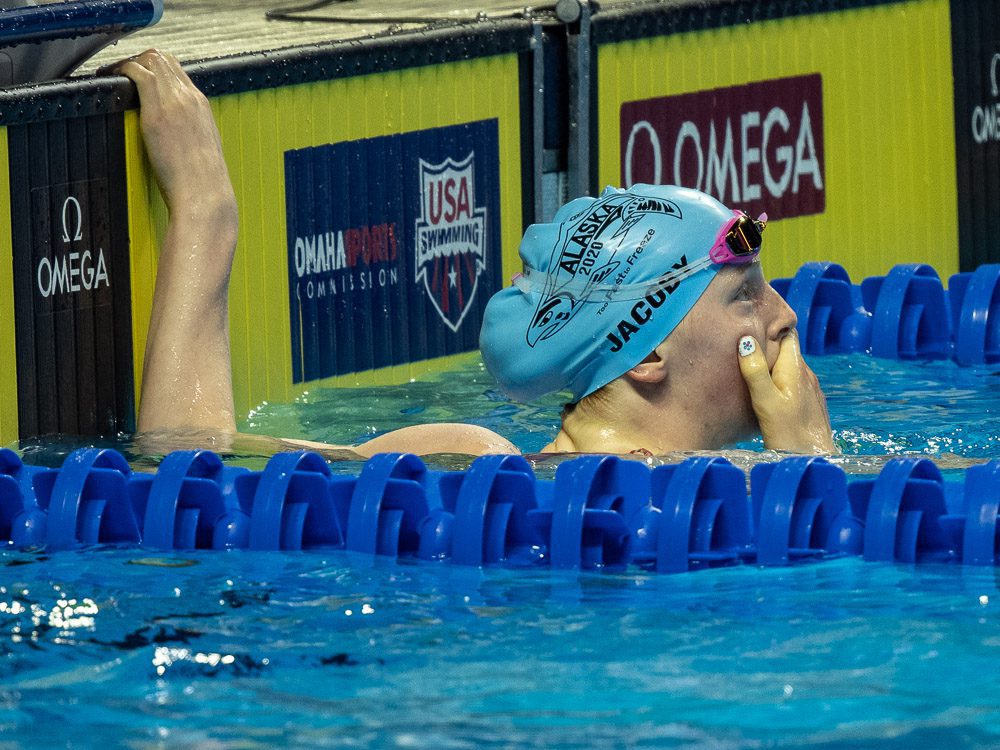 ---
Many of the members of the United States Olympic swim team have been recognizable names for the last few years. Names like Ryan Murphy, Lilly King and Chase Kalisz will be off to Tokyo for their second Olympics. Katie Ledecky is on her third Olympic team, while many other big names will make their debuts.
Most of those swimmers come from heavily concentrated swimming areas. Ledecky hails from the top club out of D.C. – Nation's Capital Swim Club, which has already put three on the team, including Ledecky, Andrew Wilson and Andrew Seliskar. Murphy hails from the Bolles School in Jacksonville, which is one of the top swimming private schools historically. Kalisz swam for the North Baltimore Aquatic Club, which produced Olympic medalists Michael Phelps, Katie Hoff and Beth Botsford. Lilly King comes from a small club in the Newburgh Sea Creatures, but hails from Indiana, a state with the IU Natatorium in Indianapolis, which has served host to four Olympic Trials.
Last month in Omaha, Nebraska, 17-year-old Lydia Jacoby made history by becoming the first swimmer from Alaska to make the U.S. Olympic team. Jacoby swims for the Seward Tsunami Swim Club, based about two and a half hours south of the state's biggest city Anchorage, which houses one of the few 50-meter pools in the state. Her club has about 50 members, consisting "mostly of little kids," and she was the first swimmer from her state to even win a junior national title, which she did in 2019.
In her preparation for the Olympic Trials, Jacoby, who is committed to the University of Texas, moved to a rented family house in Anchorage so she could train long course while her pool in Seward was not opened during the pandemic. Many of the conversations around Jacoby's name in Omaha have centered around her home state, and she carries that banner as Alaska's best swimmer with pride.
"It means so much," Lydia Jacoby said after her race. "I am so honored to be able to represent my state at a meet like this. I'm so excited to now be able to represent my country as well."
Alaska, a state with no in-state Division I program, has never been known as a powerhouse for swimming, but had two swimmers competing in Omaha – Jacoby and Arizona State's John Heaphy, who was 27th in the 100 breaststroke. With a limited number of 50-meter pools in the state, the odds are stacked against them. But that was a theme at the Olympic Trials with a few of the Tokyo qualifiers.
Rhyan White, the second place finisher in the 100 back and winner of the 200 back, hails from Utah, a state that has produced a few successful Division I swimmers, but has never been known to churn out Olympians. Patrick Callan, the sixth place finisher in the 200 freestyle, hails from Oklahoma, another state with no Division I program. Callan follows in David Plummer's footsteps as an Olympian from Oklahoma.
Many of swimming's biggest names don't always come from powerhouse states either. Three-time Olympian Ian Crocker hailed from Maine, four-time Olympian Jenny Thompson came from New Hampshire and three-time Olympian Elizabeth Beisel came from Rhode Island. Making an Olympic team out of a smaller state is not a new feat, but it is always a relative surprise when it happens.
Jacoby's feat of finishing runnerup in the 100 breast, which puts her second in the world rankings for 2021, proves that despite any perceived "limitations," fast swimming can happen no matter where you come from. And now, she will chase a medal on the biggest stage in the sport.