Monaco's Princely Family Celebrate Completion of World-Renowned Aquatic Center at International Swimming Hall of Fame in Fort Lauderdale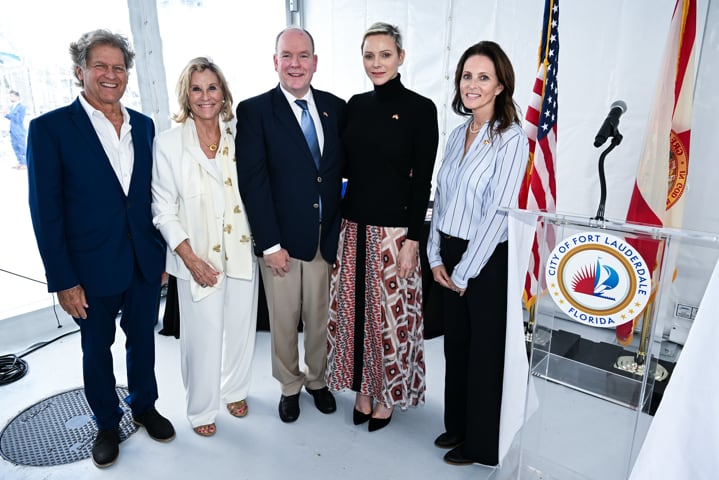 ---
The City of Fort Lauderdale recently welcomed Monaco's princely family, their Serene Highnesses Prince Albert II and Princess Charlene to celebrate the completion of the City's world-renowned Aquatic Center located at the International Swimming Hall of Fame (ISHOF) following a multimillion-dollar revitalization project.
The new center, boasts one of the tallest dive towers in the world and state-of-the-art competition pools for both competitive and public use.
Their Serene Highnesses have a keen interest in Fort Lauderdale's Aquatic Center and the International Swimming Hall of Fame as H.S.H. Prince Albert II is a 2011 gold medallion ISHOF honoree, and his uncle Jack Kelly Jr. served as the ISHOF president in the 1980s.
Additionally, H.S.H. Princess Charlene is a former Olympic swimmer and philanthropist who founded the Princess Charlene of Monaco Foundation in 2012 which includes, among its missions, saving children's lives by teaching them how to swim and educating them on water safety.
For their support, City of Fort Lauderdale Mayor Dean Trantalis presented H.S.H Prince Albert II with the key to the City of Fort Lauderdale and H.S.H. Princess Charlene with a crystal engraved with an image of the dive tower acknowledging her dedication to children's swim safety. The City of Fort Lauderdale also announced a future partnership with her highness' foundation.
Along with Mayor Trantalis, new ISHOF CEO Anne Schmidt and local swimmers were on hand for the celebration of the new Aquatic Center.