MISHOF Class of 2019 and USAS Convention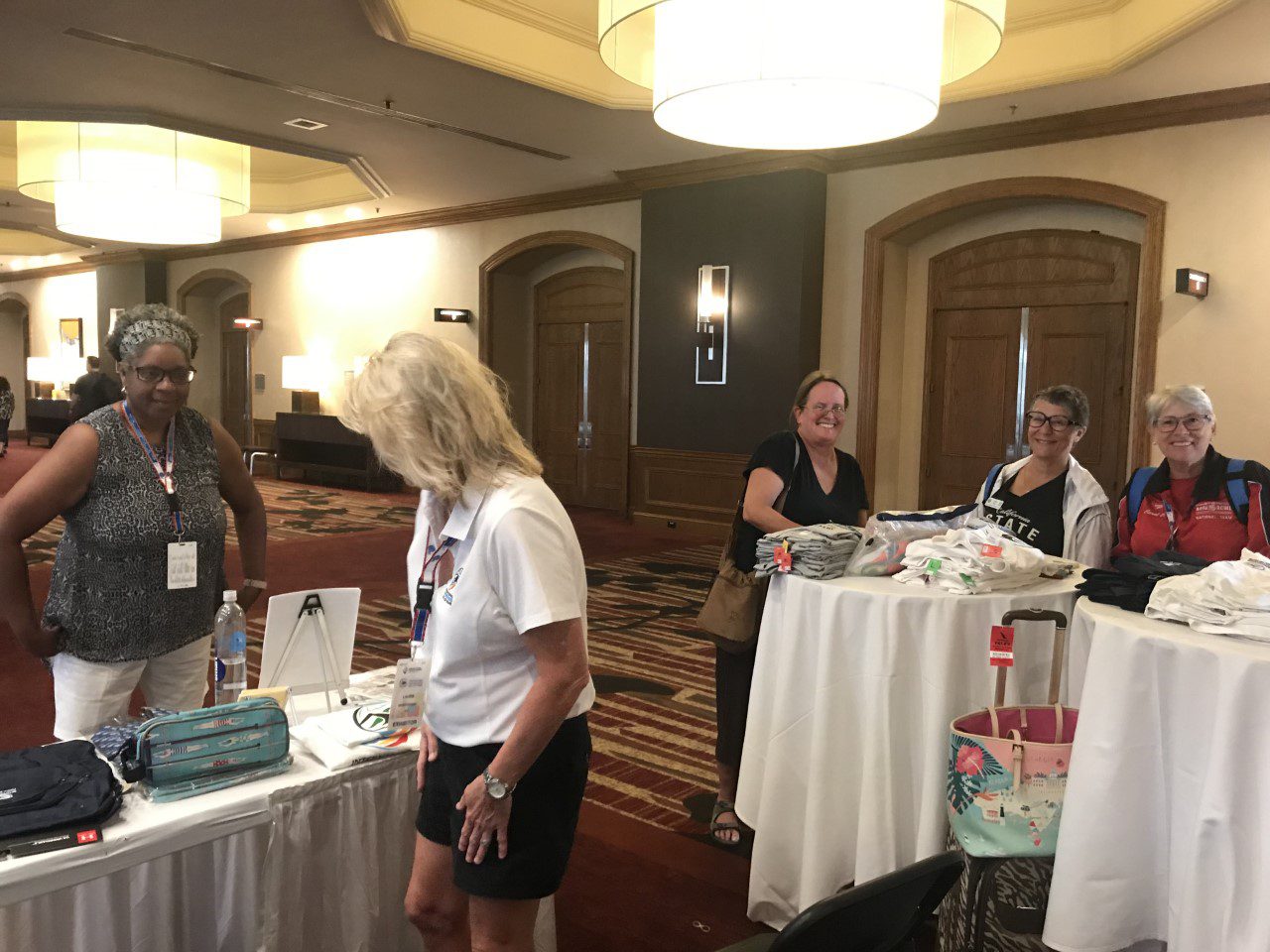 ---
United States Aquatic Sports Convention
and
MISHOF Class of 2019
ISHOF booth at USAS /old friends and new
As in years past, ISHOF attended the United States Aquatic Sports convention. We were joined by the City of Fort Lauderdale and Laura Voet, to promote the new aquatic facility and construction project, in addition to promoting ISHOF and producing the MISHOF induction.
ISHOF enjoys being supportive of the United States Aquatic Sports and this year we were a proud sponsor of the annual banquet. A very special thank you to the new staff of USAS for all their hard work in their first year in putting together this convention. A special thank you to Nadine Day, who went above and beyond for ISHOF, as she always does. Great job guys, you hit it out of the park!
One of the best parts of having a booth at USAS is all the friends that stop by to say hello; but almost as good as seeing our friends, are all the strangers that stop to tell us how important ISHOF and the aquatic facility are in their memories and that they cannot wait for the new facility and museum to open, and to make a return trip to Fort Lauderdale!
MISHOF Class of 2019
L-R: Rowdy Gaines, Rick Colella, Willard "Wink Lamb", Marjorie Anderson,

Caroline Krattli, Dr. Jim Miller, Asta Girdauskiene, Joao "Pepito" Meirelles
We (ISHOF) hosted the Masters International Swimming Hall of Fame Induction Ceremony on Friday, September 13th in St. Louis, Missouri. The class of 2019 included five swimmers, Caroline Krattli (USA), Willard Lamb (USA), Rick Colella (USA), Rowdy Gaines (USA) and Satoko Takeuji (JPN); one Diver, Asta Girdauskiene (LIT), one Water Polo Player, Pepito Meirelles (BRA); one Synchronized Swimmer, Marjorie Anderson (CAN) and one Contributor, Dr, Jim Miller (USA).
The St. Louis Arch
The MISHOF ceremony was held at the Hyatt Regency St Louis at the Arch in conjunction with the United States Aquatic Sports convention. The ceremony began with a cocktail reception at 6:00 pm featuring hors d'oeuvres with a St. Louis flair. The event was held in one of the most spectacular venues in the city. We were on the 18th floor of the Hyatt, overlooking the St. Louis Arch on the banks of the Mississippi River.
David Johannsen, Laura Val, Rich Burns, Ron Copeland
USMS delegates and MISHOF Honorees got to mingle and relax for an evening of celebration to honor the aquatic greats in Masters sports. The turnout was one of the best ever and with nine honorees from five different countries, it was a very eclectic group and one of the largest to date.
Willard "Wink" Lamb and Rich Burns
Eight of the nine Honorees were present for their induction and it was agreed by all that it was one of the best ceremonies ever. The honorees, speeches, venue, guests and food……they all added to make it a fabulous evening for everyone.
97-year old Wink Lamb was the hit of the evening with his humor and stories. He is the reason we all swim and can only hope that we make it to his age and are as smart, sharp and witty as Wink at the age of 97. A big thank you to Matt Miller, Wink's Coach, and Wink's son, for bringing this gem of a USMS Swimmer to our event!
Asta Girdauskiene, children and John Denninger
Honor Diver, Asta Girdauskiene, travelled with her children from Lithuania to accept her award in person. MISHOF Honoree and friend, John Denninger inducted Asta. John has been a long-time friend of Asta, travelling to her meets, he even dives under the flag of Lithuania sometimes!
Rowdy Gaines and Jack Groselle
As usual, everyone enjoyed swimming celebrity, Rowdy Gaines' induction and speech. We were thrilled that Rowdy was able to re-arrange his schedule and be with us, and his USMS family for his induction and celebration. The USMS delegates were happy to talk with Rowdy and share stories after the induction.
We will all look forward to watching Rowdy in Tokyo in 2020 covering the Olympic Games. No one has the enthusiasm or spirit of Rowdy! Go USA!
The evening closed with a full Harvest moon rising over the Mississippi River and USMS delegates, family and friends alike, not wanting to part, but knowing that next year we would be together again to celebrate a new class of Honorees.
See you In Jacksonville, September 25, 2020