MICKI KING IS ONE IN A THOUSAND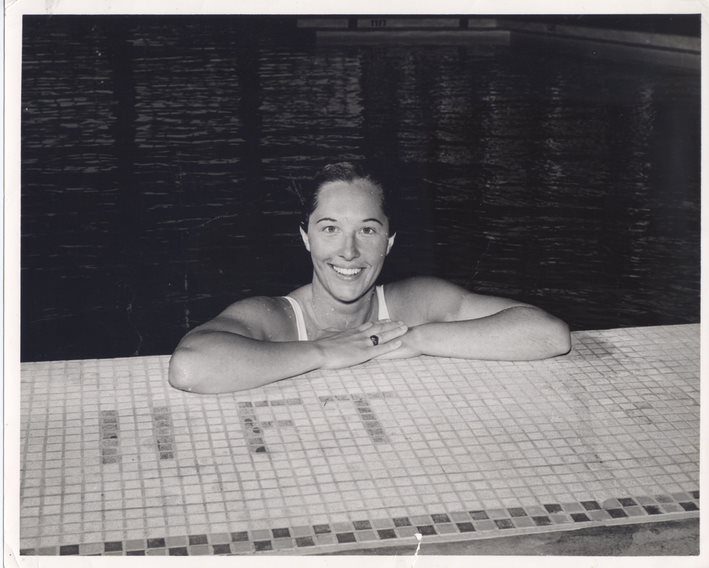 ---
Micki King, ISHOF Honoree and 1972 Olympic gold
medalist is
special. She is One in a Thousand!
When
asked why she wanted to join the International Swimming Hall of Fame's One in a
Thousand Club, King said, "From way back in the early Michigan, Buck Dawson days
it has been part of my DNA, it's in my blood.
I'm loyal to that and I'll never let it go. I guess I wanted to make this official through One in a Thousand!"
Join
the One in a Thousand Club by helping ISHOF on a monthly or one-time basis.
For
larger corporate sponsorships and estate-planning donations, please contact us
at customerservice@ishof.org.
About Micki King
Micki King grew up in Pontiac, Michigan. She spent summers on a
lake jumping off the docks, playing in the water with the fish, and wading
along the weed-filled shoreline with sand between her toes. King says,
"It was a glorious childhood."
When winter rolled around, and days at the lake were over,
Micki drove her parents crazy. So, her Mother took Micki to the local YMCA
that had "Girls Day" two times a week. And, yes, Micki was excited about swimming in the winter!! But swimming indoors was very
different starting with a shower first. Who showers before
swimming…..she thought!! That first day as the door to the pool opened,
she was hit with the odor of chlorine and a wall of hot air. Everything was so
clean and sterile. And there were no fish, no weeds, no sand, no fun. The only
intriguing part of this indoor pool was the diving board. This is when Micki King began the sport that
changed her life.
The next five years she spent her winters jumping off the board
at the YMCA. It was the fifth year, when she was 15, that the new YMCA
lifeguard began to give Micki coaching tips that soon led to YMCA competitions
and eventually to AAU meets.
Then she tried out for her high school team. The swim coach knew
immediately Micki had talent and let her practice with the boy's
team. But she was not allowed to compete in high school. It was pre-Title
IX. After high school, she attended the University of Michigan. Again, she
could not compete in college, but Hall of Famer, Dick Kimball, coached Micki in
college alongside his men divers. Kimball believed in her and he was right. In a
single year she was the US National Indoor Platform and National Outdoor 3-meter
champion and named Diver-of-the-Year.
In addition to her diving prowess, Micki was on the Ann Arbor
Swim Club AAU Water Polo team during her years at Michigan. She was recruited
to be team goalie by ISHOF Inductee Buck Dawson and his wife Rosemary and, as
goalie, Micki helped the polo team win two National Championships. Micki
graduated from Michigan in 1966 and joined the United States Air Force. She
began her military career assigned to the University of Michigan Air Force ROTC
detachment and was able to practice with Dick Kimball after her job every
day.
Micki made her first Olympic Team in 1968 and was the front
runner in the 3-meter Springboard event at the Mexico Olympic Games with two
dives to go. Preforming her ninth of ten dives, she hit the diving board and
broke her arm. Micki did her last dive with a broken arm and finished fourth –
no medal. Months in a cast were followed by a year of recovery and three more
years getting back in top form for the 1972 Olympic Games. Her
perseverance and determination prevailed. King won Olympic Gold in Munich. All
told, Micki King won Olympic Gold, two Pan American Silver medals and 10 US
National Championships. She was an Air Force Lieutenant at the Mexico
Games and a Captain in Munich. Micki retired as a Colonel with 26 years
active duty service. She retired a
second time after 10 years as the Assistant Athletic Director at the University
of Kentucky.
In
1974, Micki, joined Billie Jean King, Donna deVarona, and Wyomia Tyus as one of the original founders of the Women's Sports Foundation. She was a member of its Board of Trustees and
served on the Foundations Board of Stewards.
These women lived through the era when girls could not compete alongside
boys. Micki believes it is important that today's girls know sports in high
school and college did not exist for them before Title IX. This bill passed decades ago, changed sports
forever at all levels. Micki is proud to
be among the pioneers that pushed for the passage of Title IX.
Today Micki is still involved with both the Air Force and USA
Diving. She is on a panel of officers that interviews candidates for nomination
to the Air Force Academy. She also serves on the USA Diving Foundation Board.
Micki has two children, and two grandchildren.
And so, the International
Swimming Hall of Fame wants to know if you too are One in a Thousand? We
think you are! Show how special you are and become a member of the
International Swimming Hall of Fame's "One in a
Thousand" Club.
Help keep the International Swimming Hall of Fame moving forward toward a new
vision and museum by joining now!
During
these unprecedented times, the ISHOF Board is calling on every member in the
aquatic community to make a small monthly commitment of support to show how
special you are and how special the International Swimming Hall of Fame is to
everyone.
"Our
goal is simple. If we get 1,000 people to simply commit $10, $25 or $50 per
month, we will generate enough revenue to go beyond this Covid-19 Pandemic
Crisis." – Bill Kent – Chairman of the ISHOF Board
"Those
that believe in our vision, mission, and goals can join us in taking ISHOF into
the future and be a part of aquatic history." – Brent
Rutemiller – CEO and President of ISHOF
Since
1965, ISHOF has been the global focal point for recording and sharing the
history of aquatics, promoting swimming as an essential life-skill, and
developing educational programs and events related to water sports. ISHOF's
vision for the future is to build a new museum and expand its reach by offering
its museum artifacts digitally through a redesigned website.
About ISHOF Take a Virtual Tour
The
International Swimming Hall of Fame (ISHOF) museum opened its doors to the
public in December of 1968 in Fort Lauderdale, Florida. That same year, the
Fédération Internationale de Natation (FINA) – the governing body for Olympic
aquatic sports – designated the ISHOF museum as the "Official Repository for Aquatic
History". In 2018, Sports Publications Inc, publisher of Swimming
World Magazine and its multi-media platforms, merged with ISHOF to
expand the museum's reach and impact. Today, ISHOF's vision is to be the
global focal point for recording and sharing the history of aquatics, promoting
swimming as an essential life-skill, and developing educational programs and
events related to water sports. Show your support for the sport of
swimming by becoming a member of ISHOF.
ISHOF Vision Statement
To be the global focal point for recording and sharing the history of aquatics,
promoting swimming as an essential life-skill, and developing educational
programs and events related to water sports.
ISHOF Mission Statement
To collaborate with aquatic organizations worldwide to preserve, educate and
celebrate history, showcase events, share cultures, and increase participation
in aquatic sports.
The
International Swimming Hall of Fame, Inc. is registered as a 501(c)(3)
nonprofit organization, incorporated in the State of Florida. Contributions to
ISHOF are tax deductible to the fullest extent of the law. ISHOF's tax
identification number is 59-1087179. A COPY OF THE OFFICIAL REGISTRATION AND
FINANCIAL INFORMATION MAY BE OBTAINED FROM THE DIVISION OF CONSUMER SERVICES BY
CALLING TOLL-FREE (800-435-7352) WITHIN THE STATE OR FROM THE WEBSITE, www.800helpfla.com. REGISTRATION DOES NOT IMPLY ENDORSEMENT, APPROVAL, OR
RECOMMENDATION BY THE STATE. You can find out more about us on guidestar.org under International Swimming Hall of Fame, Inc.