Michelle Calkins is One in A Thousand !!!!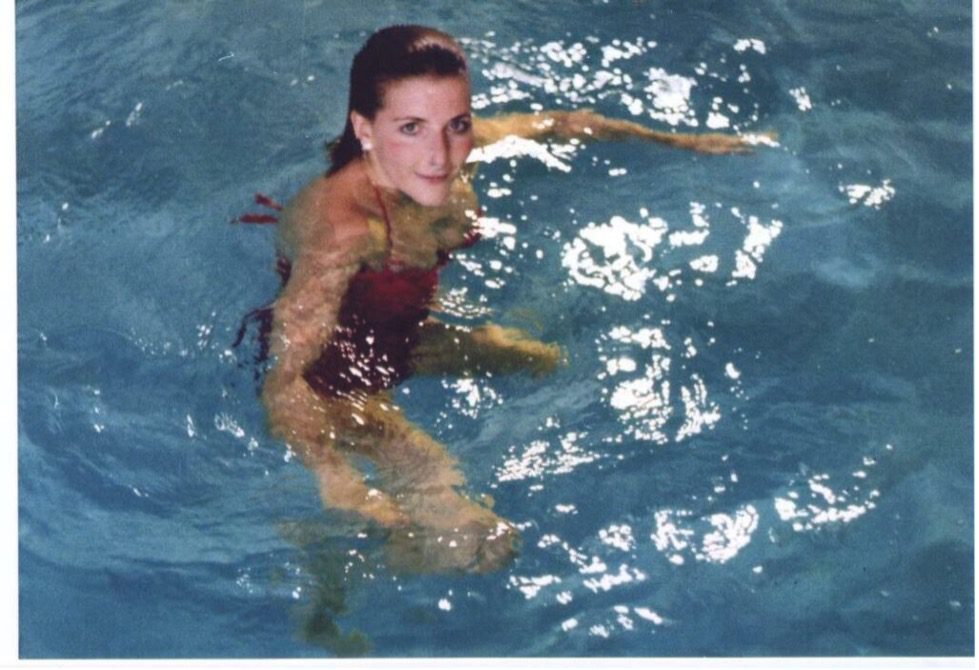 ---
Michelle Calkins De Filippi is One in A Thousand.
Michelle has been a longtime contributor to ISHOF, but over the last two years, she has been a contributor to ISHOF's One in A Thousand program.  It is honorees like Michelle Calkins De Filippi that help make ISHOF what it is today, who help it continue to grow, and help us with our mission with their financial support.
Here is Michelle's story:
Coach Debbie Muir of the Calgary Aquabelles had a knack for pairing the two most talented synchronized swimmers on her team.   It was never more apparent than when she paired Michelle Calkins with Helen Vanderberg to win the 1978 World Championships duet in Berlin, Germany. It marked the first time that Canadian synchronized swimmers had won a World Duet Championship, an important milestone in the evolution of synchronized swimming in Canada. In 1977, Michelle and her Hall of Fame partner Helen were named to the Elaine Tanner Award as Canada's best young female athletes of the year by the Sports Federation of Canada. And all took place even before synchronized swimming became an Olympic sport!
In 1969, Michelle won the '12 and under' Alberta Provincial Figures Trophy and was on her way to synchronized swimming stardom. By 1971, she was a member of The Aquabelles Junior National Team Champions and in 1973 a Canadian Junior National Solo Champion. From 1973 to 1978, she won seven Canadian Senior National Championships in duet, team, and figures events. Her first international competition was winning the silver medal in the 1973 first World Championships team event in Belgrade, Yugoslavia. She won silver in the Mexico City 1975 Pan American Games team event. The Pan Pacific Championships of 1976 and 1977 were the warm-up to the gold medal performance of the 1978 World Championships. And all this was before synchronized swimming was an Olympic event. In 1978, she performed her synchronized swimming routine at the Edmonton Commonwealth Games as a demonstration before synchronized swimming became an official event at the Commonwealth Games, which took another eight years, not until 1986.
Michelle's success was by virtue of her exacting technical skill. Her and teammate Helen's 1978 combined figures scores were 87.30, a full 2.70 points above the duet silver medalists. She performed creatively and with intensely dramatic routines. Michelle, with partner Helen, instigated the great success of their home club in Calgary culminating ten years later in another gold medal duet win, this time by Carolyn Waldo and Michelle Cameron at the 1988 Olympic Games.
After retiring, Michelle continued with her passion for synchronized swimming, which never diminished, and she was the head coach of her Aquabelles as well as serving as a Canadian National Team coach from 1988 through 2000. She was the 1996 Canadian Olympic coach when Canada won the silver medal in the team event.  
When asked why Michelle continually supports ISHOF, this is what she said: "To me the ISHOF stands for excellence and has considerable prestige worldwide. ISHOF has so much history and honor with a special emphasis on famous! And we are all very fortunate to be a part of this totality.  I also love how they support everyone."
Join Michelle and become a member of the One in a Thousand Club by helping ISHOF on a monthly or one-time basis.
For larger corporate sponsorships and estate-planning donations, please contact us at customerservice@ishof.org.
The International Swimming Hall of Fame wants to know if you are one in a thousand?  We think you are! Show how special you are and become a member of the International Swimming Hall of Fame's "One In A Thousand" Club.  Help keep the International Swimming Hall of Fame moving forward toward a new vision and museum by joining now!
During these unprecedented times, the ISHOF Board is calling on every member in the aquatic community to make a small monthly commitment of support to show how special you are and how special the International Swimming Hall of Fame is to everyone.
"Our goal is simple. If we get 1,000 people to simply commit $10, $25 or $50 per month, we will generate enough revenue to go beyond this Covid-19 Pandemic Crisis." – Bill Kent – Chairman of the ISHOF Board
"Those that believe in our vision, mission, and goals can join us in taking ISHOF into the future and be a part of aquatic history."  – Brent Rutemiller – CEO and President of ISHOF
Since 1965, ISHOF has been the global focal point for recording and sharing the history of aquatics, promoting swimming as an essential life-skill, and developing educational programs and events related to water sports. ISHOF's vision for the future is to build a new museum and expand its reach by offering its museum artifacts digitally through a redesigned website.
The ISHOF Board of Directors is calling on all members of the aquatics community to make a small monthly commitment to show their dedication to aquatics and how special the International Swimming Hall of Fame is to everyone.