MEXICAN OLYMPIC DIVER AND ISHOF HONOREE CARLOS GIRON PASSES AWAY AT THE AGE OF 65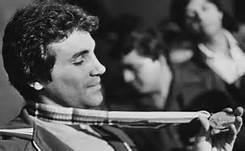 ---
ISHOF Honor Diver and Mexican Olympian, Carlos Giron, has passed away after a long battle with a lung infection at age 65.
Giron entered the hospital just before Christmas due to pneumonia, and during his stay, acquired a bacterial infection that complicated his infection further. He died today, Monday, January 13, 2020.
Carlos was a five-time Olympian, competing in the 1968, 1972, 1976, 1980 and 1984 Olympic Games. He won silver on the 3-meter springboard at the 1980 Moscow Olympic Games. He also placed 4th on the platform.
Longevity and consistency were the hallmarks of Giron's career. People described his diving as "simply beautiful".
While the 3-meter springboard was his main event, his diving talent was almost equally matched on the 10-meter platform as well.
Travelling to Fort Lauderdale to attend the International Diving Meet was always a favorite of Giron's. He looked forward to the meet held every May and his visits to the ISHOF museum. He started coming in 1976, when it was then called the CAN-AM-MEX meet and continued attending through the mid-1980's, when it became the International Diving Meet. During his years in Fort Lauderdale, Giron won a combined seven gold, three silver and one bronze medal, on the springboard and platform.
Giron competed in an era of outstanding Hall of Fame divers, including Greg Louganis (USA), Klaus DiBiasi (ITA), Phil Boggs (USA), Falk Hoffman (GDR), Vladimir Vasin (USR) and Giorgio Cagnotto (ITA). After the 1980 Olympics, Giron was selected as World Male Springboard Diver of the Year for 1981.
He is a gold, silver and two-time bronze medalist at the Pan-American Games (1975 and 1979) and a champion at numerous Central American and Caribbean meets.
After retiring from diving, Giron attended medical school at UCLA, where he received a degree in dental prosthesis. He also attended sports administration courses at the University of Texas in Austin; Sport Schule Institute in Berlin, Germany; and the University LaSalle in Mexico City.
In addition, Giron was also involved in government and later became Mexico City's Area Director for Consumer Organization, Agricultural and General Services, Head of Transportation and Mexican Social Security. He was President of the Mexican Association of Olympic Medalists and continued in the sport, as a coach and Masters Diver.
Today, Carlo Girón, son of the former medalist, announced the sad news through his social networks, and thanked everyone for their good wishes for his father that have come to the family. He continued…..
"It is with great sorrow, we want to communicate to each and every one of you who were an important part in the life of my dad @DrCGiron, that today he has stopped being among us to move to immortality. Thank you all for your prayers and good wishes," he wrote.
While the Mexican Olympic Committee (COM) adding supportive sentiments: "The Mexican Olympic family deeply regrets the loss of one of its distinguished members, the 1980 Moscow medalist Carlos Girón."
In turn, the Secretary of Public Education, Esteban Moctezuma Barragán shared: "We say goodbye to a glory of Mexican sport, Carlos Girón, silver medalist at the Moscow 1980 Olympic Games. My deepest condolences to his family."
Carlos Giron was inducted into the International Swimming Hall of Fame in 2001.