Look who visited ISHOF in March 2023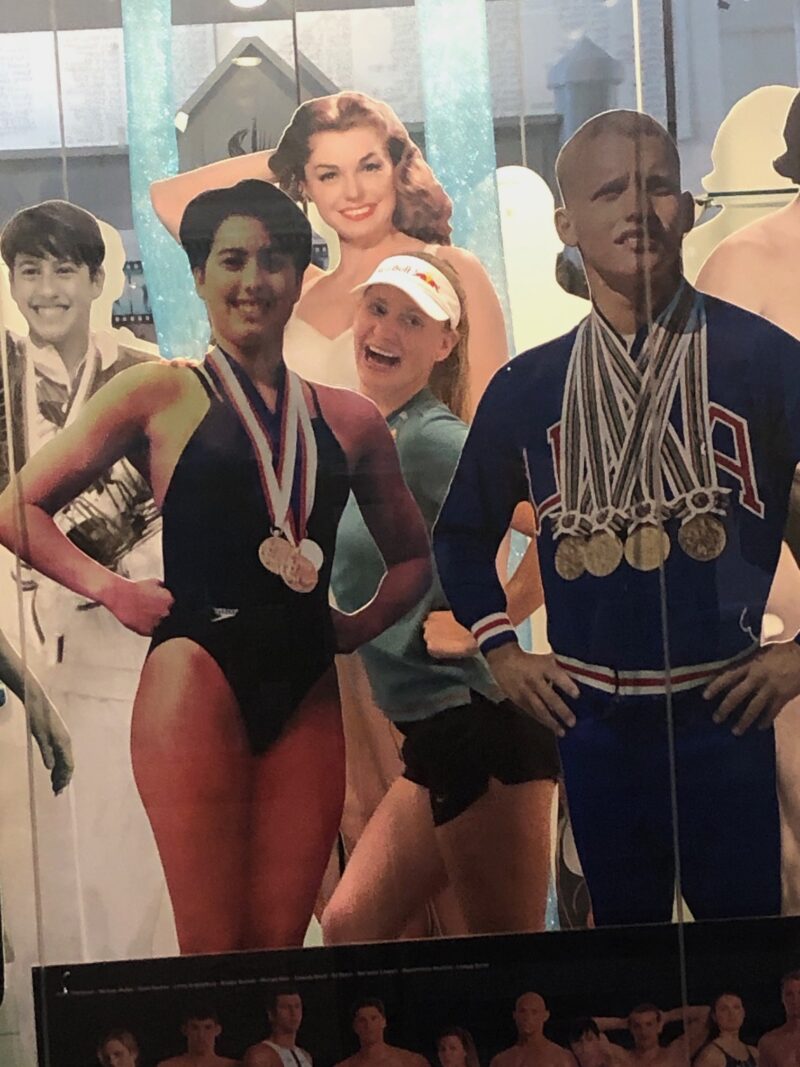 ---
USA High Diver Ellie Smart is currently living and training in Fort Lauderdale at the Fort Lauderdale Aquatic Center. She will be here training with the Ft. Lauderdale High Diving Team and World Champion Steven LoBue until the season begins in very early June. She recently came over to see the ISHOF Museum and had a great time clowning around a bit with some fellow aquatic stars! Seen here with Janet Evans and Don Schollander….. Of course, anyone who knows Esther Williams knows she had to get in the picture! That's movie stars for you!
Welcome to Fort Lauderdale Ellie!!!
Another Olympian Visits ISHOF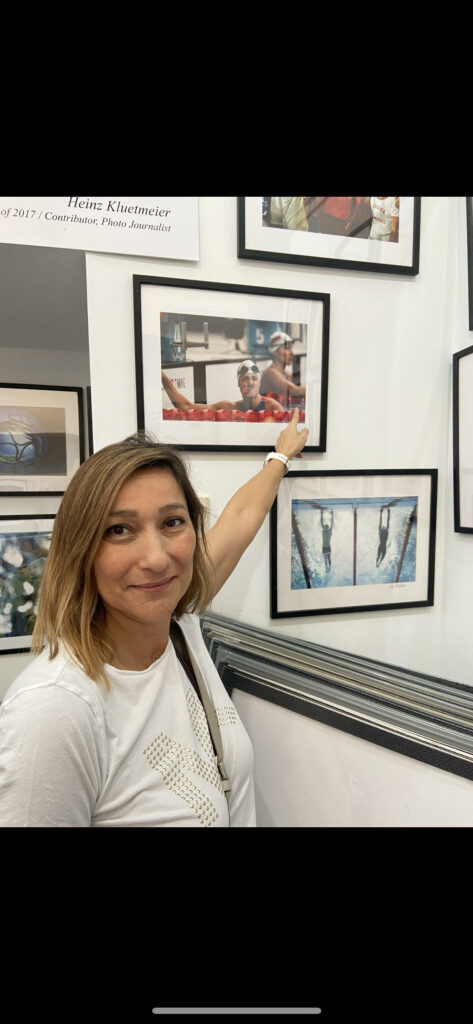 Slovakian Olympian Martina Moravcova
5-time Olympian, Martina Moravcova, of Slovenia visited the ISHOF museum on a recent trip to South Florida. Here she is posing next to a photo of herself in an Olympic display in the museum. Martina won two silver medals in the 2000 Sydney Games. One in the 100 Butterfly and the other in the 200 Freestyle.
Remember, if you are in town, stop by and say hello. Our back museum is gone now but we are still in the front building with the all the Honoree panels and some displays to look at. The gift shop is open downstairs as well. We'd love to see you!
Water Polo Royalty drops in for a visit! Meet Jimmy Smith's grandson!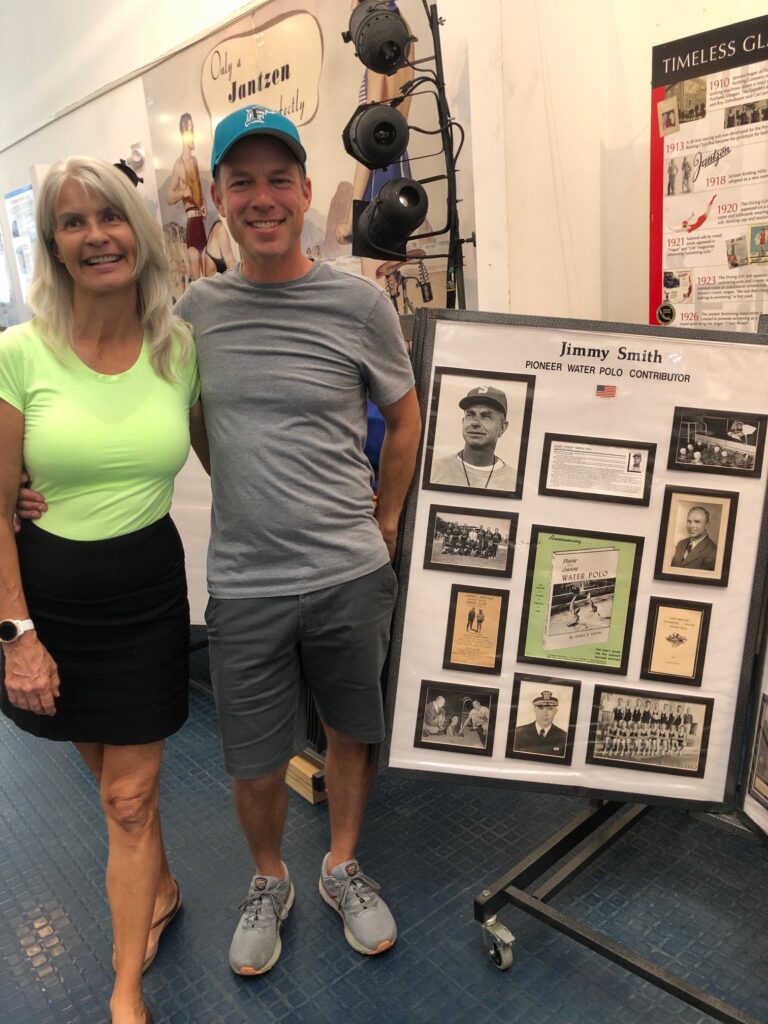 On March 9, 2023, the grandson of ISHOF's 1992's Honor Contributor (Water Polo), Jimmy Smith stopped in to check out his Grandfathers display. Brent and Anne Smith were in South Florida and made a trip over to the Hall of Fame to see Jimmy's display and to go through his file of water polo gems.
Jimmy was a pioneer in the sport, read his 1992 induction bio here: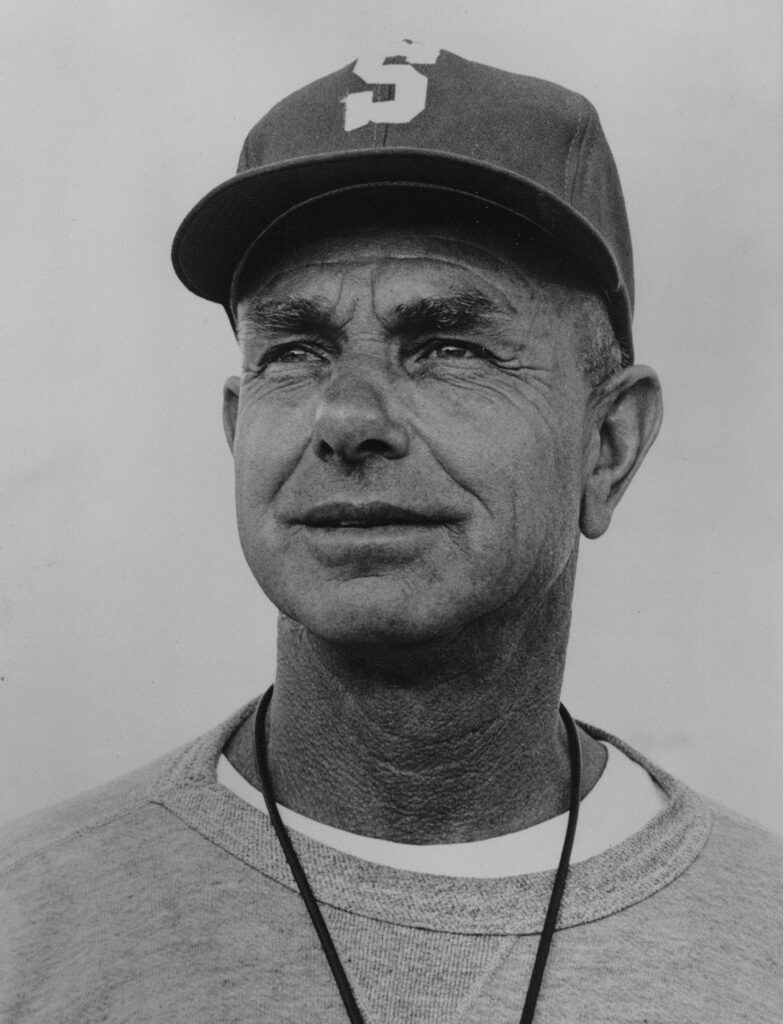 The information on this page was written the year of their induction.
FOR THE RECORD: Father of modern water polo; Designer of modern water polo ball; 1955 PAN AMERICAN GAMES Coach; Author of first water polo textbook, 1936.
Jimmy Smith, father of modern water polo, knew more rules and history of the sport than anyone before or after him. Smith introduced and wrote them, developing many of the modern rules which are used in competition today, including the use of the yellow rubberized ball adopted by FINA in 1956.
A native of Oakland, California, Jimmy began his athletic career at the University of Southern California in 1924. Elected team captain of both the swimming and water polo teams, Smith earned an undergraduate degree in Business (1928) and a Masters degree in Education (1935).
Smith used his athletic experience to begin his professional career as a swimming and water polo coach and collegiate athletic director. For over thirty years, Smith served as the athletic director of Fullerton Junior College and Fullerton High School. His water polo and swimming teams amassed 164 team championships, including five national, five AAU, and six California State Championship titles. Internationally, Smith coached the United States Pan American Water Polo Team in 1955 at the second Pan American Games in Mexico City.
Smith was a mentor to many of America's top coaches, including Hall of Famer Monte Nitzkowski, United States National and Olympic team water polo coach. "He was the man who launched my career," said Nitzkowski. "It was Jimmy's guidance, leadership, and undying love for the sport that inspired me."
Smith authored several works on water polo mechanics and coaching. His first book, Playing and Coaching Water Polo, published in 1936 and revised in 1948, was the world's first complete textbook on the sport. Smith also produced and edited The World Encyclopedia of Water Polo, published in 1989. A member of the 1948 and 1952 United States Olympic Water Polo Committees, Smith was elected to the United States Water Polo Hall of Fame in 1976, and in 1985 received the highest honor in the United States Water Polo, the Peter Uebberoth Award, for his contributions to water polo.
Smith was an innovator and his creation of the modern day water polo ball was instrumental in the development of the above-the-water, faster-moving, ball-controlled game. From the 1912 Olympics, the leather soccer ball absorbed water and became extremely heavy, slippery and out-of-control when wet. Following the 1936 Olympic in Berlin, Jimmy developed a ball made with a cotton bladder, which later changed to nylon to improve performance, with a rubber fabric cover. The new ball was red, but by 1948 yellow was adopted for better visibility. It became an official Olympic ball in 1956, greatly increasing spectator interest.
Jimmy Smith is honored for his achievements, friendships, and trail-blazing accomplishments in the sport of water polo. As competitor, coach, and author, water polo was his life.