Lewis Pugh Swims The Meltwater He Wants To Refreeze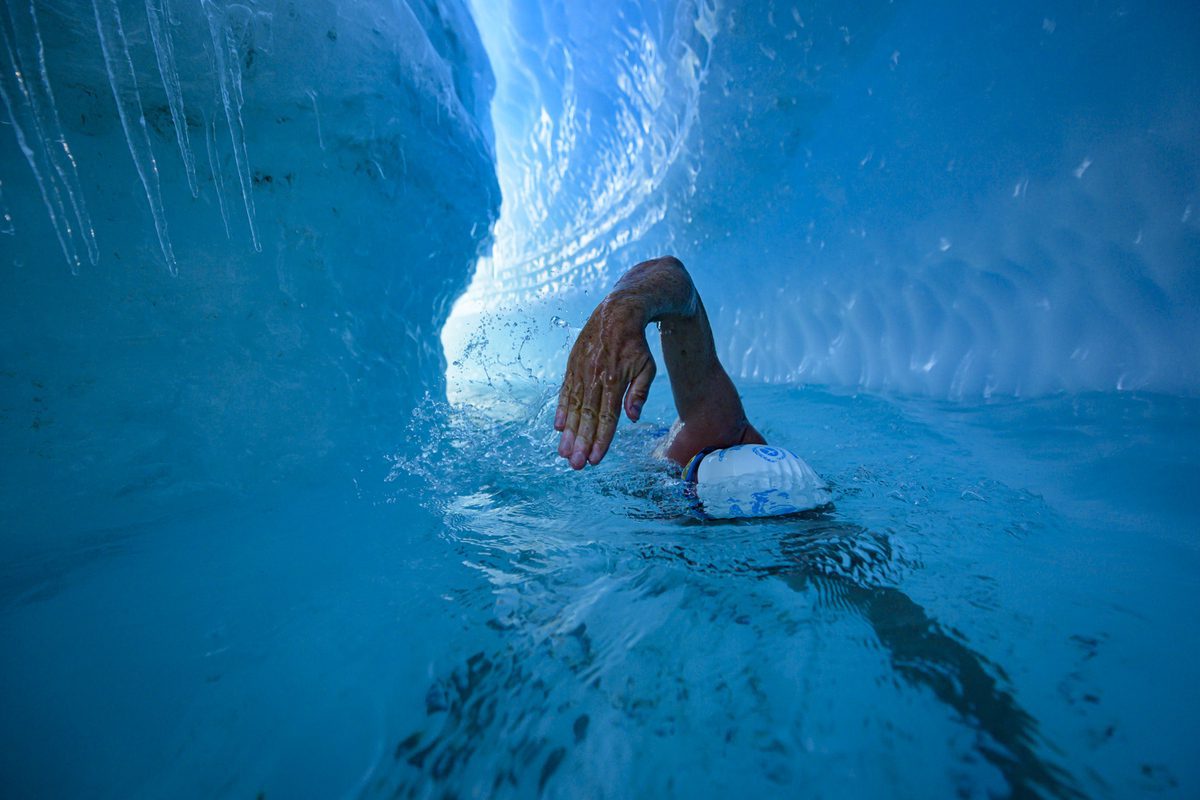 ---
21 January 2020
Swimming World soaks up snippets from the realm of water sports around the world in a one-stop digest updated each day of every passing week.
If you have a snippet of news for us, let us know: editorial@swimmingworld.com
The Week of January 20-26, 2020
Tuesday, January 21
On the eve of a "swim where no human has swum before: 1km across a supra-glacial lake in East Antarctica" to highlight the approach to a cliff edge on climate-change, Lewis Pugh, the United Nations Patron of Oceans, has released magnificent images of him swimming in meltwater in an ice-tunnel under the Antarctic ice sheet.
The images – by Kelvin Trautman, a photographer & filmmaker who also described himself as "Outdoorsman & Athlete" – are spectacular, and mark the start of Pugh's Antartica2020 mission, set back in 2016. Tomorrow brings on the East Antarctica leg of the campaign: the 1km across a supra-glacial lake with Slava Fetisov, as reported by Swimming World last month when Pugh ran an advert seeking polar swimmers to join him.
In a series of tweets, Pugh highlights the beauty and majesty of Antartica – and what the world is losing as the ice melts away at a rate never before measured in the lifetimes of those measuring. The swim by Pugh and Fetisov coincides with speeches from Greta Thunberg and Donald Trump at the Davos World Economic Forum.
Pugh writes:
"I can hardly believe what I have just experienced, swimming in a river UNDER the Antarctic ice sheet. Every shade of blue imaginable – it was utterly magnificent, and absolutely terrifying. Antarctica is melting. #Antarctica2020

East Antarctica is vast and beautiful, but everywhere we look there is meltwater. I will be swimming across one of these supra-glacial lakes to demonstrate the rapid changes taking place here, and to call for urgent action on climate change. #Antarctica2020
Lewis Pugh
✔@LewisPugh

I can hardly believe what I have just experienced, swimming in a river UNDER the Antarctic ice sheet. Every shade of blue imaginable – it was utterly magnificent, and absolutely terrifying. Antarctica is melting. #Antarctica2020

5,078
1,747 people are talking about this
Lewis Pugh
✔@LewisPugh

I've finally arrived in East Antarctica. One of the most remote places on the planet. For over 8 years nations responsible for protecting Antarctica have been trying to create a Marine Protected Area along this coast. #Antarctica2020

832
173 people are talking about this
Lewis Pugh
✔@LewisPugh

I am going down one of these rivers UNDER the Antarctic ice sheet to see whether it MAY be swimmable. Water is just above 0 degrees C. #Antarctica2020

848
176 people are talking about this
Lewis Pugh
✔@LewisPugh

We came across what appeared to be a hole under the ice sheet, so we climbed in to see if it was swimmable. We encountered every shade of blue – turquoise, royal blue, indigo and violet. Just incredible. #Antarctica2020

608
142 people are talking about this
Lewis Pugh
✔@LewisPugh

Before the swim comes the search. French mountaineer Phillipe Barthez is helping me find the safest place to swim. The risk is that this meltwater can suddenly rush down a moulin. #Antarctica2020

92
22 people are talking about this
Lewis Pugh
✔@LewisPugh

East Antarctica is vast and beautiful, but everywhere we look there is meltwater. I will be swimming across one of these supra-glacial lakes to demonstrate the rapid changes taking place here, and to call for urgent action on climate change. #Antarctica2020

145
65 people are talking about this