Let's celebrate, on this date in 1931 one of the greatest Water Polo Players in Hungarian history was born: Kalman Markovits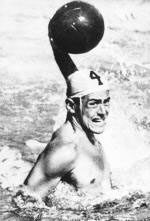 ---
KALMAN MARKOVITS (HUN)
1994 Honor Water Polo Player
FOR THE RECORD: 1952 OLYMPIC GAMES: gold; 1956 OLYMPIC GAMES: gold; 1960 OLYMPIC GAMES: bronze; 3 EUROPEAN CHAMPIONSHIPS (1954, 1958, 1962); WORLD STUDENT GAMES CHAMPION (1954); Coach of 1992 Hungarian Olympic Team; gold; Coach of 1968 Hungarian Olympic Team: bronze.
Not only is Kalman Markovits a water polo player extraordinaire, but he has the master ability to coach his players onto an Olympic gold medal.  One of the famous Hungarian trio with Hall of Famers Deszo Gyarmati and Gyorgi Karpati, Kalman Markovits was one of the cleverest and fastest water polo players to compete for Hungary, a country that has dominated the sport of water polo for decades.
Markovits was on Hungary's Olympic gold medal teams of 1952 and 1956. At the 1960 Olympics, the Hungarian team took a bronze.  Kalman Markovits played on the 1954, 1958 and 1962 gold medal European Championship teams.  All told, he played in 137 international competitions for his native country.
After retiring from playing, Markovits coached the 1968 Hungarian Olympic team to a bronze medal and won the Europe Cup and Super World Cup that same year.  He moved on to the Spanish National Team in 1985 and spent two years with the Mexican National Team before he made his way home to Hungary and the Hungarian National Team.
Markovits once again made his country proud as the 1992 Hungarian Olympic water polo team won the gold medal in Barcelona.
The world of water polo and all of aquatics lost Kalman on December 5, 2009.