Legendary High Diver Dana Kunze Joins ISHOF's One in a Thousand Campaign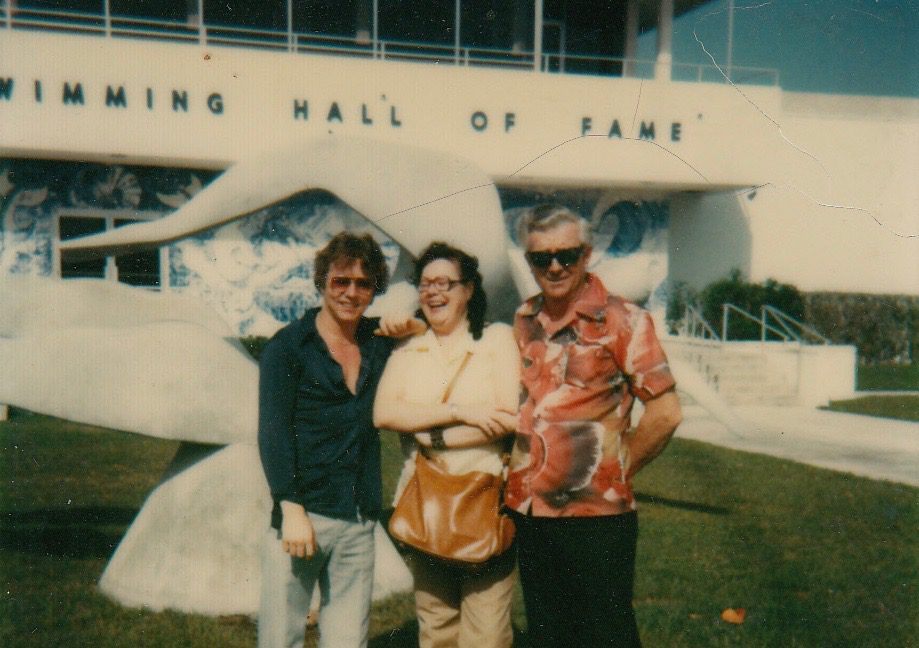 ---
Photo Courtesy: ISHOF Archives
08 June 2021, 05:01am
Legendary high diver Dana Kunze has joined ISHOF's One in a Thousand campaign, designed to help the Hall of Fame prosper during the COVID pandemic.
"I decided to donate because I love the sport of swimming and diving, the place, the people and the mission! I've been involved with the Hall of Fame since my first world record for ABC Sports there in 1978 and over the years I have helped by performing some shows, bringing Royal Caribbean to the complex to rehearse, rent the museum and reveal my "Splish Splash" and the Oasis of Dreams shows. I've had David Blaine and other friends down to perform at FINA outings, so I try to do what I can."
Kunze is a former member of the ISHOF Advisory Board and is the leading producer of high diving shows in the country, according to his website. He has won eight World Championships in high diving and has broken the world record for the highest dive ever done seven times. His last world record of 172 feet had surpassed 35 million hits on YouTube and is still recognized as the legitimate world record after 35 years.
Dana Kunze began his professional High Diving career at the age of 13. After being trained by world record holder John Tobler, Dana joined a crew of professional high divers on the boardwalk in Wildwood, New Jersey.
Kunze was a fast learner and after three short summers of show diving, he became the youngest professional diver at age 16 to dive off of the Famed Cliffs of Acapulco. The dive was featured on ABC Television's Wide World of Sports and started a decade of appearances on sports programming.
In 1985 after a decade of competing on ABC Wide World of Sports and performing thousands of live shows, Dana Kunze opened Watershow Productions Incorporated and with the same determination that made him an 8-time world champion, he created new shows and incorporated original "themes" into what had previously been a standard style of show.
Kunze's one of a kind expertise with heights and stunts would become even more valuable when he and Tom Sailor created the World's First Bungee Diving show – "Bungee Dive Spectacular." Their creation would be featured all over the world and spinoff the popular rides "Skycoaster" and "The Catapult" seen at most Amusement Parks and State Fairs today.
Kunze now spends most of his time producing, creating, coaching and selling the shows, but he still dives from time to time. He was inducted into the World Acrobatic Society's Gallery of Legends in a Las Vegas celebration in 2011 and competed on America's Got Talent with a 10 performer team of divers in 2013! Dana will be producing new television and World Record Breaking Events in 2018 and on our 33rd anniversary it is our mission to provide the shows that our buyers want back again and again!
Dana Kunze's world record dive:
Join the One in a Thousand Club by helping ISHOF on a monthly or one-time basis.
For larger corporate sponsorships and estate-planning donations, please contact us at customerservice@ishof.org.
The International Swimming Hall of Fame wants to know if you are one in a thousand? We think you are! Show how special you are and become a member of the International Swimming Hall of Fame's "One In A Thousand" Club. Help keep the International Swimming Hall of Fame moving forward toward a new vision and museum by joining now!
During these unprecedented times, the ISHOF Board is calling on every member in the aquatic community to make a small monthly commitment of support to show how special you are and how special the International Swimming Hall of Fame is to everyone.
"Our goal is simple. If we get 1,000 people to simply commit $10, $25 or $50 per month, we will generate enough revenue to go beyond this Covid-19 Pandemic Crisis." – Bill Kent – Chairman of the ISHOF Board

"Those that believe in our vision, mission, and goals can join us in taking ISHOF into the future and be a part of aquatic history." – Brent Rutemiller – CEO and President of ISHOF
Since 1965, ISHOF has been the global focal point for recording and sharing the history of aquatics, promoting swimming as an essential life-skill, and developing educational programs and events related to water sports. ISHOF's vision for the future is to build a new museum and expand its reach by offering its museum artifacts digitally through a redesigned website.
The ISHOF Board of Directors is calling on all members of the aquatics community to make a small monthly commitment to show their dedication to aquatics and how special the International Swimming Hall of Fame is to everyone.