Kristof Milak Crushes Michael Phelps World Record in 200 Fly With 1:50.73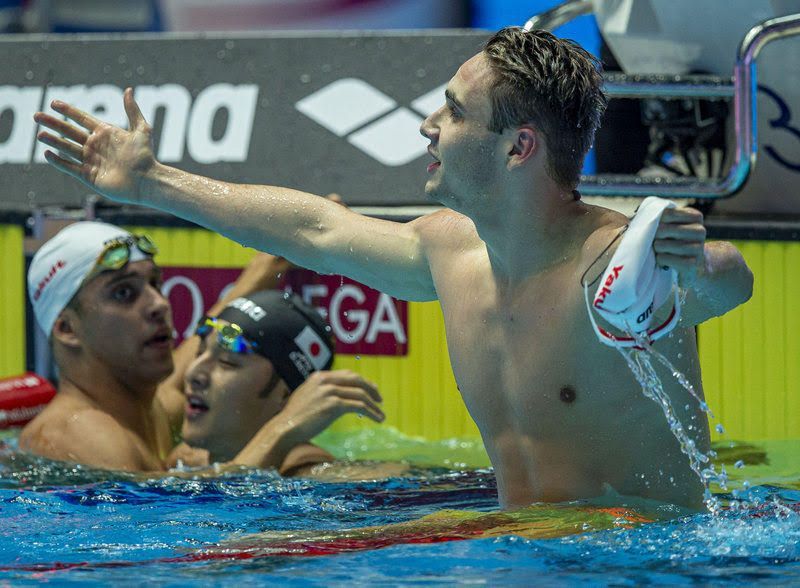 ---
24 July 2019, 04:55am
World Swimming Championships (Kristof Milak)
Photo Courtesy: Patrick B. Kraemer
Gwangju 2019
Day Four Finals (Men's 200 Fly)
Hungary's Kristof Milak crushed the world record in the 200 fly on Wednesday night at the 2019 FINA World Swimming Championships in Gwangju, South Korea. Milak, 19, crushed the world record at 1:50.73 to lower Michael Phelps' world record of 1:51.51 from 2009. It is the first time someone not named Phelps has held the world record in the men's 200 fly since 2000.
It is the first world record of Milak's career and it is the fourth time the world record has been broken at the World Championships. Mel Stewart broke the WR in 1991 (1:55.26) while Phelps broke it in 2001 (1:54.58), 2007 (1:52.09) and 2009 (1:51.51). Phelps also broke the world record in the semifinals in 2003 at 1:53.93.
Milak was out under world record pace through 150 meters, similar to what he did at the European Championships in 2018. But this time Milak held on to break the world record, and then some, knocking nearly a full second off of Phelps' WR from ten years ago. Last year, he looked disappointed after his 200 fly in Glasgow when he was within a tenth of Phelps' world record pace
Milak's previous best was a 1:52.71 from last year as he was third all-time. He dropped nearly two full seconds from his best time in one swim.
Milak's splits: 24.66, 28.22, 28.69, 29.16. He was out in 52.88 and 1:21.57.
Phelps' splits: 24.76, 28.12, 29.05, 29.58. He was out in 52.88 and 1:21.93.
200 Fly Results:
1:50.73, Kristof Milak, HUN, WR
1:53.86, Daiya Seto, JPN
1:54.15, Chad Le Clos, RSA
1:54.39, Federico Burdisso, ITA
1:54.79, Denys Kesyl, UKR
1:55.69, Zach Harting, USA
1:55.96, Leonardo De Deus, BRA
1:57.10, Tamas Kenderesi, HUN
The early leader was Chad Le Clos, who was the reigning World Champion from 2017. Le Clos was out under world record pace at 52.55 but had the slowest final 50 in the field at 31.51. He won the bronze medal at 1:54.15 as Japan's Daiya Seto (1:53.86) won his first 200 fly Worlds medal with the silver.
Last night, Milak cruised to the final at 1:52.96. Observations concluded that Milak had not fully shaved his arms last night. When asked if he thought he could go faster last night, he said: "Of course I want to be faster. This semifinal is just a preparation for tomorrow's final so I definitely want to be faster."
This is Milak's first medal in the 200 fly at the World Championships as he won the silver in the 100 fly in Budapest. It is also Hungary's first gold medal in the 200 fly at the World Championships as Laszlo Cseh won silver in 2017 and Tamas Darnyi won bronze in 1991.
This is also the third of Phelps' five world records to fall from his tremendous career. He set world records in the 400 IM, 200 free, 200 fly, 200 IM and 100 fly in his career. The 200 free, 200 IM and now 200 fly have been taken down in the last 10 years.
Hungary and the United States also notably have five of the ten fastest performances in this event with Milak, Phelps and Cseh standing on the list.
Going back to the race itself, Italy's Federico Burdisso was fourth at 1:54.39 while Ukraine's Denys Kesyl (1:54.79) was fifth. USA's Zach Harting (1:55.69), Brazil's Leonardo De Deus (1:55.96) and Hungary's Tamas Kenderesi (1:57.10), who won a swim-off this morning to get here, also swam in the final.
Top 10 Performers:
1:50.73, Kristof Milak, HUN (2019)
1:51.51, Michael Phelps, USA (2009)
1:52.70, Laszlo Cseh, HUN (2008)
1:52.96, Chad Le Clos, RSA (2012)
1:52.97, Takeshi Matsuda, JPN (2008)
1:53.23, Pawel Korzeniowski, POL (2009)
1:53.40, Masato Sakai, JPN (2016)
1:53.42, Tamas Kenderesi, HUN (2019)
1:53.64, Tyler Clary, USA (2009)
1:53.79, Nao Horomura, JPN (2018)
Top 10 Performances:
1:50.73, Kristof Milak, HUN (2019)
1:51.51, Michael Phelps, USA (2009)
1:52.03, Michael Phelps, USA (2008)
1:52.09, Michael Phelps, USA (2007)
1:52.20, Michael Phelps, USA (2008)
1:52.70, Laszlo Cseh, HUN (2008)
1:52.71, Kristof Milak, HUN (2018)
1:52.76, Michael Phelps, USA (2009)
1:52.79, Kristof Milak, HUN (2018)
1:52.91, Laszlo Cseh, HUN (2016)
World Record Progression:
1:50.73, Kristof Milak, HUN (2019)
1:51.51, Michael Phelps, USA (2009)
1:52.03, Michael Phelps, USA (2008)
1:52.09, Michael Phelps, USA (2007)
1:53.71, Michael Phelps, USA (2007)
1:53.80, Michael Phelps, USA (2006)
1:53.93, Michael Phelps, USA (2003)
1:54.58, Michael Phelps, USA (2001)
1:55.18, Tom Malchow, USA (2000)
1:55.22, Denis Pankratov, RUS (1995)