Katinka Hosszu Becomes First Woman to Win Five World Titles in Same Event With 4:30 400 IM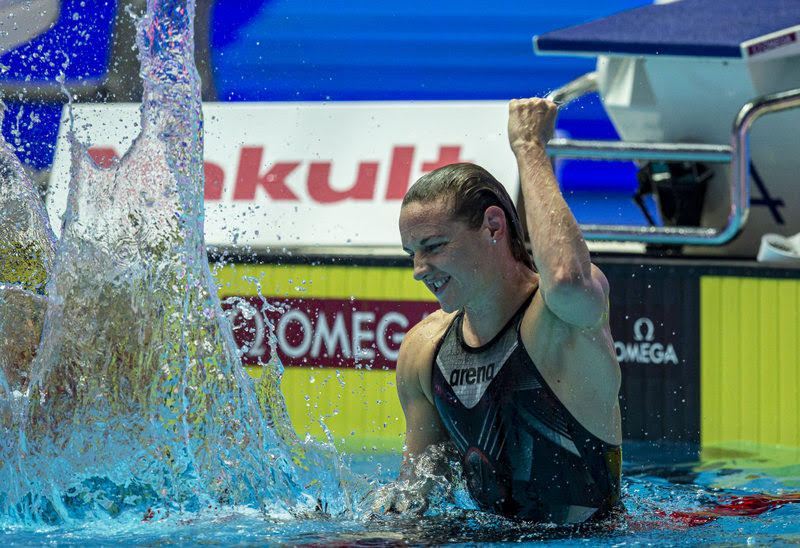 ---
28 July 2019, 05:34am
FINA World Swimming Championships (Katinka Hosszu)
Day Eight Finals (Women's 400 IM)
In a meet with a lot of upsets and surprises, including Katie Ledecky getting beat in the 400 free and Sarah Sjostrom getting touched out in the 100 fly, there weren't any sure bets for if Katinka Hosszu would win a fifth 400 IM world title. But Hosszu was able to fend off the field with a 4:30.39 to become the first woman to win the same event at World Championships five times. Hosszu won in 2009, 2013, 2015, 2017 and now in 2019. Sjostrom had an opportunity to become the first to win the same event five times but was upstaged by Canadian Maggie MacNeil in the 100 fly.
Hosszu had shown signs of vulnerability this week after getting eighth in the 200 back, but she was able to put it behind her to win the 400 IM.
Hosszu won the 400 IM final ahead of the second fastest swimmer in history, Ye Shiwen of China. Ye was able to make the podium for the first time at a major meet in this event for the first time since she broke the world record in 2012 at the London Olympic Games. Ye was second at 4:32.07 as she ran down Japan's Yui Ohashi (4:32.33).
On winning five titles, Hosszu said this:
"For me, you are going into a 400 IM the last day of a world champs – it is not what you are thinking about – oh my God this is my ninth gold medal or my fifth 400 IM gold. It's not something that gets you going. Today was a big fight: it always is on the last day of a world champs to swim a 400IM. I like it because it's tough, it's challenging and it hurts a lot, it shows you are. And I am happy with the time as well: going this time at the end of a world champs is definitely really good and prepares to swim the first day in the Olympics."
Hosszu also won the 200 IM earlier in the week as she won both IM's in the same Worlds for the fourth time. The 200/400 IM double was also achieved six other times in World Championships history. Tracy Caulkins (1978), Petra Schneider (1982), Lin Li (1991), Yana Klochkova (2003) and Katie Hoff (2005, 2007) also achieved the 200/400 IM double in the same Worlds.
Canada's Sydney Pickrem (4:36.72) and Emily Overholt (4:37.52) had slightly off swims as they added from their best times. USA's Ally McHugh, swimming in her first World Championships final, placed sixth at 4:38.34. Hungary's Zsuzsanna Jakabos (4:39.15) and France's Fantine Lesaffre (4:39.68) also swam in the final.
Results:
Katinka Hosszu, HUN, 4:30.39
Ye Shiwen, CHN, 4:32.07
Yui Ohashi, JPN, 4:32.33
Sydney Pickrem, CAN, 4:36.72
Emily Overholt, CAN, 4:37.42
Ally McHugh, USA, 4:38.34
Zsuzsanna Jakabos, HUN, 4:39.15
Fantine Lesaffre, FRA, 4:39.68
Top 10 Performers:
4:26.36, Katinka Hosszu, HUN (2016)
4:28.43, Ye Shiwen, CHN (2012)
4:29.45, Stephanie Rice, AUS (2008)
4:29.89, Kirsty Coventry, ZIM (2008)
4:30.43, Li Xuanxu, CHN (2009)
4:30.82, Yui Ohashi, JPN (2018)
4:30.85, Qi Hui, CHN (2009)
4:31.12, Katie Hoff, USA (2008)
4:31.15, Maya DiRado, USA (2016)
4:31.21, Mireia Belmonte, ESP (2013)