Justice For Shirley Babashoff and Others? FINA Will Explore Doping History and Awarding Proper Medals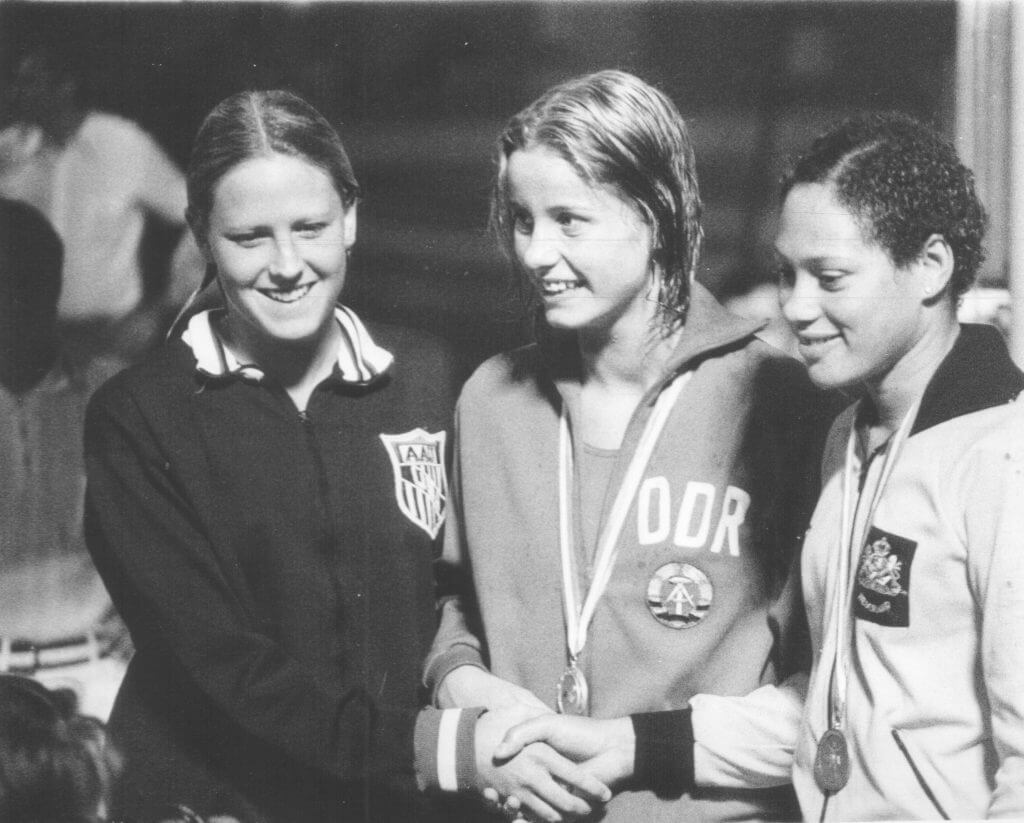 ---
by SWIMMING WORLD EDITORIAL STAFF
Justice For Shirley Babashoff and Others? FINA Will Explore Doping History and Awarding Proper Medals
Shirley Babashoff. Enith Brigitha. Sharron Davies. All three women have Olympic medals to their names, but not the gold color they deserve. Due to the systematic-doping program orchestrated by East Germany during the 1970s and 1980s, Babashoff, Brigitha and Davies were beaten to the wall by performance-enhanced opponents, their rightful place in the sport not recognized.
Now, with FINA pushing for greater transparency and reform under new president Husain Al-Musallam, the governing body for aquatics sports has indicated it will look at past performances and how doping played a role. One possible outcome of an investigation of the past is awarding athletes the medals they would have won in Olympic competition, if not for the presence of the East Germans.
Babashoff and Brigitha finished behind East Germans in several races at the 1976 Olympic Games in Montreal, with Babashoff long calling for the International Olympic Committee and FINA to right those wrongs by upgrading medals of those who finished behind swimmers known to have benefited from performance-enhancing drugs. As for Davies, she was the silver medalist in the 400 individual medley at the 1980 Games in Moscow, where East Germany's Petra Schneider was the gold medalist.
In a reversal of its former approach, in which it ignored the subject, FINA has indicated it is willing to look at history and, possibly, alter it for the sake of the athletes who suffered injustices in the pool. Although FINA is willing to look at the past, it is important to note that the awarding of retroactive medals will require the approval of the IOC.
If retroactive medals are awarded, it is unlikely the East German athletes will have their medals stripped. As part of the systematic-doping program that was instituted and guided by the government, the athletes were pawns in a political system, and instructed to follow the directions of their coaches and senior officials.
Here are some previous stories by Swimming World that discuss the dark days of doping and the affected athletes.
https://www.swimmingworldmagazine.com/news/exclusive-shirley-babashoff-breaks-30-year-silence-on-east-germanys-systematic-doping-of-olympians/
https://www.swimmingworldmagazine.com/news/shirely-babashoff-wants-her-place-in-history-exclusive-swimming-world-tv-interview/
https://www.swimmingworldmagazine.com/news/dopings-darkest-hour-the-east-germans-and-the-1976-montreal-games/
https://www.swimmingworldmagazine.com/news/they-cheated-they-stole-they-lied/