(July 6th) Happy Birthday to ISHOF Honor Contributor: Peter Montgomery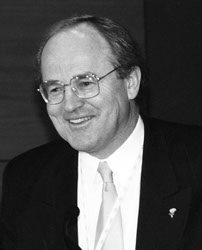 ---
Peter Montgomery (AUS) 2013 Honor Contributor
FOR THE RECORD: FINA TECHNICAL WATER POLO COMMITTEE HONORARY SECRETARY: 1984-1992; CHAIRMAN FINA DISCIPLINARY PANEL: 2005-2009; MEMBER FINA DOPING PANEL: 1998-1999; PRESIDENT OF THE WORLD OLYMPIANS ASSOCIATION: 1995-1999; AUSTRALIAN OLYMPIC COMMITTEE BOARD MEMBER: 1989-Present; AUSTRALIAN OLYMPIC COMMITTEE VICE PRESIDENT Since 2001; MEMBER INTERNATIONAL OLYMPIC COMMITTEE ATHLETES COMMISSION; INTERNATIONAL COURT OF ARBITRATION FOR SPORT BOARD MEMBER: 1993-1999; FOUNDER AND MEMBER OF THE EXECUTIVE OF AUSTRALIAN WATER POLO: 1982-1992; PLAYED OVER 500 INTERNATIONAL WATER POLO MATCHES: 1972-1984; PLAYED ON FOUR OLYMPIC WATER POLO TEAMS: 1972-1984.
He was raised on the Northern Beaches of Sydney, where he played water polo and swam competitively in addition to being a surf lifesaver and junior rugby league player.
As one of Australia's greatest water polo players, Peter competed in 404 international matches, serving as captain on 167 occasions. He played in the first FINA Water Polo World Cup, four FINA World Championships and in four Olympic Games from Munich in 1972, to Los Angeles in 1984.
Peter Guy Montgomery's accomplishments were not just in the pool. He has been a solicitor of the New South Wales Supreme Court since 1972 and has been successful as a real estate investor, property developer and public company director for over 35 years. His business success has provided him with the resources to serve the Australian and International Olympic movement ceaselessly since his retirement as a world-class athlete.
He has served Australian Water Polo continuously since 1982 as Treasurer, Vice President and Patron. In 1984, after playing his last Olympic match, Peter was appointed Honorary Secretary of FINA's Technical Water Polo Committee, a position he held for eight years. In 1985 he was appointed the first Chairman of the Australian Olympic Committee's Athletes Commission. As a member of the Sydney 2000 bid team, he was instrumental in women's water polo being added to the Olympic program. In 2001, he was elected Vice President of the AOC, a position he still holds. He was Deputy Chef de Mission for Australia at four successive Olympic Games from 1996 to 2008 and was the first President of the World Olympians Association.
Within the International Olympic Committee he has served in many positions including the Athletes Commission, Olympic Academy Commission, Cultural Sport and Law Commission and Olympic Bid Evaluation Committee. Along with other awards, he has received the Olympic Order bestowed by IOC President Jacques Rogge, the IOC Universality in Sports Award and the University of Sydney's Aquatic Center is named in his honor.
For over fifty years, Peter has lived the Olympic ideal of developing both his mind and body and giving back to the sport he loves.
*This bio was written in the year the Honoree was inducted, 2013, and may be outdated.