ISHOF staff visits 2023 Honoree Sam Ramsamy in Durban, South Africa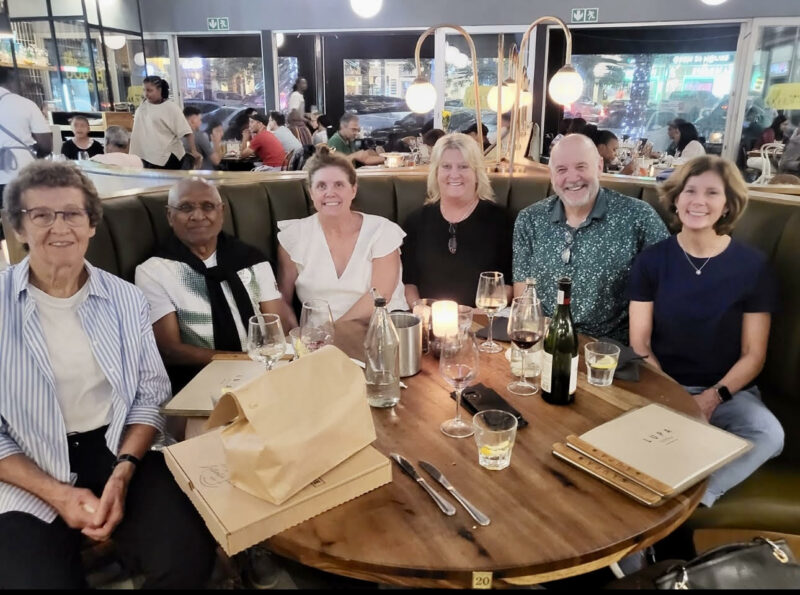 ---
Last month, ISHOF staff members Meg Keller-Marvin and Laurie Marchwinski visited 2023 ISHOF Honor Contributor, and World Aquatics first Vice President Sam Ramsamy, at his home in Durban, South Africa.
The girls were on a vacation in South Africa, sightseeing in Cape Town and Durban, spending a week on safari and visiting various other areas. For those who are interested, Meg and Laurie did the safari that ISHOF had been offering for bid/purchase for over five years now during the ISHOF Honoree Ceremony Silent Auction. The 6-day safari is located at the Zulu Nyala Game Lodge and Private Reserve in Hluhluwe, South Africa. It was a fabulous experience. Other ISHOF-er's have also done the safari at Zulu Nyala, including Honorees Tom Gompf and Debbie Meyer, just in September. The Reserve is located three hours north and west of Durban.
If you have ever thought of taking a safari, we can highly recommend Zulu Nyala. It was the trip of a lifetime. Everything about it from A to Z was amazing. Each year at the Honoree Ceremony's Silent Auction, we offer a two and four person safari to Zulu Nyala. It includes a six night stay, three meals a day, and two drives a day out in the bush (two hours each). If you want more information on the safari or Zulu Nyala, feel free to reach out Meg or Laurie or visit www.ZuluNyala.com and plan to bid next year!
After the safari, we went to Durban and met up with 2023, ISHOF Honoree Sam Ramsamy and his wife Helga, who took us out for a delicious Italian dinner in the Umhulunga Rocks area of Durban. We spent the evening chatting and laughing and learning more about Sam and his wife Helga. Sam and Helga lived in London for a number of years, among other places. One of the more interesting pieves of information, we learned about Helga, was that when she met Sam, she was a basketball player from East Germany. Once she and Sam married, she was able to leave the country.
Helga has travelled the world with Sam, whether it was with FINA, now World Aquatics, the Olympic Movement, fighting for the rights of athletes and people in South Africa. They have lived quite the busy and exciting life. We were fortunate to have spent the evening with them.