ISHOF Museum One Step Closer To Getting New Buildings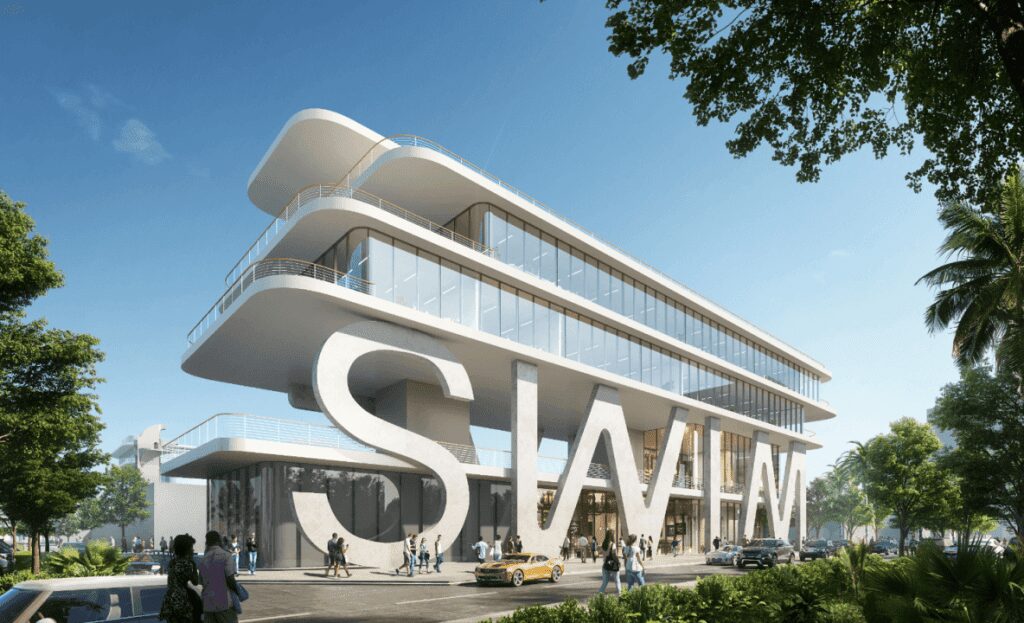 ---
22 January 2021, 12:41pm
The Fort Lauderdale City Commission voted to accept an unsolicited bid from the Hall of Fame Partners, LLC to replace the front and back International Swimming Hall of Fame (ISHOF) museum buildings. The proposal was accepted and will be revisited again after 21 days to allow additional competitive bids to be presented. The new building will complement the $45 million renovation of the aquatic center which is scheduled to be completed in the Fall (2021).
The ISHOF main museum was constructed in the 1960s and has exceeded its life expectancy. The swimmer man statue will be refurbished and relocated on the property.
The proposed plan will replace the existing museum with a 5-floor building. A teaching pool will be located under grandstands that overlook the newly renovated aquatic complex. On the ground level there will be a public gathering place, kiosks, and an ISHOF gift shop. The second floor will feature much needed public parking. The third floor will have skyboxes overlooking the new 27-meter-high diving tower and a multilevel museum for exhibits. The fourth floor will have meeting rooms, an event center and office space. The top floor will feature a restaurant with breath-taking views overlooking the intracoastal and Atlantic Ocean.
The ISHOF front building was built in the early 1990s and will be replaced with an iconic four floor building that will include a welcome center, coffee shop, observation deck, and office space. The current building was iconic for its time because of its wave design.
Arquitectonica designed the original wave building and has partnered with the current developers to make the new front building more iconic with the letters SWIM stretched across the street side and DIVE stretched across the pool side of the building
"The replacement of ISHOF's two buildings is the final step in the total renovation of this aquatic peninsula. The Fort Lauderdale City Commissioners and Manager have displayed incredible vision for supporting this project. It will catapult Fort Lauderdale and the International Swimming Hall of Fame to the top of the aquatic world and reestablish Fort Lauderdale as an international destination unparalleled in the aquatic community," said Brent Rutemiller – President and CEO of the International Swimming Hall of Fame.
The Hall of Fame Partners, LLC is a joint venture of local developers specializing in Public Private Partnerships, and the most awarded Design Builder in the United States. The group is led by Mario Caprini – CEO & Development Executive of Capital Group P3 Developments of Florida LLC, Laird Heikens – President, Development Hensel Phelps, Kirk Hazen – Vice President, Construction Hensel Phelps, and Cory Olson – Project Executive Hensel Phelps
"We are very pleased that the city is allowing us to take the next step in bringing this important upgrade to the city for its citizens and the aquatic community. We are very excited to be a part of this project," said Mario Caprini.