ISHOF hosts the Aquatic Awards presented by AquaCal on Friday evening, September 29th and they are a huge success!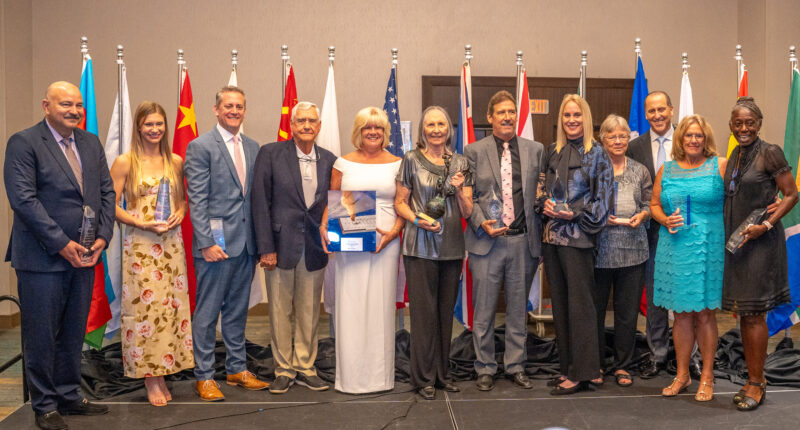 ---
The International Swimming Hall of Fame (ISHOF) hosted the annual ISHOF Aquatic Awards, presented by AquaCal (formerly the Paragon Awards) on Friday evening, September 29, in Fort Lauderdale, at the Marriott Harbor Harbor Beach Resort and Spa. The event was one of the largest Aquatic Award events to date. The ISHOF Aquatic Awards presented by AquaCal are presented annually to individuals or organizations for outstanding contributions to aquatics.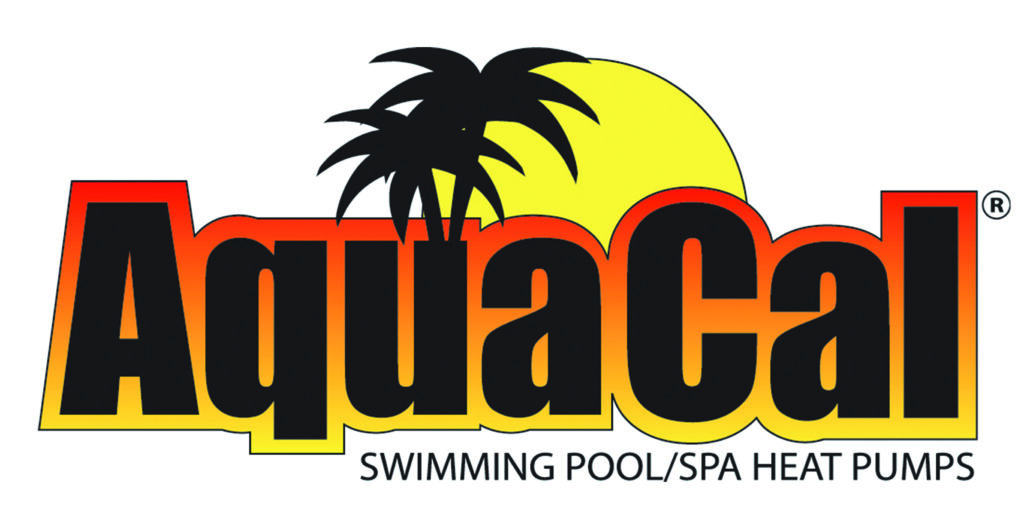 The annual Awards celebrate the unsung heroes who make competitive and recreational aquatics possible. These are the people who save lives, promote water safety and further aquatic education around the world. ISHOF is always, along with its new sponsor, AquaCal, was proud to recognize these important individuals on Friday evening in Fort Lauderdale.
About This Year's Award Recipients:
Mike Unger (USA) – Competitive Swimming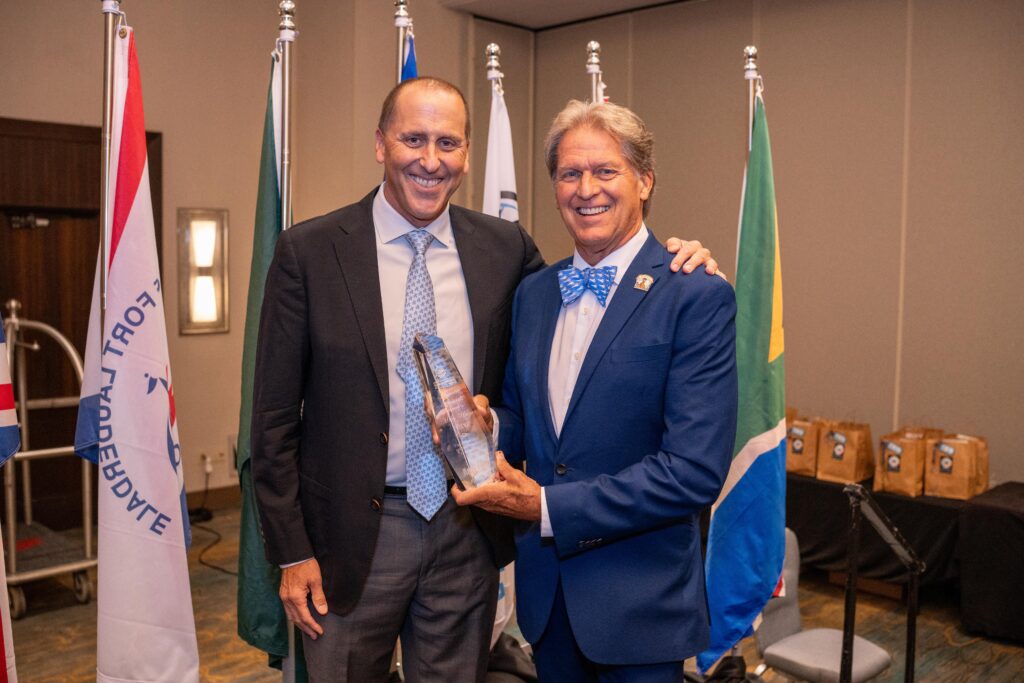 There is probably no one more knowledgeable about swimming than Mike Unger. After spending 28 years at United States Swimming, he was hired as a Senior Advisor at World Aquatics (formerly FINA), based in Lausanne, Switzerland. Over the last almost two years, Unger has helped lead World Aquatics efforts at all major aquatic events such as the World Championships and the Olympic Games.
Mike served as USA Swimming's Chief Operating Officer for the last 18 years of his tenure there. He also served as the organization's Assistant Executive Director, National Events Director, Marketing Director, National Team Coordinator, and also spent time as the interim Executive Director following the death of longtime Executive Director Chuck Wielgus.
In his role as COO, Unger oversaw all major events, including the U.S. Olympic Trials, the Golden Goggle Awards, the Pan Pacific Championships, and the Duel in The Pool.
In addition to his major roles at USA Swimming, Unger has also worked "on loan" for NBC Sports and Olympics as a co-producer and associate producer at numerous events, including the past seven Olympic Games with friend and on-air talent, ISHOF Honoree Rowdy Gaines. Unger's work on the Olympic swimming coverage earned him three Emmy awards and five nominations.
Ellie Smart (USA) – Diving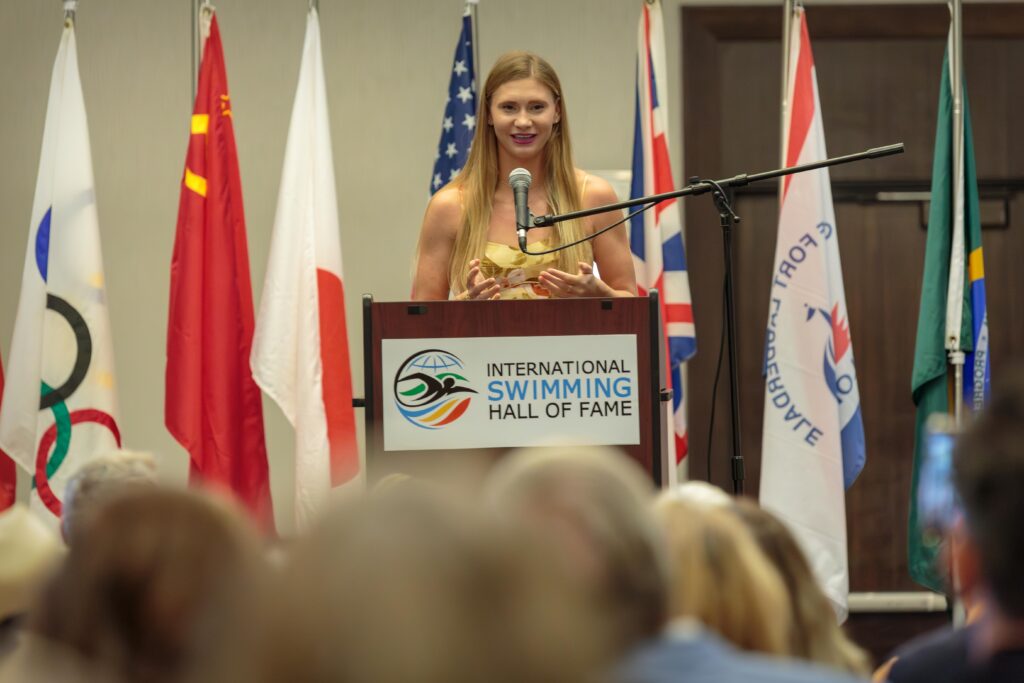 Ellie Smart is the Chief Executive Officer of the International High Diving Institute (IHDI), which was founded to develop the sport of high diving by providing training opportunities, hosting events, and creating a community for athletes, coaches, and fans. The IDHI supports junior and senior development in addition to technical and freestyle disciplines of high diving. The International High Diving Institute partnered with the Utah Olympic Park to construct the United States' first high diving training platform. Ellie has been the CEO of the IHDI for over two years now. Ellie and a few others are also working to get the sport of high diving included into the Olympic program, hopefully by 2028.
In addition to being the acting CEO of the IHDI, Smart is also a high diver herself. She has made her debut on the Red Bull Cliff Diving World Series circuit in 2017 and earned a permanent place in the women's line-up for the 2019 season with a third place at the FINA World Cup.
Ellie has recently become a resident of the City of Fort Lauderdale and trains at the Fort Lauderdale Aquatic Center.
Maria José Bilbao Bruñel (ESP) – Artistic Swimming
Maria José Bilbao Bruñel has been involved with synchronized swimming for most of her life. She began as an athlete in her home country of Spain and retired after a successful career. She then began to coach, which eventually led to judging. She was the founding member of her club, CN. Kallipolos in 1968.
She began as a Catalan judge, graduated to national judge and then became an international judge in 1998. She was appointed as a member to the FINA Artistic Swimming Technical Committee, 2009-2022. She was named a FINA Assessor in 2013, and a FINA Referee in 2014. She has been involved in most every type of Artistic competition there is, including the World Championships and the Olympic Games.
She was FINA Evaluator in 2019 at the World Championships, in 2020 at the Olympic Games, in 2022 at the World Championships in Budapest and in 2022 at COMEN in France as well as many other national and international competitions. Brunel is currently the President of the FINA Innovation Committee, in charge of drawing up the 2022-2025 regulations.
Mark Koganov (AZE) – Water Polo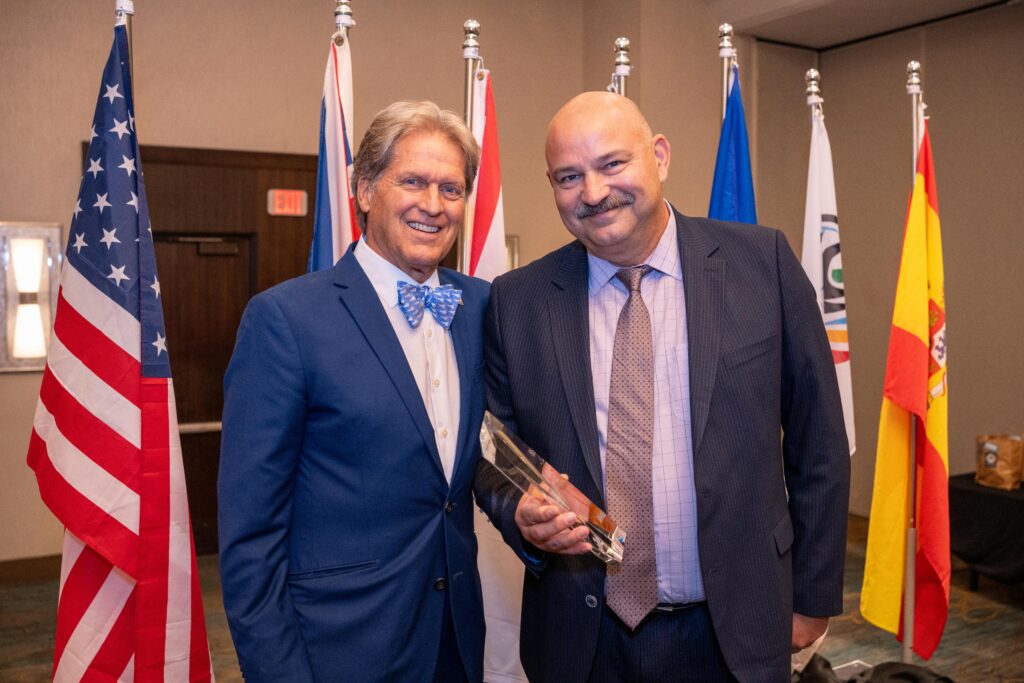 Mark Koganov began his career in the sport of water polo as an athlete between the years of 1982-1990 and as a member of National team of Azerbaijan.
He later became a water polo referee, and between 1998 and today, he has officiated in approximately 300 international games, more than 1500 collegiate games in different conferences, including officiating in six NCAA Finals, for both men and women.
Koganov has held numerous aquatic positions, including Water Polo Competitions Director, Aquatic Competitions Manager and has held administrative positions in the sport.
He is currently the Vice President of Azerbaijan Swimming Federation, a position he has held since 2012. He is also a LEN TWPC Member, a position he began serving in 2016 and he was the Vice Chairman of the FINA Technical Water Polo Committee, 2017 – 2022.
Koganov has refereed LEN Champions League, Super Cup Finals, and Championship Finals. He has been a neutral referee for the Asian Games, World Championships, and the Olympic Games.
Sofia Forte (USA) – Recreational Swimming
Sofia Forte is a P.E. Middle School Teacher at John Hopkins Middle School in St. Petersburg, Florida. As the P.E. teacher, Forte chooses the curriculum for her middle-schoolers. Since they are lucky enough to have E.H. McLin Pool across the street from the school, swimming is always at the top of her list! Sofia knows that drowning is the number #1 cause of deaths in children in the state, not to mention, she sees her kids get healthier by the time the semester is over.
But it isn't always easy. Sofia pushes her school to work in conjunction with the City of St. Petersburg, who makes its certified lifeguards available as instructors. And the State of Florida helped by passing legislation supporting the work of the "Every Child A Swimmer" program. Children are tested on the first day, then placed in the appropriate level – beginner, intermediate, or advanced. Each child will get a minimum of eight lessons over a two-week period. "Most kids can't swim on the first day," said Forte, who has been the driving force behind the program for eight years now. "We want them to be able to save themselves."
"It is part of our state curriculum, but it is not pushed. Not at all," Forte added.
Forte and her kids are lucky that they can walk to and from Campbell Park. "If a school has the ability to do it, there's everything to gain and nothing to lose."
But you can bet without Sofia Forte spearheading this, this program would not be happening!
Cullen Jones (USA) – Water Safety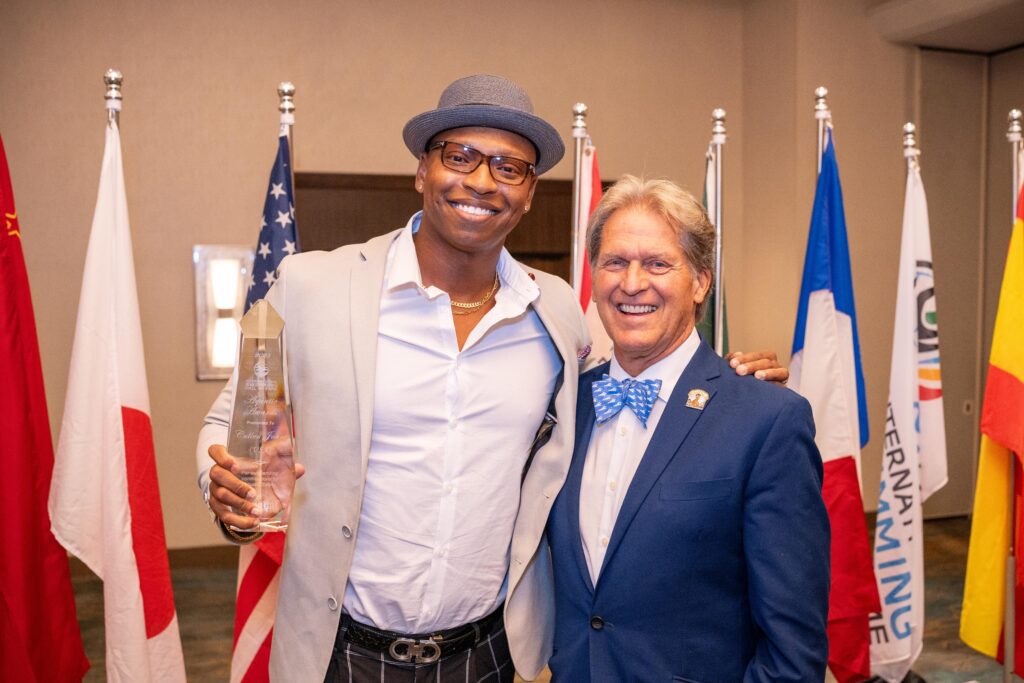 It is hard to believe that two-time Olympian and Olympic gold medalist Cullen Jones was once afraid of the water. But in fact, as a child, he almost drowned when he was just five. Luckily, his mother enrolled him in a swim program and the rest, as they say is history.
Jones has been an advocate of learn to swim programs for children since he was a member of the USA National team. Cullen will often tell his own story to children to make himself more relatable to anyone learning how to swim. He is a member of multiple initiatives, including being an ambassador for USA Swimming Foundation's Make a Splash program aimed at promoting water safety on a national level. He is also a member of the Goldfish Swim School. In addition, Cullen is an ambassador for African American swimmers, showing children that black kids can swim too, shattering the stereotype, especially when he became the first African American to break a World Record in swimming, and there was also that time he won two Olympic gold medals.
Cullen makes his way around the country offering opportunities for kids from all walks of life to learn to swim.
More children ages 1-4 die from drowning which is more than any other cause of death. 4,000 fatal unintentional drownings occur each year; that's 11 drownings occurring each day in the U.S. alone; 70% of African American children, 60% of Latino children and 40% of Caucasian children have little or no swimming ability. Cullen wants to combat these statistics and will continue to fight until maybe one day, its common place for every child to learn to swim, just as easily as it is to read.
#ISHOF #Aquaticawards #USASwimmingFoundation #Fortlauderdale #Diving #Waterpolo #MakeASplash #Artisticswimming #EverychildAswimmer #swimlessons #Honoreeinduction #WorldAqutics #USA #Spain #Azerbaijan #Marriottharborbeach