ISHOF hosts Paragon and Specialty Awards during Induction weekend
Photo Courtesy: ISHOF
---
The International Swimming Hall of Fame (ISHOF) celebrated the recipients of the 2022 Paragon and ISHOF specialty awards on Friday evening, October 14, 2022, to kick off the ISHOF Induction weekend.
2022 Paragon Awards, sponsored by Pentair
The Paragon Class of 2022 consisted of six stellar individuals from around the globe with credentials that were quite impressive.
About This Year's Paragon Award Recipients
---
Julie Ahlering – Diving
St. Louis native Julie (Capps) Ahlering was a four-time All-American Diver and Scholar-Athlete for the University of Miami, coached by ISHOF Honoree, Tom Gompf, and ISHOF Paragon Award winner, Steve McFarland. She was a finalist in over 25 national diving events, including the Olympic Diving Trials.
After college, she returned to St. Louis and raised four sons, but diving was not at all forgotten. She was asked to become a FINA Certified Diving Judge and help provide needed expertise in the sport. In 2010 she became FINA certified and immediately became known as one of the best diving officials in the United States. She judged ten NCAA, ACC, and PAC-12 Championships as well as three Olympic Diving Trials. Ahlering soon became among the most respected international Diving judges in the World, judging FINA World Cups, World Championships, and Commonwealth Games. She also represented the United States as their Olympic Judge in the 2020 Tokyo Olympic Games.
Julie's love for diving and dedication to Judging found a partner in arms with former Paragon winner, Cokey Huffman (2016). Together they, and other like-minded colleagues, established the United States Diving Judge Education and Certification Program. Today it is one of the world's top programs of its kind. Ahlering's contribution to the sport of Diving and her commitment to fair play will continue to live on through this program and her example of giving back to the sport she loves!
---
Margaret MacLennan – Artistic (Synchronized) Swimming
At 84 years young, and living out in British Columbia, Margaret was unable to come to Fort Lauderdale and receive her Paragon Award in person. She was, however, very well represented by her former (synchronized) swimmer, ISHOF Honoree, Michelle Calkins DeFillippi, who flew in from Hawaii to represent and accept the award for Marg.
Margaret MacLennan was the first female to be named a member of the FINA Bureau (now FINA TSSC) in 1988 after she decided that synchronized swimming needed a presence. It was her passion and her valuable skills that not only earned her a seat on the Bureau but allowed her to influence the advancement of FINA rules for synchronized swimming. Her political astuteness and diplomacy elevated the credibility and interest of synchronized swimming in a field of male-dominated aquatic sports. She worked tirelessly and consistently with the Bureau during her tenure and was well respected by her peers.
She began as a long-time judge and volunteer in BC Synchro before she became involved in the sport at the international level as a member of the formerly named FINA TSSC (Technical Synchronized Swimming Committee), from 1980 to 1988. Margaret lobbied long and strong with her cohorts to bring Synchronized Swimming to the world stage as part of the Olympic Games, as well as working with FINA to elevate the sport. She served as the Technical Delegate for Synchro at the 1996 Olympic Summer Games in Atlanta, Georgia, and officiated the 1984, 1988, and 1992 Games as well.
She began her synchronized swimming journey in Vancouver, Canada, swimming for several different synchronized swimming clubs (1959-1965). Her highest achievement was placing second in duet at the Canadian National Championships. Marg moved from the pool to the deck, founding and coaching several synchronized swimming clubs (1960-1973).
Marg has a son Doug, a daughter Ann and a grandson, Logan.
---
Al Beaird – Water Polo
After recently retiring from the Mountain Pacific Sports Federation, ISHOF was pleased to honor Al for his many years of service to the sport of water polo, and it was nice that he was able to be joined by his wife and daughter.
For 24 years, Al Beaird served as Executive Director for the Mountain Pacific Sports Federation (MPSF). He was the first Executive Director chosen in 1992 when the MPSF was created and established to serve the competitive needs of member institutions from the Big West, Pacific-10 (now the Pac-12), and Western Athletic Conferences, as well as other selected universities in the western United States; and to provide championships competition for Division I intercollegiate Olympic sports in a conference setting. The founding principles on which the MPSF was originally formed were to provide enhanced competition and championship opportunities for sports without conference affiliation, to contain the costs of competition, and to ensure the survival of endangered sports.
The MPSF sports portfolio included, among other sports, men's and women's water polo, men's and women's swimming and diving, and women's water polo. Currently, the MPSF provides a conference home to 85-100 teams from 35+ universities in nine states competing in NCAA Division I intercollegiate athletics. Since the inception of the Federation, MPSF teams have won 81 NCAA team titles…
In addition to his position as Executive Director at the MPSF, Al was a member of the NCAA Men's Water Polo Committee 2000-2004 (committee chair 2001-2004) and chair of the inaugural NCAA Men's and Women's Joint Water Polo Rules Committee 2004. Member National Association of Collegiate Directors of Athletics (NACDA) and National Association of Sports Officials (NASO). Al retired from MPSF in 2021.
---
J. Arturo Abraldes, Ph. D. – Aquatic Safety
Arturo lives in Murcia, on the Southeastern, coast of Spain, near Cartegena. He was very proud and pleased to travel to Florida and the United State to accept his award and be here in person and celebrate with his fellow award winners.
Dr. Arturo Abraldes is a fine example of a person that successfully mixes theory and practice in water safety, both nationally and internationally. He has served in the field of lifesaving as an academic, author, researcher, lifeguard, instructor, sports coach, journal editor, and conference facilitator for the last 25 years. His qualifications are both academic and vocational. He received a Master's degree in Physical Education, Sports, and Health Education and a Ph.D. in Physical Education with a thesis on lifesaving. He holds 14 certifications in swimming, lifesaving, first aid, lifeguarding, instructor, coach, referee, and the national assessor from seven organizations (Spanish Lifesaving Federation, Galicia Lifesaving Federation, Rescue 3 International, Spanish Association Emergency, Spanish Swimming Federation, Spanish Lifesaving Referee Committee and Spanish Association Club Lifesaving), having practiced all these subjects.
Like his studies, his work has always been related to lifesaving professionally. After working for many years as a lifeguard and then sport lifesaving coach, he was instrumental in the formation of sports lifesaving of the Lifesaving Federation of Galicia, as the Secretary, Manager, and Vice President at different times. He also acts as a board member of the Lifesaving Federation of Galicia and the Spanish Association of Lifesaving Clubs.
And with over 180 publications, Arturo is one of the most prolific water safety authors in the world. He has co-authored over 20 lifesaving-related books, and numerous educational DVDs, and has been a speaker at national and international conferences. For his contributions to the field of water safety, he has been honored several times as well both locally and nationally.
Ellaine Cox – Competitive Swimming
If you have ever been to a United States Aquatic Sports convention, then you know or you've seen Ellaine Cox! Unfortunately, due to the kindness that is Ellaine, and the importance that she places on family, she was unable to accept her award in person……It was her Aunt's 93rd birthday and all she wanted was for Ellaine to be a present for her birthday. So, Ellaine chose her Aunt's feelings over her own. No surprise to anyone who knows Ellaine. Luckily, long-time friend, Carol Zaleski was there to step in for Ellaine and came prepared with a photo of her and Ellaine from the early 1990s. You were missed Ellaine!
Ellaine Cox began her career in swimming because she was a bored swim parent, sitting in the stands, waiting for her daughter to swim. She began as a timer, which evolved into a stroke and turns judge at the local level, state, and finally USA Swimming level, and was eventually attending monthly meetings in Indianapolis.
For Indiana Swimming she progressed from the representative for the monthly meetings for Michiana Marlins (South Bend) to Age Group Chairman, Administrative Vice Chairman, Indiana Swimming, and finally as a member of the Board of Directors. Eventually, Ellaine was asked to attend the annual United States Aquatic Sports convention, representing Indiana Swimming. She also served on the USA Swimming Site Selection/Facilities Committee for a number of years;
Recognizing another like-minded woman in 1986, Carol Zaleski asked Ellaine if she would consider chairing the Awards Committee for USA Swimming. Ellaine agreed and served as Chair until 2020 several committee responsibilities were taken in-house by USA Swimming for staff members to manage.
In 1998, Ellaine's real talent was really put to the test when she was asked to become the Convention coordinator for the United States Aquatic Sports. Ellaine says she "was able to persuade the most amazing group of special friends, Bob and Helen Brown, Margaret Donofrio, Deb Turner, Penny Taylor, Paul, and Mary Beth Windrath, and Gay Wright to join me in this undertaking. As a team, we were able to generate one million dollars in profit for USAS in the years we were 'in charge'." Best bunch of brains and talents one could ask for! In 1999 we were responsible for our first convention in Burlingame, CA. As a result of the relationship, we established with Hyatt Hotels we were able to keep rates under control for the delegation that represented USA Diving, Master's Swimming, USA Swimming, Synchronized Swimming, and Water Polo."
---
Kent Williams, PPOA – Recreational Swimming
Although he was also unable to join us for health reasons, Kent Williams was also part of Paragon's Class of 2022 in the category of Recreational Swimming.
Kent Williams literally wrote the book on swimming pool operations. He personally developed the program and wrote the textbook for the National Recreational Pool Association's Aquatic facility Operator's program, starting in 1991 and he went on to continue to help shape the educational pool operational process. In addition, he founded and operated the PPOA, the Professional Pool Operators of America, to promote professionalism and recognition of swimming pool operators.
Williams's goal was to bring professionalism to his industry. In fact, to be part of his 1,500-member organization, you had to be a graduate of a recognized pool-operator curriculum, an instructor, or a pool-assigned environmental health specialist. "They're truly professional because they are fully certified," he would say. His PPOA membership stretched to Canada, Europe, Australia, Central America, Africa, Asia, and the Caribbean. His group aimed to recognize, acknowledge, train, and refine the operators of institutional and public aquatics facilities throughout the Americas (and now the developed world).
Now retired, due to health issues, Williams is proud of what he did for his industry and hopes what he began continues to grow.
ISHOF Specialty Awards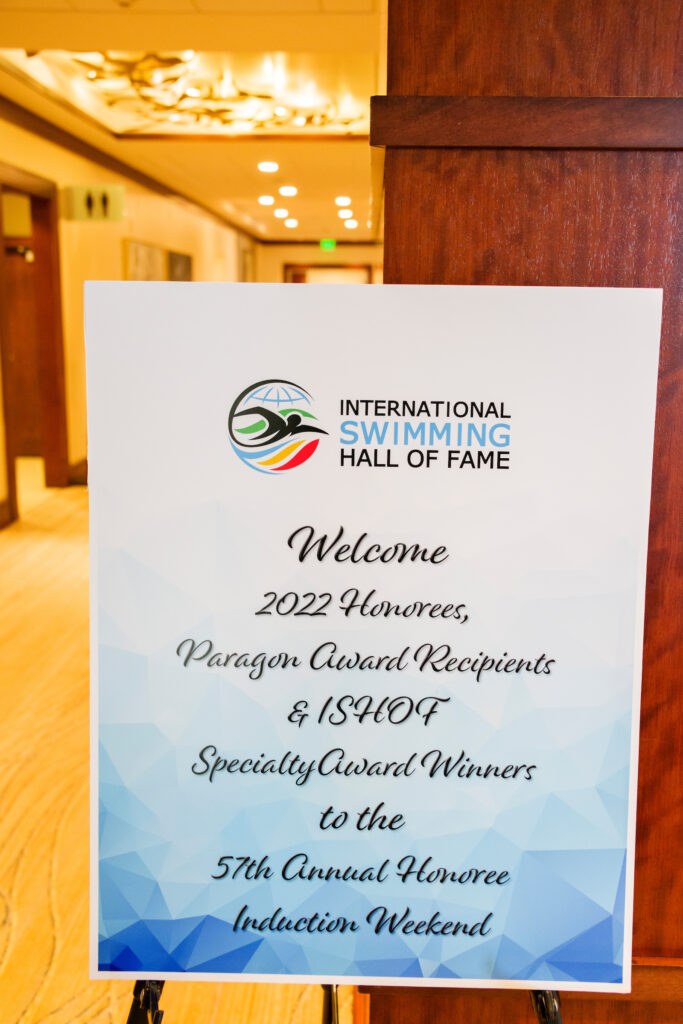 The ISHOF specialty awards are presented annually to individuals for outstanding contributions to the aquatics community. The awards were presented along with the Paragon Awards on Friday evening.
This year's ISHOF Specialty Award Recipients
Michael Loynd – 2022 Buck Dawson Author Award: The Watermen: The Birth of American Swimming and One Young Man's Fight to Capture Olympic Gold
The Awards and Recognition Committee of the International Swimming Hall of Fame was pleased to award the 2022 Buck Dawson Author's Award to Michael Loynd for his book, The Watermen: The Birth of American Swimming and One Young Man's Fight to Capture Olympic Gold. This award is presented by ISHOF in the name of William "Buck" Dawson, ISHOF's founding Executive Director, to an author of work that promotes and educates people about aquatics. Buck would have been thrilled with Michael's book about Honoree, Charles Daniels.
Mike Loynd is chairman of the St. Louis Olympic Committee, a representative on the International Olympic Committee's World Union of Olympic Cities, a member of the International Society of Olympic Historians, and a sports attorney and lecturer. He is the author of All Things Irish: A Novel, and now, The Waterman: The Birth of American Swimming and One Young Man's Fight to Capture Olympic Gold, the story of ISHOF Honoree, Charlie Daniels. Loynd lives in St. Louis with his family.
Jordan Whitney-Wei — 2021 Buck Dawson Author Award: Katharine Whitney Curtis – Mother of Synchronized Swimming
The Awards and Recognition Committee of the International Swimming Hall of Fame happily awarded, one year late due to Covid, the 2021 Buck Dawson Author's Award to Jordan Whitney-Wei for his book, Katharine Whitney Curtis – The Mother of Synchronized Swimming. This award is presented by ISHOF in the name of William "Buck" Dawson, ISHOF's founding Executive Director, to an author of work that promotes and educates people about aquatics
Jordan Whitney-Wei is the great-grandnephew of Katharine Whitney Curtis. His book, Katharine Whitney Curtis – Mother of Synchronized Swimming was released on February 25, 2020. His previous writing and research focused on philosophy and poetry, but this time, it focuses on family, synchronized swimming, and his "Aunt Kate," a woman ahead of her time. This is Whitney-Wei's third book and his first award. Katharine "Kay" Curtis was the originator of synchronized swimming, as we know it today. She also wrote a book about it in 1936. Though there was much more to her life and career. Unbound by fear, or the narrow expectations of society, she was a woman who lived ahead of her time making things happen along the way. Curtis was inducted into the International Swimming Hall of Fame in 1979. The book will be available on Amazon for purchase.
About Buck Dawson: Dawson was a veteran of WWII who served as assistant and publicist for Generals Gavin and Ridgeway in the 82nd Airborne. From the time he was chosen to lead ISHOF in 1962, until his death in 2008, Buck traveled the world armed with Hall of Fame brochures, books, and bumper stickers. He was always spreading the word, and always willing to talk and teach swimming and swimming history to anyone who would listen. He wrote hundreds of articles and was the author of eight books, ranging in subjects from bathing beauties to war, but especially swimming.
Russell Weaver — 2022 International Swimming Hall of Fame Service Award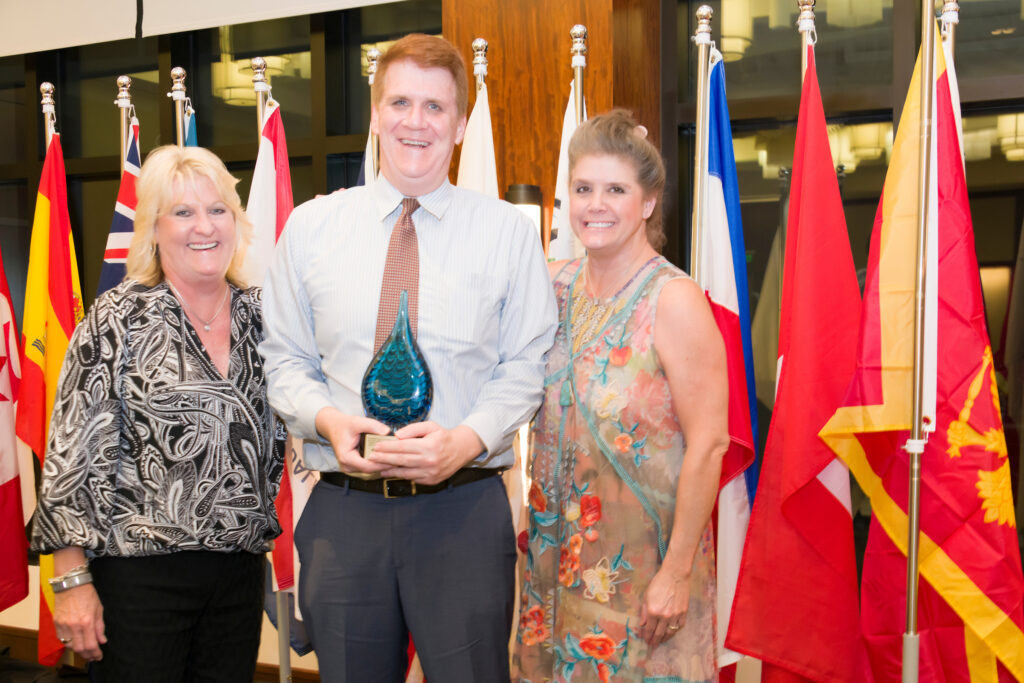 The Staff of the International Swimming Hall of Fame was pleased to present Russell Weaver with the 2022 ISHOF Service Award. The ISHOF Service Award is given to an individual who has selflessly volunteered their time, energy, and/or resources to advance the interests and work of the International Swimming Hall of Fame.
Russell Weaver has easily given over 25 years of his time, connections, and resources to ISHOF. He is extensively involved with business networks throughout South Florida. When he attends these meetings and events, he always has in his mind, "Can this help ISHOF in any way?" As president of the Greater Fort Lauderdale Sisters Cities International and co-chair of Tower Club Internationals, Weaver works closely together with the Greater Fort Lauderdale Alliance, Greater Fort Lauderdale Chamber of Commerce, Broward County, and the City of Fort Lauderdale. He helps to promote Broward County's business and cultural highlights to the Miami-based Consulates and binational chamber of commerce organizations. During these international monthly meetings, new business and government relationships are established, highlighting Fort Lauderdale and Broward County as world-class destinations. As always, Weaver remembers ISHOF and always gives us the opportunity to showcase our Honorees at some of these events and educate the international and local community and others, about what our museum has to offer.
James S. O'Connor — 2022 Judge G. Harold Martin Award
The Awards and Recognition Committee of the International Swimming Hall of Fame was pleased to honor James (Jim) O'Connor, as the 2022 Judge G. Harold Martin Award recipient. The G. Harold Martin Award is presented to someone for their long and exceptional leadership, insight, and dedication to the water safety of children and the cause of making "Every Child A Swimmer".
Jim O'Connor has more than 40 years of experience as an aquatic professional and is committed to the prevention of aquatic accidents and teaching children to swim. O'Connor is the Aquatics Program Manager for Miami-Dade County Parks and Recreation Open Spaces Department, the third largest parks and recreation department in the United States and the largest municipal learn-to-swim provider in the state.
Mr. O'Connor has held numerous aquatic positions, served on the "Advisory Council" of the "National Drowning Prevention Alliance," has been an adjunct professor at the University of Miami, Aquatics Coordinator for the American Red Cross Greater Miami and Keys Chapter, and was the Aquatic Director and Head Swim Coach at the University of Oregon.About G. Harold Martin: Back in 1908, G. Harold Martin almost drowned in the Ohio River. Over the next two decades, he almost drowned two more times. From these experiences evolved a mission to make "Every Child A Swimmer." His civic involvement led to the building of Fort Lauderdale's first municipal pool in 1927. Kiwanian sponsored free swim lessons at the pool, and eventually influenced the decision by ISHOF to be located in Fort Lauderdale. An active Kiwanian his entire adult life, he was instrumental in making the Key Club an integral club within Kiwanis International and the adoption of Every Child A Swimmer as a Kiwanian project.
Julia Meno — 2022 John K. Williams, Jr. Adapted Aquatics Award
The Adapted Aquatics Committee of the International Swimming Hall of Fame was pleased to award Julia Meno with the 2022 John K. Williams, Jr. International Adapted Aquatics Award. The annual award, honoring individuals or organizations who have made significant and substantial contributions to the field of adaptive aquatics, is presented by S.R. Smith, a world-leading manufacturer of commercial and residential swimming pool deck equipment headquartered in Canby, Oregon.
Julia Meno, CTRS, ATRIC, CMT, is the founder and owner of Therapeutic Aquatics, LLC. and is an internationally known presenter and instructor on aquatic therapy and wellness. Julia has a profound love and respect for the power of water as a healing instrument. Individuals can learn the freedom of movement that they may not have been able to achieve otherwise, thus opening up an aquatic world for opportunities to grow, socialize and exercise.
She founded Therapeutic Aquatics, Inc. in 1996 and began providing aquatic therapy services in Jackson, WY. Julia also worked closely with the Jackson school district's Adaptive PE Program, L.I.F.E. grants, and Wyoming Medicaid Children's Waiver which all provided a platform to create Pediatric AquaHab© for children with challenges. She also became a Certified Massage Therapist, which complimented her aquatic training. Thus far in her career, she has studied and authored An Introduction to the Bad Ragaz Ring Method: A Visual Instructional Guide (1999). Julia Co-authored: PNF in the Pool (2004), Myofascial Aquatic Body Work DVD (2006), the Pediatric Aquatic Therapy Certificate Course (2010) and the AquaStretch™ Specialty Certificate Manual 1st ed. (2013).
Julia has worked as a Dementia Care Coordinator and as an instructor for Motivations, Inc., providing continuing education teaching in Pediatric AquaHab©. She is currently a presenter and faculty for the Aquatic Therapy & Rehab Institute, Inc. She was the recipient of the ATRI Tsunami Spirit Award in 2002 and the Aquatic Therapy Professional Award in 2014 for her innovations and contributions in education to the aquatic therapy industry. Today she continues to provide individual and group aquatic therapy as well as wellness classes in addition to individual aquatic therapy sessions.
Wayne Goldsmith — 2022 Al Schoenfield Media Award
The International Swimming Hall of Fame and its Award Committee were pleased to award Wayne Goldsmith, as the recipient of the 2022 Al Schoenfield Media Award for his many outstanding contributions to the promotion of aquatic sports through journalism. This award is presented by ISHOF in memory of Al Schoenfield. We were pleased to welcome Wayne and his partner Libby, to join us, all the way from Australia.
Wayne Goldsmith has been a thought-provoking leader and influencer in the swim industry for more than 25 years. As a regular contributor to Swimming World Magazine, his "Goldmind" articles discuss goal setting, visualization, and team building concepts. He has worked directly with many of the world's leading coaches, athletes, teams, and sporting organizations in over 30 different countries. Wayne is a recognized global expert in coaching, coach education, and coach development for peak performance. His lessons in leadership, team development, change acceleration and continuous improvement provide swim coaches with quality, credible, engaging information via articles, videos, podcasts, seminars, clinics, and talks.
Al Schoenfield was the Editor and Publisher of Swimming World Magazine (1960-1977) and served on various international committees of swimming, including the FINA Technical Swimming Committee (1980-1984). Schoenfield's life was a commitment to swimming and he participated in its administrative structure and spread its stories through his magazines and promotions. Al died in 2005, but his legacy will forever endure to all who have benefited from his lifetime of service to swimming.
Patricia Cirigliano — 2022 Virginia Hunt Newman International Award
Patricia Cirigliano was selected this year, as the 2022 recipient of the Virginia Hunt Newman International Award. Living in Buenos Aires, Argentina, Ms. Cirigliano was unable to attend the ceremony, so she asked, the 2019 Virginia Hunt Newman Award winner, Robert Strauss of Miami to accept the award in her place.
Dr. Patricia Cirigliano started the first Argentine swimming school for babies in 1960. The school was centered around her holistic method, Matronatacion®, which is a creative and original approach to aquatic initiation for babies that involves human integrity and respect for the child and the family. To present, 17,000 babies, toddlers and young children beginning at 15 days old have learned to swim and have enjoyed the Matronatacion® method at Cirigliano's school, whose motto is "Swimming is learnt by playing." They are at the very core of learning. The Method's distinctive characteristics are freedom, game, active mother role, intelligent learning according to a child's maturity development without conditioned response, and didactical use of toys and materials.
Dr. Cirigliano is a member of a great number of associations such as the International Physical Education Federation and Panathlon Club in Buenos Aires and the National Swimming Schools Association in the U.S.A. Since 1991, she has been an active member of the Argentine Pediatrics Association.
Duraflex International Award
The Duraflex International Award recognizes outstanding international contributions to the sport of diving. It has been given to international sports federations and individuals whose contribution to diving has made a real and lasting impact.
Thomas Gompf – 2022 Duraflex International Award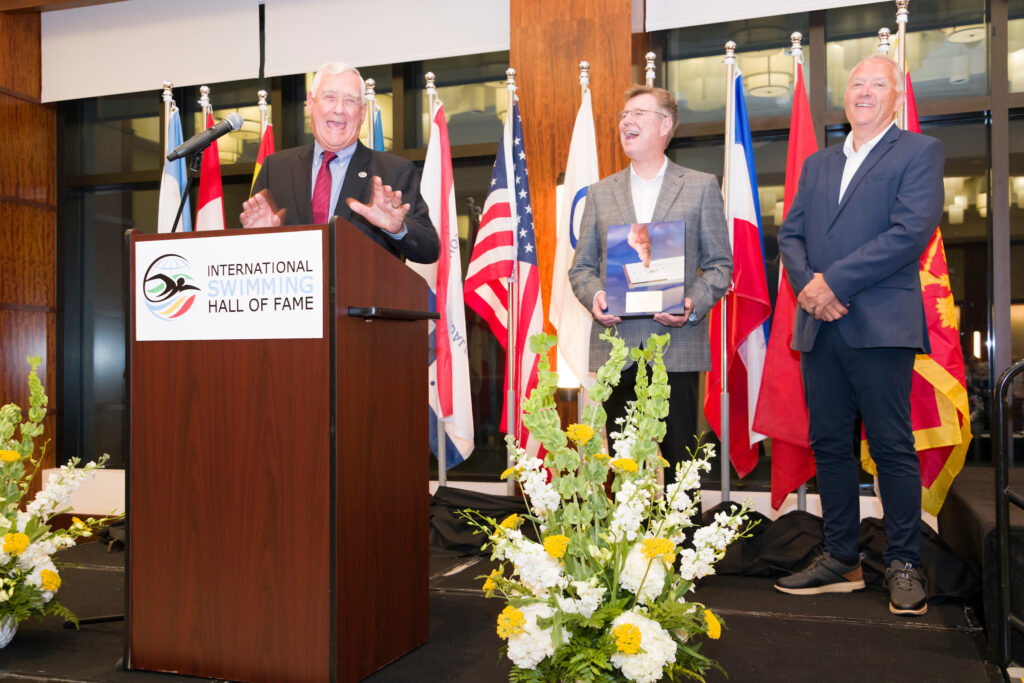 In typical Tom Gompf fashion, he is making all of us laugh. Pictured above with decades-long friends, Steve McFarland and Mark Pyatt, both of Duraflex, this year, Tom was presented the 2022 Duraflex International Award. Tom has given his entire life to diving, whether as an athlete, through coaching, as a member of FINA and the TDC, fighting to get 1-meter and synchronized diving into the Olympic Games, Tom has always given his all for diving. And no one can imagine a diving world without him. Thank you Tom for all you have done, and all you continue to do for our sport. To read Tom Gompf's honoree bio, click here: https://www.ishof.org/honoree/honoree-tom-gompf/
Steve Voellmecke – 2022 Duraflex International Award
Steve Voellmecke has been involved with the sport of diving for the past 35 years. He began as a diver, he is now a coach, a judge, and a volunteer. He dove for Xavier University, in Cincinnati and was captain of the team, his senior year.
He is a Life Member of USA Diving, a Trustee of the United States Diving Foundation, and a member of the International Swimming Hall of Fame (ISHOF), where he generously donates each year. He holds the position of Treasurer of The United States Professional Diving Coaches Association and is on the Executive Board for the ambitious Aquatic Training Center project. He was Team Leader for the USA for the 2000 FINA World Cup in Sydney and the 1996 Can-Am-Mex Junior Olympic International Meet in Winnipeg, Canada. At the 1996 U.S. National Diving Championships, he helped produce the memorable and highly successful event held at Miami University in Oxford, Ohio, as Co-Meet Director.
In 1998, Steve was presented with the prestigious "WHOSAM" Award given annually to the Diving Coach who "demonstrates a commitment to excellence and dedication to the highest physical, mental and spiritual ideals." This award is presented by ISHOF Honor Diver, Dr. Sammy Lee M.D. – 1948 and 1952 Olympic Gold Medalist — and the person responsible for introducing "The Sammy" Sport Towel to the diving world!
A highly respected diving judge, Steve is FINA certified and was the only judge selected to judge both the 2008 AND 2012 United States Olympic Diving Trials. He has judged the NCAA Championships from 2007 – 2014, as well as multiple international diving competitions and Collegiate Conference Championships, including the Big 10, SEC, and PAC-12 championships. For the past 30 years, Steve has been a constant in the Greater Cincinnati / Northern Kentucky area serving as referee and judge at countless Summer League Diving Meets.
Voellmecke's first love is teaching diving at the Grassroots Level, although he is proud to have coached divers at all levels. He has coached the summer diving team at The Indian Hill Club since 1985 and was instrumental in designing their spectacular new diving well, built-in 2008.
He is the President and owner of Springboards and More, which is the largest Dealer of Duraflex Diving Equipment in the United States and the Preferred Equipment Supplier to USA Diving.
He currently lives in Loveland, Ohio with twins Aidan and Simone.