ISHOF Honoree, Jeannette Campbell's grandson, Tonas Kelly visits ISHOF today, February 2, 2022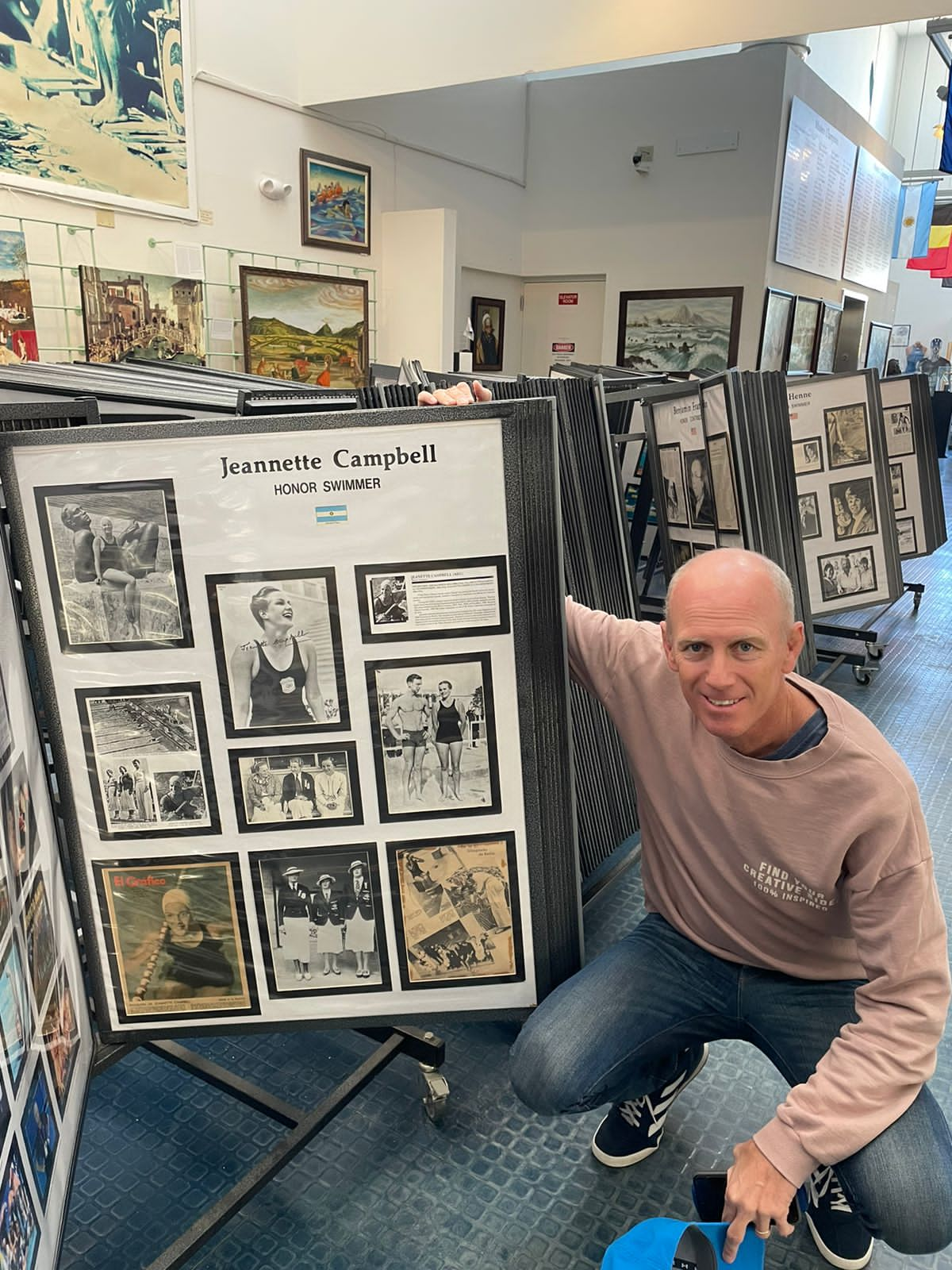 ---
Today, ISHOF had a special visit from ISHOF Honoree, Jeannette Campbell's grandson, Tonas Kelly. Jeannette was inducted into ISHOF as an Honor Swimmer in 1991 and flew in from Buenos Aires to be present for her induction. Jeannette was nearing her 80th birthday. She was a very special woman and we were happy to welcome her family to ISHOF today, many years later
Jeannette Campbell (ARG)
Honor Swimmer (1991)
FOR THE RECORD: OLYMPIC GAMES: 1936 silver (100m freestyle); ARGENTINA NATIONAL CHAMPIONSHIPS: 4 (100m freestyle); SOUTH AMERICAN CHAMPIONSHIPS: 4 (100m freestyle).
While Hall of Famer Maria Lenk of Brazil was setting the South American breaststroke and backstroke records, Jeannette Campbell of Argentina was setting the freestyle records.
During the 1930s, women's sports in South America were in their infancy.  The first South American Swimming Championships were held in 1935 in Brazil.  Jeanette won the 100 meter freestyle as she did in Uruguay, 1937; Peru, 1938; and Ecuador, 1939.  She joins Alberto Zorrilla, 1928 400 meter champion, as one of the finest Argentine swimmers of all time.
Jeanette's greatest achievement was the silver medal in the 100 meter freestyle at the 1936 Olympics in Berlin.  She finished second behind Holland's Hendrika Mastenbroek, who swept all the women's freestyle events.  Holland's success in the sprint freestyle events began in 1933 when Hall of Famer Willy den Ouden became the first woman to break the one minute mark in the 100m freestyle and held the world record for 23 years.