ISHOF Honoree Hilda James and Gloria Vanderbilt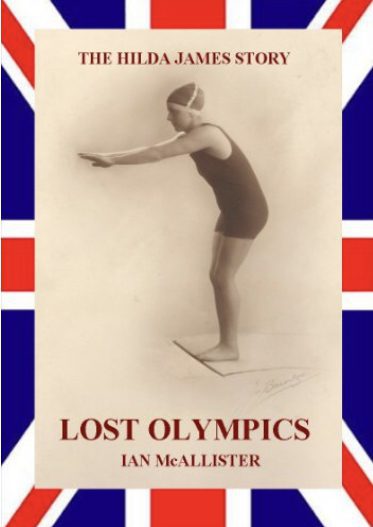 ---
HILDA JAMES AND GLORIA VANDERBILT
With the recent death of Gloria Vanderbilt, we wanted to share this interesting story.
Hilda James of Great Britain was inducted into ISHOF in 2016. Her grandson, Ian McAllister, wrote the story of her life, Lost Olympics, a fascinating story. It is available on Amazon or at: http://tinyurl.com/y27xqfkj
One story that was not including in Lost Olympics was the story of Hilda James and Gloria Vanderbilt. It is below.
GLORIA VANDERBILT – LOST OLYMPICS (NOT IN THE BOOK) by Ian McAllister.
I only wrote about people still living with their express permission. In 2011 while I was writing Lost Olympics, I tried without success to contact Gloria Vanderbilt to ask for her blessing to include this story in the book. Neither Gloria nor her son Anderson Cooper responded to my requests, so this piece appeared on my page here instead. I am reprising it now as a tribute to Gloria Vanderbilt (1925-2019).
During one of Hilda James' final Cunard cruises as Cruise Hostess aboard RMS Carinthia in late 1929, the ship hosted the heiress Gloria Morgan Vanderbilt, accompanied by her entourage and her daughter, also named Gloria. Little Gloria was just five, and the only child aboard the entire ship. Largely ignored by her socialite mother, she found fun and laughter with many of the crew members and spent a lot of her time below decks where few guests visited. Little Gloria learned to swim with Hilda in the magnificent marble pool. She was apparently a natural and loved to spend hours playing in the water. The pair hosted a swimming show and demonstration for her mother and friends at the end of the cruise. Hilda told me she was a natural swimmer.
On arrival back in New York City, the five-year-old was so upset to be leaving her new-found friends, that Gloria Morgan Vanderbilt summarily instructed Hilda James to leave Cunard and take up employment with the family to help look after her daughter. Hilda's life may have turned out very differently if she had accepted, but the Cruise Hostess already had an inkling that Senior Wireless Officer Hugh McAllister was about to propose. Hilda was confident enough to refuse an extremely generous financial offer from the Vanderbilt's, at that time the richest family in America.
Used to getting her own way at the mere snap of her fingers, the heiress was so incensed at this refusal by a company employee that she demanded Cunard fire their celebrity crew member immediately. Sir Percy Bates was having none of that! She also refused to allow Hilda to keep in touch with Little Gloria, even though the child begged her mother to ask Hilda to visit them and take her swimming when she was in New York. They were never to meet again.
Gloria Vanderbilt, Hilda James, unknown man
The photograph shows Little Gloria and Hilda James in the pool aboard Carinthia. I do not know who the man is, but I suspect he is part of the Vanderbilt party. He is not Little Gloria's father Reginald Claypoole Vanderbilt, as he had died when the child was just 18 months old. Many years ago, Hilda wrote on the left of the photograph in biro "Gloria Vanderbilt".
HILDA JAMES – ISHOF Honoree Bio
ISHOF Bio for Hilda James
To avoid attending the Church of England religious education classes, which conflicted with her parents' religious beliefs, this 11-year-old Liverpudlian was assigned to swimming classes at the Garston Baths.
Five years later, Hilda James was Great Britain's best female swimmer and left for the 1920 Olympic Games with high expectations. Unfortunately, in Amsterdam, the USA women completely dominated, sweeping gold, silver and bronze medals in the 100m and 300m freestyle, the only individual swimming events for women at the 1920 Games. And while the British did win silver in the 4 x 100m relay, they did finish a full 30 seconds behind the Americans. The following day, Hilda cheekily asked the American Coach, Lou de B. Handley, to teach her the American crawl.
In 1922, Hilda was invited by her American friends to visit the USA for the Summer racing season. While she was still behind the American stars, Helen Wainwright and Gertrude Ederle, she was closing the gap.
By 1924, Hilda held every British and European freestyle record from 100 meters to the mile, and a handful of world records as well. She easily made the 1924 Olympic team, and it was widely believed that she would return from Paris with a handful of medals. When Hilda's mother insisted she accompany her daughter as chaperone, and the British Olympic Committee refused, Hilda's mother refused to let her go. Unfortunately, Hilda was not yet 21, was under the care of her parents-she had to obey.
Hilda turned 21 shortly after the Olympic Games, gained her independence, took a job with the Cunard Shipping Company, traveling the world as a celebrity spokesperson, at a time when women were just starting to gain their freedom.
We will never know how Hilda would have fared in the 1924 Olympic Games, but she was a trailblazer and one of Europe's first female sports superstars who inspired future generations of girls to follow in her wake.
For more information on Hilda James, we highly recommend, Lost Olympics.