ISHOF Board Member and Honoree Dara Torres Shines as usual in South Florida/Las Olas Lifestyle…..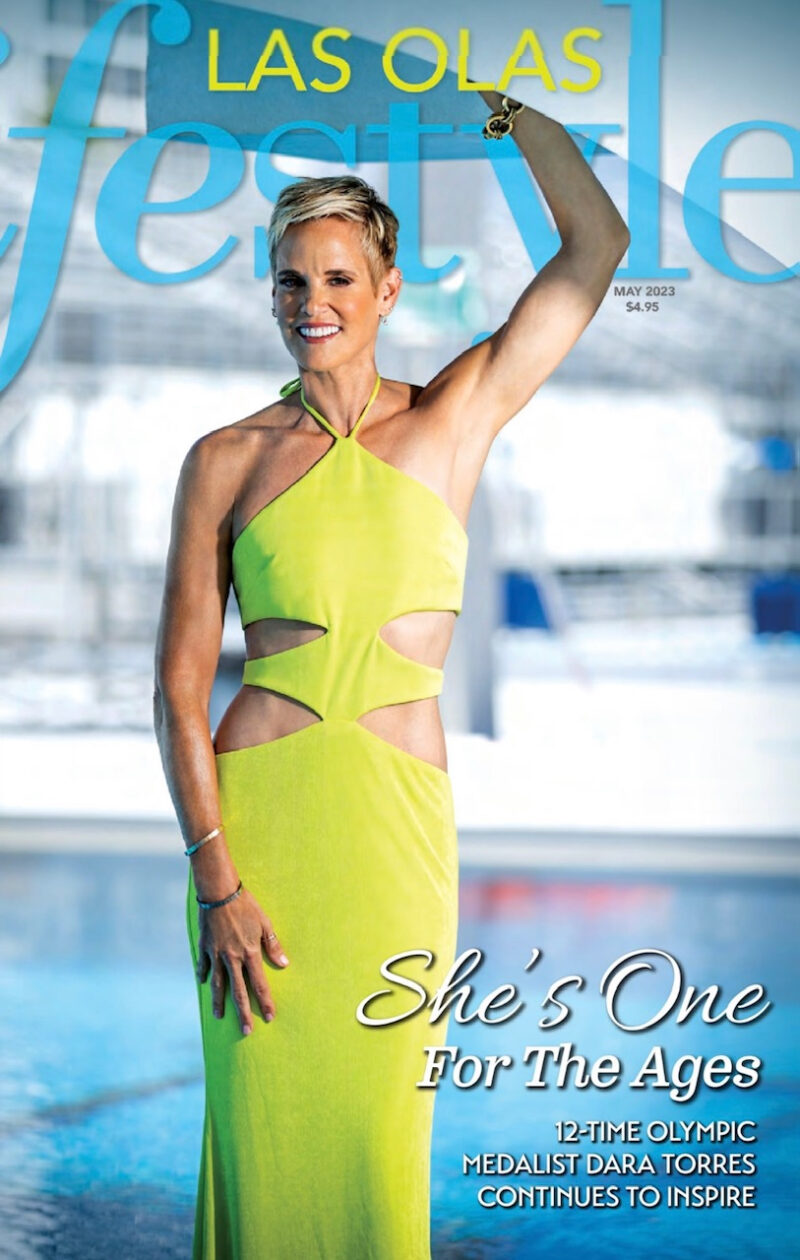 ---
Dara Torres, ISHOF Board Member and Honoree, recently did a cover shoot and article for a local South Florida Magazine, Las Olas Lifestyle featuring ISHOF and the Hall of Fame Aquatic Center. Enjoy the article and great photos!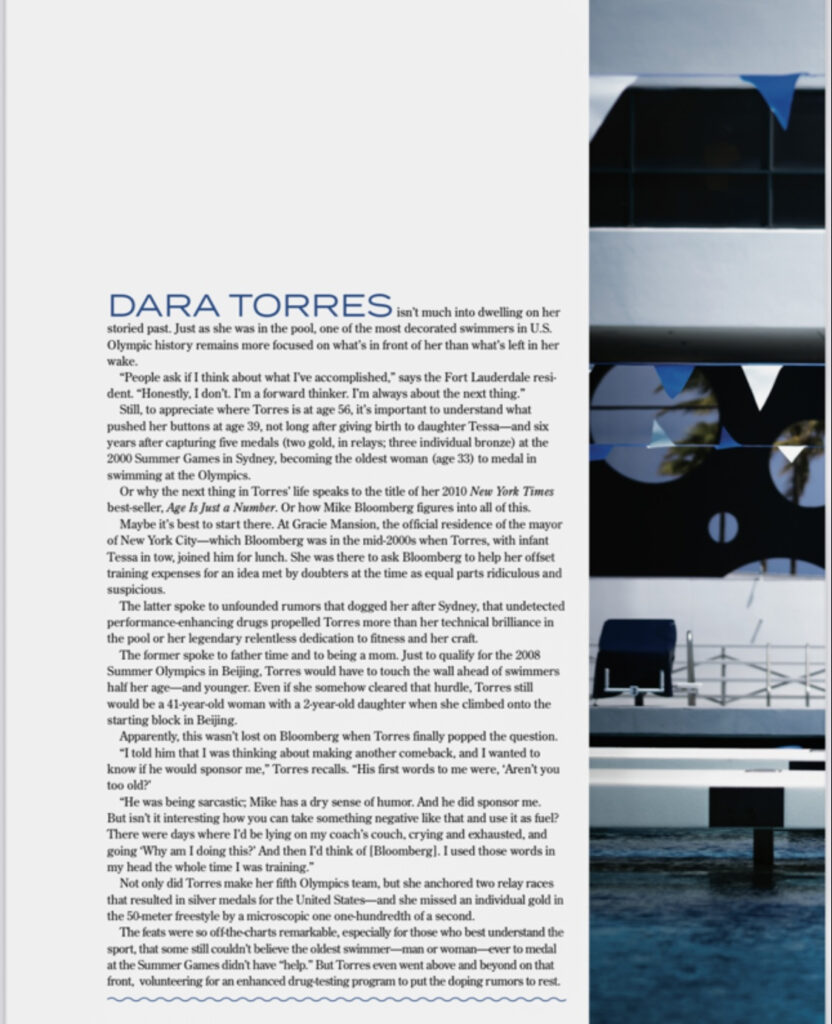 Since Dara Torres joined the ISHOF Board in 2021, she has continued to help in any way she can. Now a resident of Fort Lauderdale, she is able to be more active than ever.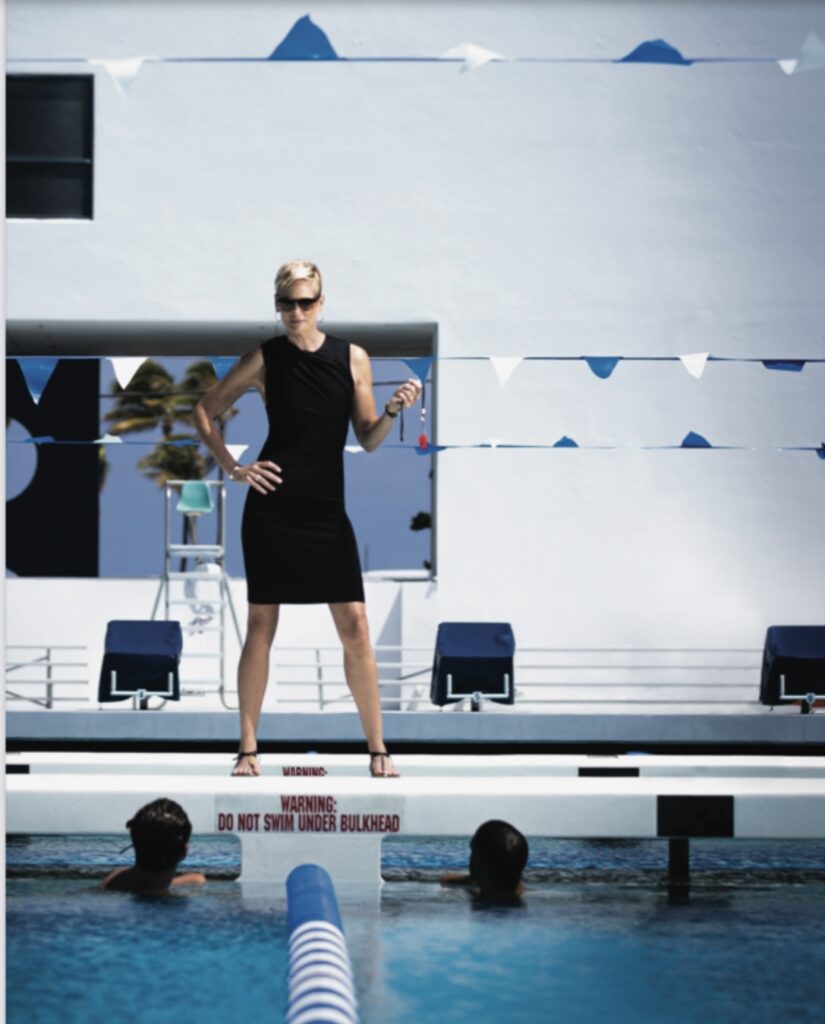 Torres has been to five Olympic Games, winning twelve medals, four gold, four silver and four bronze.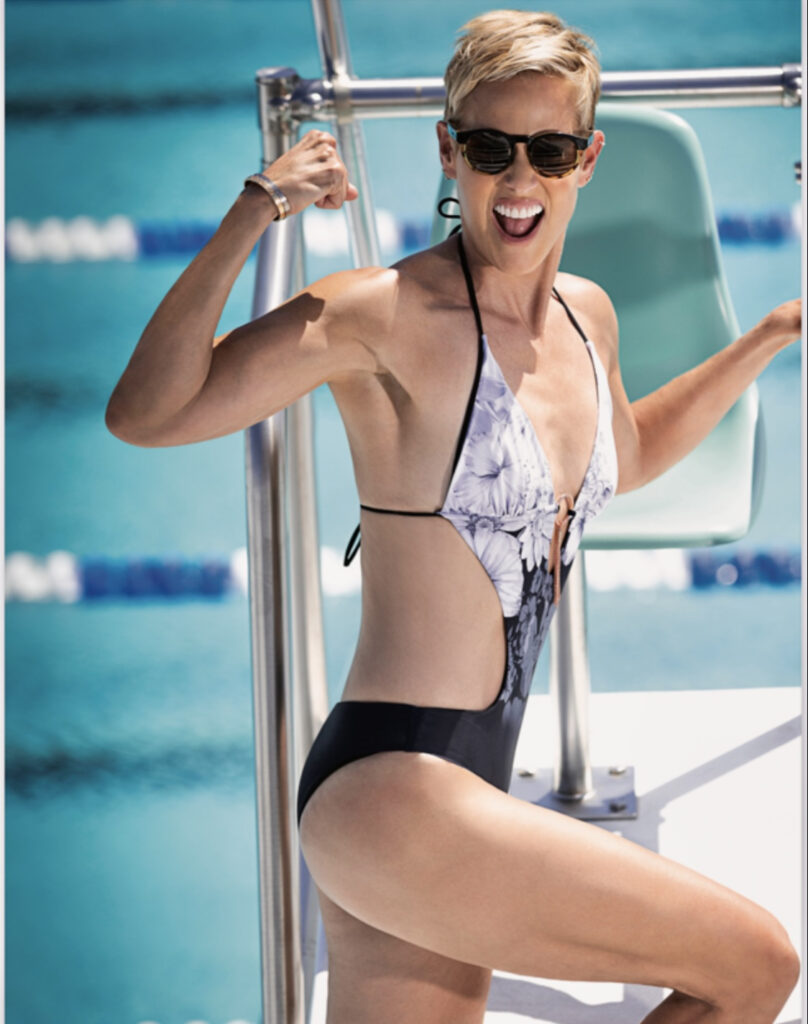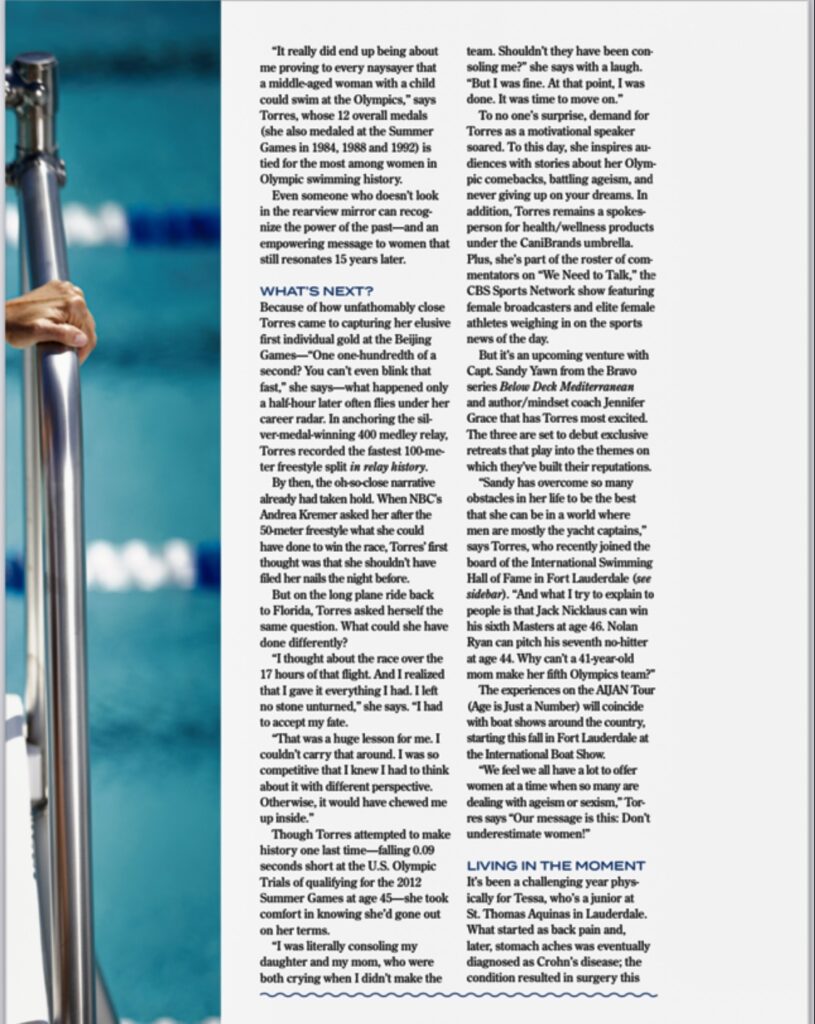 Dara was inducted into ISHOF in 2016. She would have gone in years earlier, but she keep make comebacks! :} And killing it we might add!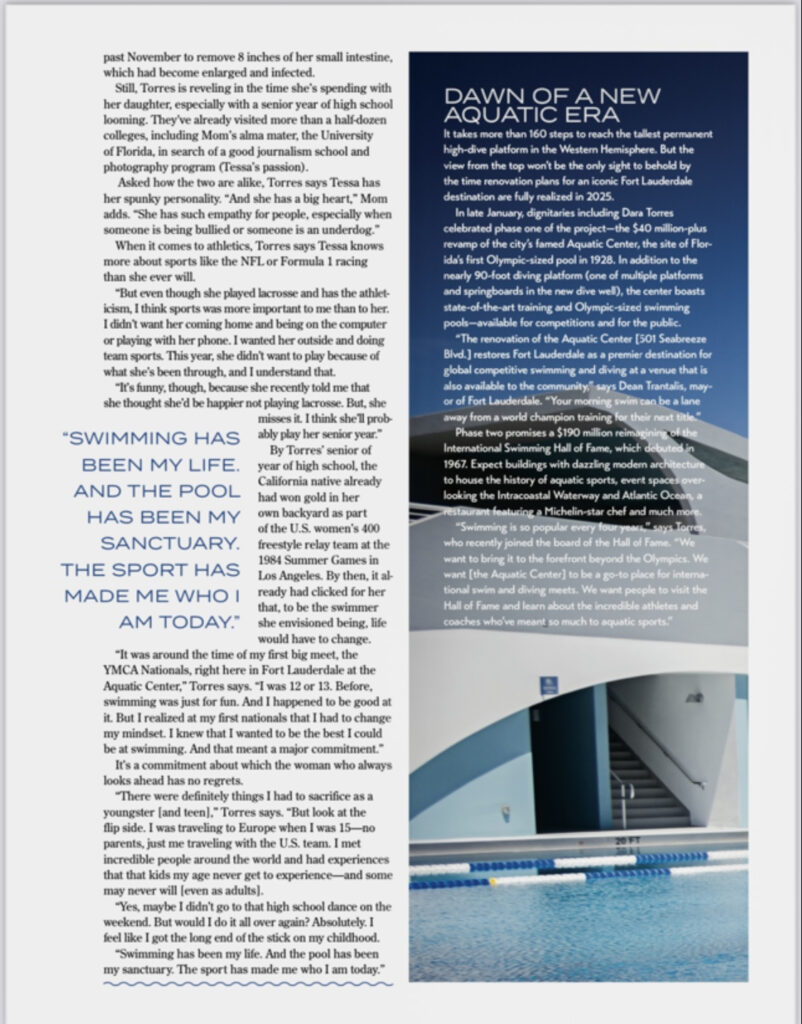 Read Dara's Honoree write up here:
Dara Torres (USA)
Honor Swimmer (2016)
The information on this page was written the year of their induction.
FOR THE RECORD: 1984 OLYMPIC GAMES: gold (4×100 m freestyle); 1988 OLYMPIC GAMES: silver (4×100 m medley), bronze (4×100 m freestyle); 1992 OLYMPIC GAMES: gold (4×100 m freestyle); 2000 OLYMPIC GAMES: gold (4×100 m freestyle, 4×100 m medley), bronze (50 m freestyle, 100 m freestyle, 100 m butterfly); 2008 OLYMPIC GAMES: silver (50 m freestyle, 4×100 m freestyle, 4×100 m medley); 1986WORLD CHAMPIONSHIPS (LC): silver (4×100 m freestyle); 1987 PAN PACIFIC CHAMPIONSHIPS: gold (100 m freestyle, 4×100 m freestyle, 4×100 m medley); 1983 PAN AMERICAN GAMES: gold (4×100 m freestyle); SIX WORLD RECORDS: three individual (50m free), three relays (4x100m free, 4x100m medley)
Dara Grace Torres grew up in Beverly Hills, California, where she learned to swim in her family's backyard pool. At the age of seven, she followed her brothers to swim practice at the local YMCA. During her junior year of high school, Torres moved to Mission Viejo, CA, to train with Hall of Fame Coach Mark Schubert, and in 1983 she broke the world record in the 50-meter freestyle. The next year, while not yet a senior in high school, she won her first Olympic gold medal as a member of the USA's 4×100 freestyle relay team.
Swimming for Randy Reece at the University of Florida, Torres earned 28 NCAA All-American swimming awards and at the 1988 Olympic Games, she won two silver medals swimming on relays. She finished her collegiate athletic career playing volleyball and took two years off before returning to win her second Olympic relay gold medal in Barcelona, Spain during the summer of 1992.
After 1992, Torres lived what appeared to be a glamorous life. She moved to New York City, worked in television, and as a Wilhelmina model she became the first athlete model in the Sports Illustrated swimsuit issue. Then in the spring of 1999, despite not having trained in a pool for seven years, she decided to give the Olympics one more try.
Training with coach Richard Quick in Palo Alto and Santa Clara, Dara made the Olympic team for the fourth time, at the age of 33. She returned home with five medals, more than any other member of the team, including three in individual events, and retired.
In 2005, while pregnant with her first child, Dara began swimming three or four times a week at the Coral Springs Aquatic Complex, to keep fit. After giving birth to her daughter, Tessa Grace, in April 2006, she entered two Masters meets and posted times that emboldened her to try another comeback. She asked Coral Springs coach Michael Lohberg if he would coach her, and a little over a year later, she won the 100-meter freestyle at the U.S. Nationals in Indianapolis. Three days later, she broke the American record in the 50-meter freestyle for the tenth time – an amazing 24 years after setting it for the very first time. In 2008, Dara qualified for her fifth Olympic team and at the 2008 Beijing Games, she became the oldest swimmer to compete in the Olympics. Dara returned home with three silver medals, including the heartbreaking 50-meter freestyle race where she missed the gold by 1/100th of a second.
In 2009, Dara won the ESPY award for "Best Comeback," was named one of the "Top Female Athletes of the Decade" by Sports Illustrated magazine and became a best selling author with the release of her inspirational memoir, Age is Just a Number.
Dara continued swimming after recovering from reconstructive knee surgery and with the encouragement of coach Lohberg, she set her sights on making a record sixth U.S. Olympic swim team. When she just missed making the London Olympics by nine-hundredths of a second in the 50-meter freestyle at the 2012 US Swimming Olympic Trials, she announced her retirement with a smile on her face and her six-year old daughter Tessa in her arms.
Olympian, television personality, fitness guru, Queen of the Comeback, best-selling author and mother. Dara Torres is many things to many people, but above all, she is an inspiration.