ISHOF and the world of diving loses one of the greats: Pat Keller McCormick (May 12, 1930 – March 7, 2023)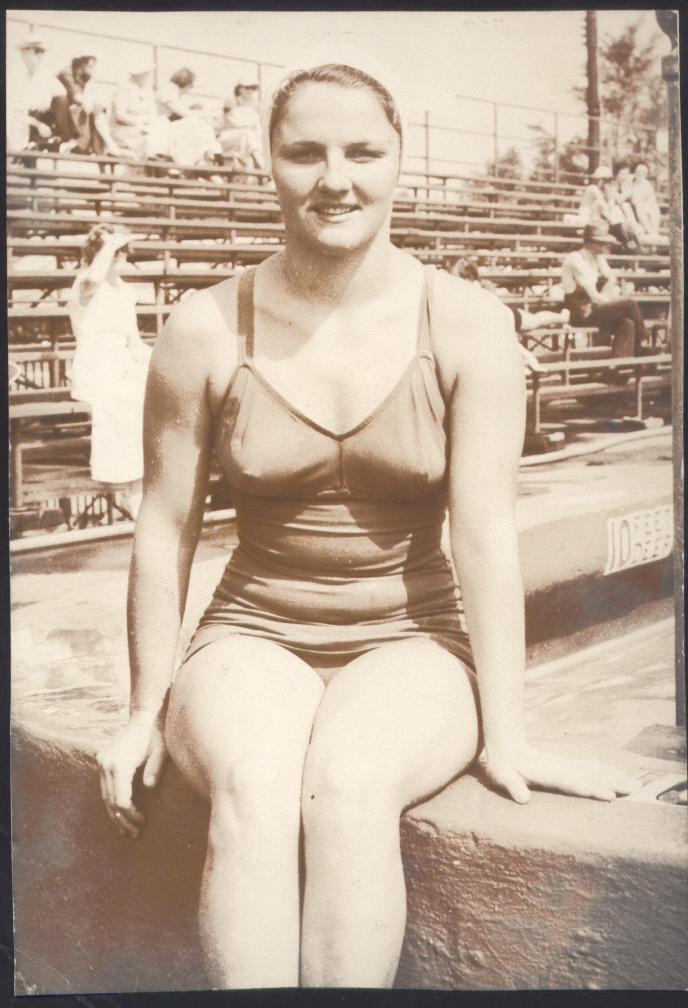 ---
Pat Keller McCormick was the first diver inducted into the International Swimming Hall of Fame, into its inaugural class of 1965. She was the first diver, male or female, to win back-to-back Olympic gold medals on both boards in consecutive Olympic Games. She was champion in 1952 and 1956 on both the 3-meter springboard and the 10-meter platform ~ A feat that has still only happened one other time, when Greg repeated it in 1984 and 1988.
Pat McCormick was born in Seal Beach, California, where she lived most of her life. She began by diving off bridges in Long Beach, but eventually moved on to the Los Angeles Athletic Club, where she became friends with diving stars, Sammy Lee, and Vicki Draves, who helped and encouraged her.
After taking a surprising second at the 1947 National Platform event, Pat headed to Detroit to compete in the 1948 Olympic Game Tryouts. She missed the team by less than one point. It was a turning point for Pat.
In 1949, she married Glenn McCormick who not only became her husband, but also her coach. In 1949, she won the National Platform Event, in San Antonio, Texas, her first big meet. The following year, she shocked everyone by not only defending her title on the platform, but also by winning both springboard events: the 1 and 3-meter. The very next year, in 1951, she scored an all-time first in diving. She won all five national titles for women in the same year: two indoor and three outdoor.
That same year, Pat competed at her first international competition at the Pan American Games, hosted in Buenos Aries. She won the gold medal on the platform and the silver medal on the springboard. In 1952, she finally qualified for the Olympic team and did not disappoint. She won gold medals in both women's events, the springboard and platform, competing in Helsinki, Finland.
Pat continued dominating the sport of diving for the next four years, winning a total of 27 national championships, as well as the gold medals at the 1955 Pan American Games in Mexico City on the springboard and platform.
In her second Olympic Games, in Melbourne, Australia, McCormick successfully defended her crown on both the 3-meter springboard and the 10-meter platform, becoming the only person, man or woman in diving history to score a "double-double" in Olympic competition. It was that feat that led the Swimming Hall of Fame's 52 coach nominating committee to pick McCormick as the world's premier woman diver, the first to be selected for induction into the Hall of Fame.
1964 Olympian gold medalist and friend, Micki King said of Pat, " she opened the door for women athletes."  Olympic Diver and longtime friend, Tom Gompf, who helped Pat in later life said "Pat spent her life supporting the Olympic movement, especially during the '84 Games when they came to her hometown."
In addition to being inducted into ISHOF, Pat McCormick has also been inducted into the U.S. Olympic and Paralympic Museum.  She won the 1956 Sullivan Award, the Babe Zaharia's Woman Athlete of the Year, Helm's Hall North American Athlete of the Year, Thurman Munson Award and the Associated Press Woman Athlete of the Year ~ just to name a few.
Pat passed away March 7, in an assisted living home in Orange County, California. She was 92 years old. She leaves behind a daughter, 1984 Olympic silver and 1988 bronze medalist, ISHOF Honoree, Kelly McCormick Robertson and son, Tim McCormick. Pat will also be missed by her many friends in her community of Seal Beach.