Irmtraud Bohn To Be Inducted Into International Masters Swimming Hall of Fame
---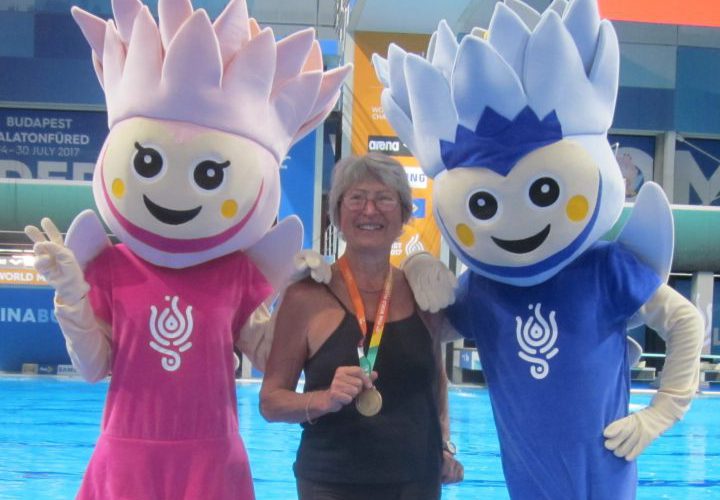 Photo Courtesy: Irmtraud Bohn
Irmtraud Bohn will be inducted into the International Masters Swimming Hall of Fame as a member of the Class of 2018 during the IMSHOF Induction ceremonies in Jacksonville, Florida, Friday evening, September 28, 2018, to be held in conjunction with the United States Aquatic Sports convention.
Born in 1941, Irmtraud "Irmi" Bohn did not begin her career in diving until she was 15 years old. She was a gymnast up until that time. During her teens, she would go to the local pool and swim for fun during the Summertime. One summer the local diving coach spotted her playing around on the diving boards. Her talent was apparent. He asked her if she would consider joining his diving team. She left gymnastics behind and became a diver.
She was named Austrian Champion on the 10-meter platform and in 1961, she won the Universidad Games.
Bohn competed in Olympic competition until the age of age 35. She decided to retire when she began having children. During the ages of 35-45, Bohn did not compete, yet she always kept herself in good shape. She was a PE teacher during that time, so her job helped her to stay in shape.
In 1988 Irmi Bohn began her career in Masters Diving. It was really by word of mouth, that she first heard of Masters Diving. Her good friends, IMSHOF Honor Diver Grete Kuegler, and others had heard about, so they started diving and training together once again.
The first World Championships that Bohn travelled to was in 1988, in Brisbane, Australia, where she brought home a silver medal on the 10-meter platform.
Since then, she has competed in seven age groups (45-49, 50-54, 55-59, 60-64, 65-69, 70-74, 75-79). Bohn has participated in a record 15 FINA Masters World Championships, travelling all around the globe. Bohn has won a total of 26 gold medals (1m-7, 3m- 9, 10m-10) and 12 silver medals (1m- 4, 3m- 3, 10m- 5). She also travels and competes in World Games Events. At the 1989 World Masters Games she won gold on platform, and silver on 1 and 3-meter springboard. She has set eight FINA world records in her career.
Bohn trains at the SU Moedling Swimming Club in Vienna. She trains together with Grete Kugler, 2017 IMSHOF Honor Diver.
Bohn says that to her, "Master diving means to me, stay fit and healthy, meet friends and spend time with them when we do our training and travel to championships. Now I am 77 years old and I am very proud, that I am still able to do all my difficult dives. My aim is, to take place in some more master championships in the next years."
Bohn says that Masters Diving has taken away a once low point or bad memory in her diving career. She had qualified for the 1960 Rome Olympics, but unfortunately, the Austrian Federation/officials did not register her in time so she did not get to compete. As you can imagine, it was very disappointing and a very sad time for Bohn. She feels like she has made up for it during her Masters World Championships career and through all her gold medals.
Bohn says her best experience in Masters Diving, would have to be at the World Championships in Montreal 2014, when she won three gold medals.
Irmi Bohn is divorced, has two children, 48 and 49 and a beautiful Husky dog. She lives outside Vienna but trains in Vienna. She is training and will go to the European Championships in Slovenia next month.
Bohn will be inducted as part of a group of nine (9) outstanding individuals will be inducted at the IMSHOF's annual ceremony. The event will be held at the Hyatt Regency Jacksonville Riverfront in conjunction with the 2018 United States Aquatic Sports XXXVIX Convention.
The prestigious IMSHOF class of 2018 includes four swimmers, two divers, one synchronized swimmer, one water polo player and one contributor, from five (5) different countries: the USA, Austria, Germany, Brazil and Japan:
SWIMMER INDUCTEES:
DIVER INDUCTEES:
SYNCHRONIZED SWIMMING INDUCTEE:
WATER POLO PLAYER INDUCTEE:
CONTRIBUTOR INDUCTEE:
In addition to honoring the IMSHOF Honorees, ISHOF will be recognizing Swimming World Magazine's Top Ten Masters Swimmers from 2017. Swimming World Magazine's Top Twelve Masters Swimmers for 2017 are:
Men – Rick Colella (USA), Sergey Geybel (RUS), Nicolas Granger (FRA), Karl Hauter (GER), Willard Lamb (USA), and Darian Townsend (USA)
Women – Noriko Inada (USA), Maurine Kornfeld (USA), Betty Lorenzi (USA), Karlyn Pipes (USA), Diann Uustal (USA), and Laura Val (USA).
The event is open to the public and free of charge. Book Your Hotel
About IMSHOF
The purpose of the IMSHOF is to promote a healthy lifestyle, lifelong fitness and participation in adult aquatic programs by recognizing the achievements of individuals who serve as an example for others. To be considered, honorees must have participated in Masters programs through at least four different masters age groups and are qualified by an objective point system based on world records, world top 10 rankings and World Championship performances. The IMSHOF is a division of the International Swimming Hall of Fame, in Fort Lauderdale, Florida. For more information, please visit: www.ishof.org
About ISHOF
The International Swimming Hall of Fame, Inc. (ISHOF), established in 1965, is a not-for-profit educational organization located in Fort Lauderdale, Florida, USA. Recognized by FINA, the International Olympic Committee's recognized governing body for the aquatic sports in 1968, its mission is to preserve the history of swimming, celebrate the heroes, promote the benefits and importance of swimming as a key to fitness, good health, quality of life, and the water safety of all children and adults, and connect older generations of swimmers to youth.