International Swimming Hall of Fame and Lynne Cox Featured on Travel Channel's "Mysteries at the Museum"
---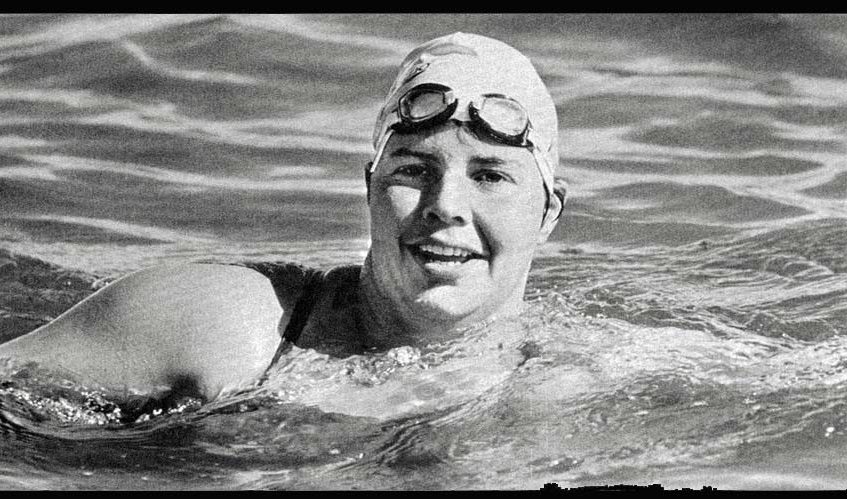 Lynne Cox Photo Courtesy: ISHOF Archives
Have you ever wondered why is the International Swimming Hall of Fame is so important?
The answer is simple. It is the only entity that archives important aquatic related memorabilia in order to preserve history and educate the next generation. Nothing demonstrates this fact more than the recent Travel Channel's show Mysteries at the Museum. The episode was filmed at the International Swimming Hall of Fame and documented the journey of Lynne Cox, who was the first swimmer to swim the Bering Strait from Alaska to the Soviet Union in the summer of 1987. Her swim demonstrated how close the Soviet Union and the United States were to each other and was instrumental in ending the Cold War between the two super powers.
"I wanted to open the border so we could become friends," says Cox, who first conceived of the idea of the swim in 1976 and spent years lobbying Soviet officials for permission to enter their waters."The difficulty was that nobody believed it could happen." – Not just swimming in freezing water, but to bring an end to the cold war.
After being ignored at every turn, Cox finally decided to use "every last penny" of her savings to do her swim. On the eve of the swim, there was still no word from Moscow, and the military on both sides of the Cold War were jittery.
But at the last minute, the Soviets had sent a top-level delegation, including KGB officials and sports stars. They had even prepared a small beach party. The swim turned Cox into a Cold War celebrity in the United States and the Soviet Union.
When President Gorbachev traveled to Washington to sign a nuclear weapons treaty later that year, he and President Reagan raised a glass to toast the swimmer.
"She proved by her courage how close to each other our peoples live," Gorbachev said.
Lynne Cox was inducted into the International Swimming Hall of Fame in 2000. Support the International Swimming Hall of Fame by becoming a member